The Dow Jones Industrial Average has gained 5% over the past month
The good news at the moment is that the risks to the economy are balanced.
May 13, 2007 Leave a Comment
By: Jerry Cole - Retirement, Investment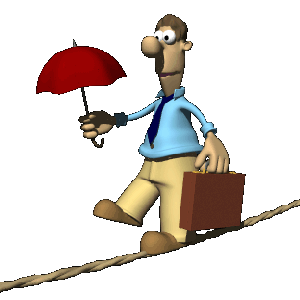 Balanced economic risks has allowed the Fed to hold tight on interest rates.
Onward and upward seems to be the market's theme, albeit the drive upward did slow this week. April retail sales unexpectedly fell 0.2% and sales overall (ex-autos) were flat. April same-store-sales figures came in below already dour expectations resulting in some companies reducing their first-quarter outlook.
Wal-Mart and Target both missed expectations, posting 3.5% and 6.1% sales drops respectively. Hurting retail results was the coldest April in at least a decade, which cut demand for spring and summer items.
Yet the Dow Jones Industrial Average has gained 5% over the past month, despite a slowing economy. It remains to be seen what effect the recent surge in gasoline prices will have on the economy. Everything I have read about gas prices still hasn't made it clear why they have risen so rapidly. Crude for June delivery is up only 0.2% near $61.95/bbl, but Refiners, Drillers and Explorers are all up significantly.
Stocks in these categories are up smartly. In fact, energy prices overall have helped drive this market. But at the end of the day, interest rates are perhaps the largest factor in shaping the market. And the Fed chose to leave the rates steady when it met this week in the open market committee meeting.
What happens with interest rates effects us every day in many ways. This is the interest rate risk. Interest rate risk is the risk that a change in interest rates will adversely impact the value of an investment.
As discussed in previous columns, interest rates and fixed income instruments have an inverse relationship. When interest rates go up, the prices of fixed income instruments go down. Investments such as bonds, CD's and fixed annuities are most susceptible to this type of risk. Preferred stocks may also be subject to this risk as they behave more like debt securities than stocks.
High interest rates may make it difficult for businesses to afford the credit necessary to expand, to conduct research and development, or to conduct other business activities. These difficulties may be reflected in the earnings and stock prices of businesses.
Because interest rates in today's market are relatively low by historical standards, we have seen huge combinations of companies in the energy, media, automobile and other industries. These combinations and buy-outs are debt fueled. The market has responded favorably to these events. However, what happens if interest rates should increase dramatically?
The credit risk in these companies becomes more significant. The credit risk is the risk that an issuer will default on the payment of interest and/or principal on a bond it has issued.
The good news at the moment is that the risks to the economy are balanced. That has enabled the Fed to hold tight on interest rates. Inflation is a concern but economic growth is also a concern. The Fed's preferred measure of inflation, which excludes food and energy prices, has shown signs of cooling.
But food prices have continued to heat up and gasoline prices are north of $3 a gallon. And the weak dollar continues to add pressure on inflation. So far the Fed has made the right calls in the recent past. Let's hope it continues.
Some may argue that the market is overvalued at this point. They will argue that the rally is built on a flood of cheap money, that earnings growth is slowing and that there are speculative bubbles all over the world. Those betting on these forces (the bears) are getting killed.
However, it is important not to tune out these voices just as it is important not to get scared out of the stock market before it is necessary. The probability of a seasonal correction in the neighborhood of 5% to 10% increases as the market accelerates. If you are suitably diversified, a correction will have a relatively mild effect on your investments.
Remember to be diversified!
I invite your questions.
E-Mail Jerry Cole
(The opinions expressed are solely those of the author and not Gen worth Financial Securities Corporation.)
---
---
---
Send This Story to a Friend!
Letter to the editor
Link to this Story
Printer-Friendly Story View
---
--- Advertisments ---