All I Really Need to Know . . .
I Learned in Kindergarten . . .
Jan Reno Retires From Bay City Schools After 40 Glorious Years of Teaching
May 30, 2007 Leave a Comment
By: O. J. Cunningham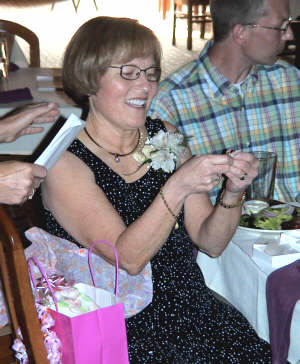 Jan Reno, retiring after 40 years in the Bay City School System, admires one of the gifts presented during her reirement party.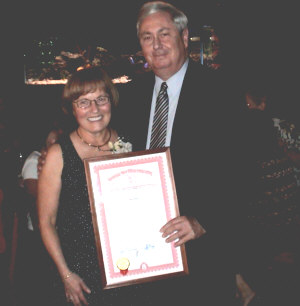 State Senator Jim Barcia (Right) presents a Special Proclamation to Jan Reno, recognizing her illustrious teaching career.
Count yourself as one of the lucky ones, if you had Jan Reno for your Kindergarten teacher.
Forty friends and family members gathered at Old City Hall in downtown Bay City Wednesday night (May 30, 2007) to wish "bon voyage" to one of the finest, grandest teachers ever to grace the halls of a Bay City school building.
After forty years, Jan Reno, easily the most famous kindergarten teacher in the history of Bay City Schools, retired from her school room at MacKensen Elementary School.
Reno, a graduate of Bay City Central, attended Delta College and Central Michigan University as she prepared for her career in teaching.
During the course of her illustrious career, Reno taught at Webster, Wenona, Kolb, McKinley, Riegel and MacKensen Schools.
"I'm going out on a very high note," Reno said smiling and surrounded by well-wishers from the education community. Also in attendance were husband, O. J. "Orv" Reno and son, O. J. Reno III.
"Orv (Husband) and I have plans to go out East this Fall," Reno glowed. "I'm looking forward to time with my family."
Reno acknowledged that she would surely miss her young students when the 2008 school year rolled around. "I've been at MacKensen for the past twenty-six years. I know I will miss it."
State Senator Jim Barcia was on hand to present a Special Proclamation recognizing Jan Reno's illustrious career.
"This is one very, very special lady," Barcia said, presenting the plaque.
The proclamation was signed by Barcia, District State Representative Jeff Mayes and Governor Jennifer M. Granholm.
Those in attendance included: Neil Kent, Linda Schmidt, Sherry Bash, Jeff Rogers, Sherry Jankowiak, Sharon Travis, Cheryl Schmidt, husband Orv, son O.J. and many others from the Bay City Education Community.
These are the things I learned in Kindergarten:
Share everything.

Play fair.

Don't hit people.

Put things back where you found them.

Clean up your own mess.


Don't take things that aren't yours.

Say you're sorry when you hurt somebody.

Wash your hands before you eat.

Flush.

Warm cookies and cold milk are good for you.

Live a balanced life - learn some and think some and draw and paint and sing and dance and play and work every day.

Take a nap every afternoon.

When you go out in the world, watch out for traffic, hold hands and stick together.

Be aware of wonder. Remember the little seed in the Styrofoam cup: the roots go down and the plant goes up and nobody really knows how or why, but we are all like that.

Goldfish and hamsters and white mice and even the little seed in the Styrofoam cup - they all die. So do we.

And then remember the Dick-and-Jane books and the first word you learned - the biggest word of all - LOOK.

Everything you need to know is in there somewhere. The Golden Rule and love and basic sanitation. Ecology and politics and equality and sane living.

FROM: "ALL I REALLY NEED TO KNOW I LEARNED IN KINDERGARTEN" by Robert Fulghum. See his web site at http://www.robertfulghum.com/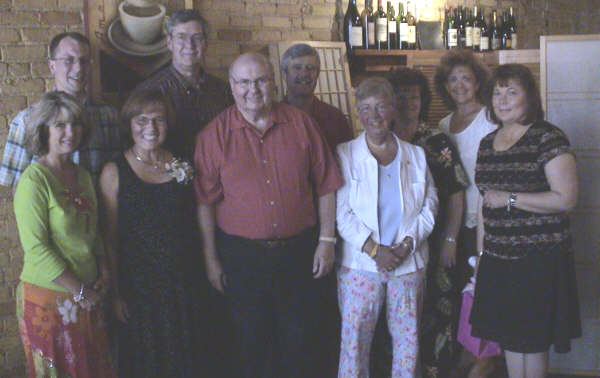 JOINING IN THE CELEBRATION: (Front Row. L/R)Sherry Bash, Jan Reno, Orv Reno, Sherry Jankowiak and Sharon Travis. (Back Row) Son O.J., Jeff Rogers, Neil Kent, Linda Schmidt and Cheryl Schmidt.
---
---

O. J. Cunningham




O. J. Cunningham is the Publisher of MyBayCity.com. Cunningham previously published Sports Page & Bay City Enterprise. He is the President/CEO of OJ Advertising, Inc.

More from O. J. Cunningham
---
Send This Story to a Friend!
Letter to the editor
Link to this Story
Printer-Friendly Story View
---
--- Advertisments ---