Tourism Can Flourish by Marketing Mid-Michigan, Say CVB Directors
Economic Impact of Tourism Explained to Tri-County Economics Club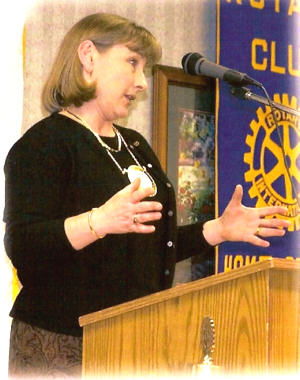 Shirley Roberts - Bay Area CVB
Tourism is a $252 million a year business in the tri-county area and is Michigan's second largest industry at $17.5 billion, according to local tourism directors who say they are "friendly competitors."
The directors spoke recently at a meeting of a business group and said tourism is the right tool for economic development.
"As a tri-county economic leader you can be a champion," the area Convention and Visitors Bureau directors said.
"As in other industry sectors, substantial economic impact from tourism doesn't just happen," Shirley Roberts, executive director of the Bay Area Convention and Visitors Bureau told the Tri-County Economics Club recently. "And it certainly doesn't grow without intervention or purposeful development activities."
Destination Marketing Organizations responsible for tourism marketing are the Bay City, Midland County and Saginaw Valley Convention & Visitor Bureaus or CVBs, she said, adding:
"In some cases, CVBs are divisions of a Chamber of Commerce or an integral part of a municipality. In Mid-Michigan, our CVBs are independent, not-for-profit organizations."

Other area tourism directors who presented were Annette Rummel, president and CEO of the Saginaw County Convention and Visitors Bureau, and Jim Peckrul, executive director of the Midland County Convention and Visitors Bureau.
Ms. Rummel said Saginaw County ranks as the third most visited County in the State of Michigan. She added: "The Saginaw Valley, specifically Saginaw County, is 814 square miles of rich agricultural land, woodlands and waterways. The county has five primary tourist areas: Birch Run, Chesaning, Frankenmuth, Saginaw City and Saginaw Township.
The directors pointed to two relatively new initiatives involving tourism:
The Saginaw Bay Coastal Initiative. Its Tourism Work Group is attempting to capitalize on the tourism strengths of a six county region surrounding the Saginaw Bay.
The Dow Chemical Company has recently initiated the Mid-Michigan Regional Management System. It has formed work groups around the topics of Sustainable Jobs & Business, Environment & Natural Resources and Regional Cohesion.
According to Mrs. Roberts, there are several public acts in Michigan that allow for the creation and funding of CVBs. The two used most often are Public Acts 59 and 263. PA 59 bureaus are funded by assessments because the act allows hotel owners to vote on the collection of up to 2 percent of overnight stays within a geographic boundary they determine. PA 263 bureaus are funded by taxes because the act imposes a mandatory collection of up to 5 percent of overnight stays on every hotel room in a county.
In Mid-Michigan, the Bay City and Midland County CVBs are PA 59 assessment districts, with 2 percent taxes on hotel rooms, and the Saginaw Valley CVB is a PA 263 taxing district, with a 5 percent tax on hotel rooms.
CVB's in Michigan are responsible to a volunteer Board of Directors which, by law, is comprised primarily of hoteliers. These organizations are required to file copies of an annual audit and marketing plan with the Michigan Economic Development Corporation. In the case of PA 263 districts like Saginaw, the CVB is also responsible to the County Board of Commissioners.
According to the local directors, CVBs have one purpose and one purpose only: "To put heads in beds" as it is known in the trade.

Mr. Peckrul pointed out that overnight guests spend more than day-visitors. Therefore, filling hotel rooms generates considerably more economic impact for our communities. There is also a direct benefit to our organizations: The more overnight stays we generate, the more revenue we receive and the greater investment we can make in promoting our destinations.
He said: "CVBs employ different tactics to market their communities, but each engages in some form of public relations, sales and advertising. We target geographic populations and specific interest groups.
"Much of what we do, we do alone. But a growing number of activities we tackle as a region. In Mid-Michigan, we've promoted regionally for a long time."
Mrs. Roberts said: "We are friendly competitors who understand the value each brings to the table. In Bay City, for example, we often point to our proximity to Frankenmuth in Saginaw County and Dow Gardens in Midland when enticing visitors to stay in Bay City or to extend their stay with us. The Saginaw Valley CVB recently included Bay City and Midland County assets when preparing a bid to host the OHL Memorial Cup. Whether we do it intentionally or not, we often see overnight guests flow from one community to another."
We are also strategic collaborators who understand that the sum of our products is a great strength. We come together as the Mid Michigan Tourism Marketing Group and pool our resources to fund specific activities that will benefit us all. Mrs. Roberts said the idea of tourism promotion on a regional basis is growing across the State and the Country. "The opportunities to join regional networks are only limited by our imaginations," she added.
She concluded: "Regardless of our method of funding and the strategies we employ, the organizational mission of each CVB is to improve its local economy. Whether as individual communities, as a region or State, the impact of tourism is growing and it should be considered an integral component of a comprehensive economic development plan."###
---
---

Dave Rogers




Dave Rogers is a former editorial writer for the Bay City Times and a widely read,
respected journalist/writer in and around Bay City.
(Contact Dave Via Email at carraroe@aol.com)

More from Dave Rogers
---
Send This Story to a Friend!
Letter to the editor
Link to this Story
Printer-Friendly Story View
---
--- Advertisments ---