(MyBayCity Photos By Julie Munger)
---
"Hot - Hot - Hot"
MBC Covers 2007 Midland Street Wine Walk
Midland Street Was Sizzlin' Hot as Wine Walkers Pounded The Pavement
June 10, 2007 Leave a Comment
By: Julie McCallum, Entertainment Editor
Thursday night June 7th was sizzlin' hot for the 2nd annual Midland Street Wine Walk 2007 held on Bay City's West side.
And if that was not enough, Hooters also held their annual bikini contest, and also their weekly bike night, which added a bonus to the night of festivities.
Wine connoisseurs enjoyed wine tasting at the 15 participating establishments which served two different wines to sample and complimentary hors d'oeuvre.
The fun and festive night was a great kickoff to the summer for the 2007 events being held on the West Side of Bay City. And you can bet the success of this year's Midland Street Wine Walk, will bring everyone back and more for the 3rd annual wine event next year.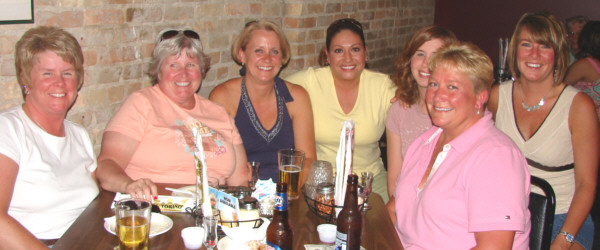 (Above) (L/R)
At Tommy V's picking up their wine glasses; Lisa Schneider, Cindy Lomba, Janet Sobczak, Maria Tover, Jamie Pike, Pam Creguer and Michelle Hebert. Hebert said, "This is our behavioral picture, take our picture in a couple hours." Creguer asked, Can we do this every Thursday?"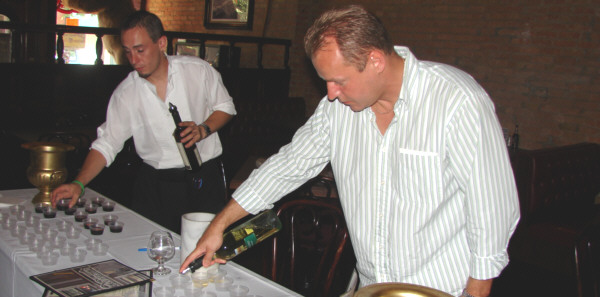 Above
Jay Samborn, (co-owner of LumberJacks, The Diamond Ball Room, The Westown and Lucky's Pub) keeping up with the wine for the "walkers" at Lumber Jacks.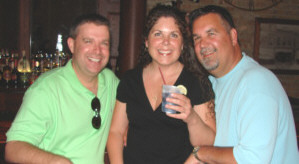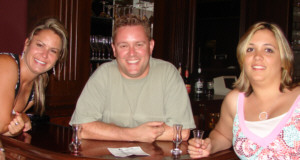 (Above Left) (L/R)
Ivan Miller, Becky Wilett, Gene Ross at Lumber Jacks.
Above Right (L/R)
At the Diamond Ball Room, Co-owner Bruce Falcon takes a minute to get a picture with Julie Kahler and Jennie Gillespie. The Diamond Ball Room had great reviews complimenting the tentative service and hors d'oeuvre; which included sushi and ginger, Fried Ravioli and Bruchetta.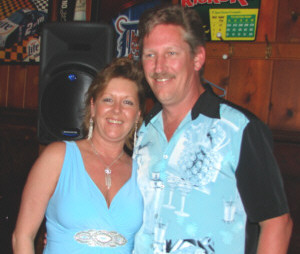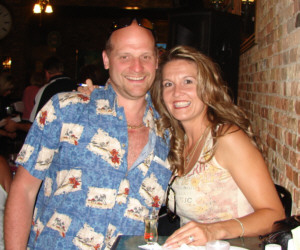 (Above Left)
Serving wine at O'Hares; Jamie and Dan.
(Above Right)
Matt & Greta Zalucha at Midland Street Pub. Greta summed up the night by saying, "Good Wine, Good Company, & Good Weather!"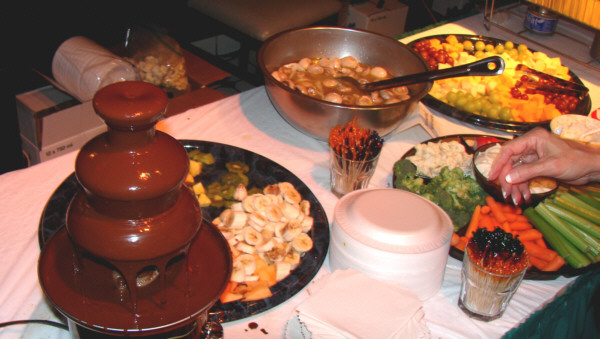 (Above)
The Chocolate fondue fountains were a big hit, pictured here at O'Hares Bar and there was also one at Lumber Barons.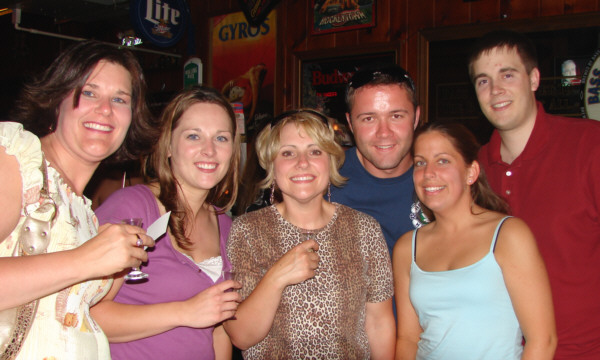 (Above)
Making their wine rounds, Fran Dabrowski, Karrie Nutt, Amy Jones, Doug Hibbs, Kate Heckerthorn and Matt Grulke.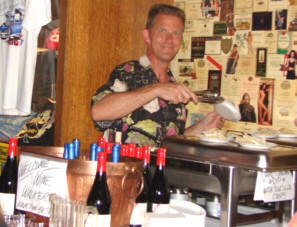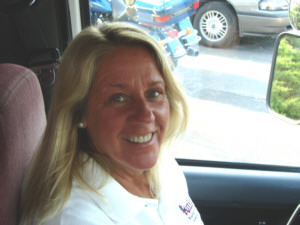 (Above Left)
Greg Kimbrue, co-owner of River Rock Café serves up plates & plates of shrimp & crab, one of the night's favorites.
(Above Right)
Denise from Knights Luxury Transport, shuttles wine walkers up and down Midland Street.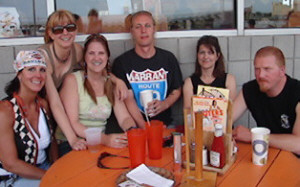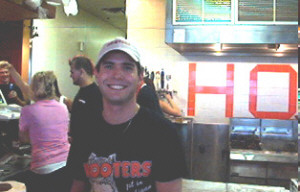 (Above Left) (L/R)
Hanging at Hooters for Bike night, Gina "Cookie" DeShano, Sheri Oczpek, Barbie King, Todd Srodes, Lori Guevara and Chris "Red Dog" Scott. Oczpek laughed and said to the wine walkers, "Just please don't touch the bikes as you walk by."
(Above Right)
Pete Nixon, a part-time cook for Hooters , takes a minutes from the hot wings, to smile for MBC cameras.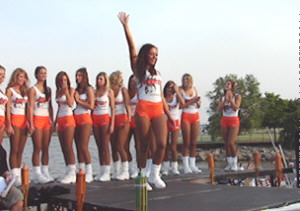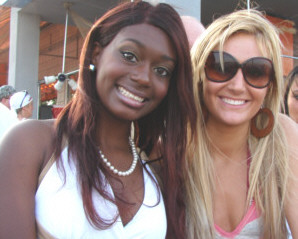 (Above Left)
Andrea White from the Hooters Saginaw Location waves to the huge crowd on the waterfront of Bay City Hooters!
(Above Right)
Brittney Ellison and Alyse Campbell cheer on their friend Andrea White in the bikini contest.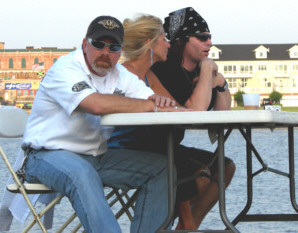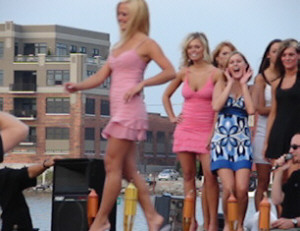 (Above Left) (L/R)
Waiting for the Hooters bikini contest to begin, judges, Anthony D., Collen Dore and Hoser from Z-93.
(Above Right)
A Total of 24 Hooter girls competed in the bikini contest. (Bikini pictures not shown)
Continuing on . . . with the wine walk
(It was tuff to leave Hooters)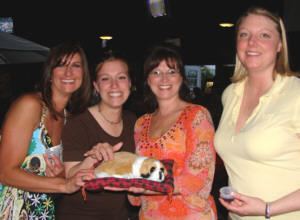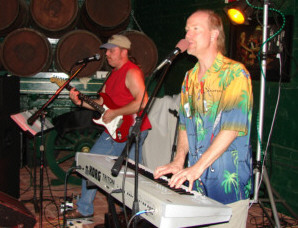 (Above Left) (L/R)
At the popular Stables Martini Bar, Amy Walkowiak, Amanda Ike, Jennifer Bischer, Lisa Beamish and a unidentified dog. Bischer said her aunt won her wine walk tickets through the radio station.
(Above Right)
The band "Last One Out" entertains the wine tasters at The Stables Martini & Cigar Bar.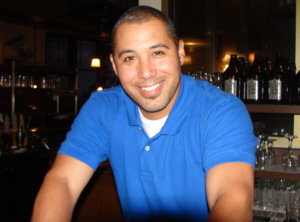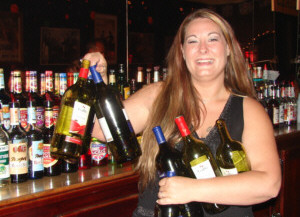 (Above Left)
Brian Becerril serves the wine at Lumber Barons and what a fine job he did.
(Above Right)
Kari Gerard unloads an arm full of empty wine bottles at the end of the night at Indian Barrys.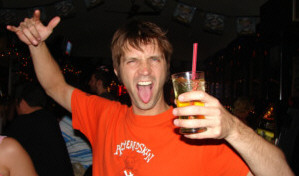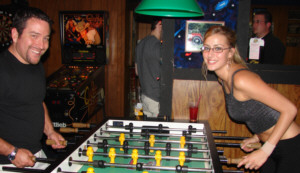 (Above Left)
Chad Sibley had fun even though he did not participate in the wine walk.
(Above Right)
Alaina & Conrad (non-wine walkers) have fun mingling with the wine walkers and a game of foosball at Indian Barrys.
---
---
---
Send This Story to a Friend!
Letter to the editor
Link to this Story
Printer-Friendly Story View
---
--- Advertisments ---