Fed Leaves Target Short-term Interest Rates Unchanged
Fed sees Inflation Coming Under Control, Economic Growth Remains Solid
July 1, 2007 Leave a Comment
By: Jerry Cole - Retirement, Investment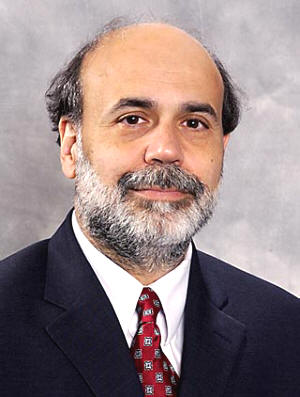 Ben Bernanke
Federal Reserve Chairman
After rising 90 points on Wednesday in anticipation of the Fed holding the line on interest rates, the market has barely moved through mid-afternoon today, Friday, June 29, 2007. The Fed left its target short-term interest rates unchanged, as expected, at the conclusion of its Federal Open Market Committee meeting on Thursday.
It appears the Fed sees inflation gradually coming under control, while economic growth remains solid. The core PCE , which is regarded as the Fed's favored inflation gauge, rose just 0.1% in May. That pushed the year-over-year rate to 1.9%, which is now in the 1.0% to 2.0% "comfort zone" and below the 2.0% to 2.25% forecast.
The PCE is the Personal Consumption Expenditures index. The core PCE excludes the more volatile and seasonal food and energy prices. In comparison to the the consumer price index, or CPI, the PCE index uses current period quantities rather than some fixed bundle. Current personal consumption is measured in today's prices and then compared to current personal consumption at prices from a base year. The Fed considers this the most true measure of inflation.
Why is all this important? Because what happens to interest rates has everything to do with what investment decisions we make. It is so important that many analysts examine every word the Fed writes in its post-meeting statement. Any small revision to the statement made after the Fed's last meeting is interpreted to mean something to the economy. Like everything else however, the interpretations can vary.
For example, some analysts believe the Fed's inaction over the past year, despite rising inflation and a slumping economy will lead to stagflation - the combination of rising inflation and recession. Others believe a reduction in interest rates would lead to unmanageable inflation. Still others believe any increase in interest rates would throw the economy into recession.
One thing we know for sure is that a back-up in long-term interest rates has had a profound effect on the housing market. Defaults on home loans have mounted. Lenders in the sub-prime market are scrambling. Bear Stearns decided recently to put up billions of dollars to prop up an ailing hedge fund. This was done to avoid a fire sale of the fund's assets which are largely in sub-prime-mortgage debt. If there is a huge sell-off of sub-prime assets, it is likely to effect many mutual funds that we may own.
ON the plus side, consumer spending was up in May and incomes grew solidly. Apparently the high gas prices haven't killed people's appetite to buy. Incomes grew in May by 0.4 percent, the Commerce Department reported today. That was a 0.2 percent drop reported for April. Consumer spending was up by 0.5 percent for a second month in a row. Consumer spending plays a major role in shaping overall economic activity. In the first quarter of this year, consumer spending kept the economy from stalling.
Meanwhile, oil prices are up again to just the sunny side of $70.00/bbl.
I think all in all Mr. Ben Bernanke (Federal Reserve Chairman) and company are getting it right. What do you think?
I invite your questions.
Or Contact Jerry Cole at:
509 Center Ave, Suite #102, Bay City, MI
(989) 892-5055


(The opinions expressed are solely those of the author and not Gen worth Financial Securities Corporation.)
---
---
---
Send This Story to a Friend!
Letter to the editor
Link to this Story
Printer-Friendly Story View
---
--- Advertisments ---