Bay is Only Area County With No Reported Emerald Ash Borer Infestation
County Gypsy Moth Official Explains Measures to Control Invasive Species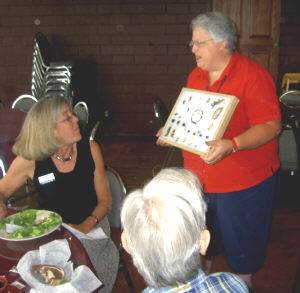 Pat Bilbrey, field aide for the Bay County gypsy moth control program, shows examples of moth development at the newly forming Pinconning-Standish Rotary Club at the Third Street Deli in Pinconning.
Efforts by Bay County officials to control firewood apparently have paid off, at least so far: Bay is the only area county where no trees have been found to be infested by emerald ash borers.
But we haven't been so lucky with the gypsy moths, and efforts are being stepped up to control the pesky tree killers.
Pat Bilbrey, field assistant for the Bay County Gypsy Moth Control program, spoke recently to the Pinconning-Standish Rotary Club, now being formed under sponsorship of the Bay City and Gladwin Rotary Clubs. Organizational meetings of the club are held Thursdays at noon at the Third Street Deli in Pinconning.
Mike Stoner, past president of the Bay City Rotary Club, and Joyce Swartzmiller, president of the Gladwin Rotary, are working to recruit members and charter the Pinconning Rotary. District Gov. Pam Harkema of Owosso is slated to address the prospective members of the new club next week. Marv Ittner of Chemical Bank, Arenac County, will be president-elect of the new club if it is chartered.
The gypsy moth and emerald ash borers,a wood-boring beetle from Asia, are among thousands of invasive species that have come into this country in the past several decades, said Ms. Bilbrey.
"In Bay County we are the program to call if you suspect emerald ash borers," said Ms. Bilbrey. She may be contacted at Pinconning County Park at 989-879-5050. Information also is available at www.emeraldashborer.info.
Those two species are especially destructive of trees and so are targets of local government programs financed through a small millage levy that supports a couple of employees. Alicia Wallace is the director of the county gypsy moth control program.
The millage has only been levied three times since it was approved about 10 years ago, she said. Wording on the millage authorization has been modified to allow use of funds for any invasive or exotic species.
Numerous woodlots that dot Bay County's 447 square miles comprising about 285,000 acres must be monitored to guard against infestations. More than 7 million ash trees are at risk in Michigan alone, officials said.
Last week Ms. Bilbrey was involved in placing about 30 traps for gypsy moths on a grid covering the entire county, with two traps per township. Traps contain the scent of female gypsy moths and the number of males trapped indicate where to look for egg masses, she said.
Because levels of gypsy moth infestation are down in Michigan, the federal government has withdrawn funds and shifted them to Pennsylvania and Ohio that are experiencing high moth populations, according to Ms. Bilbrey. There is no longer any reimbursement of control costs from the state, she said.
"Misguided scientists" who wanted to breed better silkworms were responsible for bringing in gypsy moths in 1954, the county aide said. The moths lay egg masses that hatch caterpillars that create webs in trees. This weakens the trees so they are susceptible to diseases that kill them. Pesticide spray is used to kill the egg masses and caterpillars.
Emerald ash borers live just under the bark of ash trees and create serpentine galleries. This cuts the transport system of trees so neither the tops nor roots of trees can be fed and receive water. the borer leaves "D" shaped exit holes. Trees infested by emerald ash borers take three to five years to die and must be cut down, she said. An estimated 60,000 to 80,000 trees were destroyed in one Detroit area county, she said.
After Dutch Elm disease killed most of the elm trees in Michigan in the 1950s, the state planted ash trees as replacements. There is a need to diversify tree plantings as a result of the ash borer infestation.
Officials ask permission of homeowners to enter their property for control work and leave door hangars if no one is at home. Bayer Advanced Tree & Shrub Insect Control is among products used to control ash borers.
The presence of woodpeckers and cuckoo birds is a good indication of the ash borers, officials said. The birds feed on the borers.###
---
---

Dave Rogers




Dave Rogers is a former editorial writer for the Bay City Times and a widely read,
respected journalist/writer in and around Bay City.
(Contact Dave Via Email at carraroe@aol.com)

More from Dave Rogers
---
Send This Story to a Friend!
Letter to the editor
Link to this Story
Printer-Friendly Story View
---
--- Advertisments ---