Control of Animal Factories Aim of Bills Eyed by Michigan Senate Dems
Sen. Jim Barcia's Energy Proposals Featured in Initial Website Release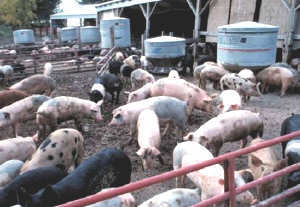 Confined animal feeding operations (CAFOs) such as this are the target of legislation recently introduced in the Michigan Senate.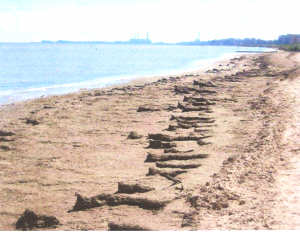 Prior to cleaning by volunteers with the Save Our Shoreline group, the muck had covered the beach at Bay City State Park in this photo taken this spring by a Saginaw Bay Coastal Initiative official.
Corporate cattle farms that are suspected of contributing to muck and potential human health risks on the shores of Saginaw Bay are the target of legislation in the Michigan Senate.
Senator Ray Basham (D-Taylor) and his Senate Democratic colleagues have introduced a five-bill package, SB 617-SB 621, to address the increasing threat of corporate animal factories, or CAFOs.
The Science Committee of the Saginaw Bay Coastal Initiative recently issued a final report of a study of muck along the bay, warning swimmers against coming into contact with the material because of pathogen risks.
The committee report states: "Degradation of the aesthetic value of the beaches has resulted in great concern among the public, especially homeowners."
"Foul smelling, shoreline deposited materials have been documented on beaches in Saginaw Bay since the 1960s," the report said. There are 28 beaches in the bay that are monitored for contamination during the swimming season. There were 25 beach closures because of health hazards in 2003, 14 in 2004, 16 in 2005 and 11 in 2006.
The legislation would contribute to efforts by local volunteers, headed by county commissioners Kim Coonan and Ernie Krygier, county legislative-financial analyst Robert Redmond, City of Bay City and labor union members to clean the beaches for swimmers and sunbathers.
The county has acquired a $28,000 "surf rake" beach cleaner through $8,000 in proceeds from a "Beach Wellness" running race, $3,000 from the Don Pero Wildlife Fund and a $17,000 loan from the county golf course fund. The equipment will also be used at the Pinconning Park and other public beaches in Bay County.
"Michigan's agricultural landscape is changing, from red barns and farmhouses to these corrugated metal monstrosities that belch manure stench into the air and leak waste into our land and water," said Basham. "As long as we let these corporate animal factories operate unchecked and uncontrolled, they will continue to dominate our landscape and devastate our environment."
Besides excessive runoff from domestic animal feeding operations, other possible causes of beach contamination include pets, birds and wildlife, dredging activities, treated and untreated discharges of sewage from combined sewer overflow (CSO), sanitary sewer overflow (SSO), wastewater treatment plants, septic tanks and the application of septage/biosolids to land.
Rep. Mark Meadows (D-East Lansing) and his fellow Democratic Representatives have also proposed a similar package in the State House.
"This is our most aggressive legislative effort yet to regulate corporate animal factories and the harm they cause to our health and our environment," Brater said. "The residents and farmers who live and work next to these operations deserve to be able to live in their homes and sleep at night without breathing in fumes and pathogens."
SB 617 would require the Departments of Agriculture and Environmental Quality to promote alternative means to dispose of manure, and require CAFO air emissions plan.
SB 618 would provide for private civil actions against CAFOs, an increasingly important concern as neighbors and surrounding communities suffer the adverse effects of these factories.
SB 619 would establish a CAFO cleanup and enforcement fund.
SB 620 would require CAFOs registered as withdrawing large volumes of water to file annual reports.
SB 621 would address the preemption of local ordinances and clarify the circumstances relative to certain CAFOs.
These bills are in addition to SB 444 and HB 4667, introduced by Sen. Basham and Rep. Meadows respectively, which called for a complete moratorium on expanding current or developing new CAFOs until the state has a better handle the number, types and impact of corporate animal factories in Michigan.
Water testing at Michigan beaches will continue and the Center for Water Sciences at Michigan State University is cooperating with other agencies to develop methods for tracking microbes and "true" pathogens, according to Dr. Joan Rose, director.
The public is urged avoid contact with muck, to wash thoroughly if contact is made and to report to a local health department any illness suspected of stemming from exposure to beach muck or water.
Meanwhile, Sen. Jim Barcia (D-Bay City) spoke last week at the Senate Energy Policy and Public Utilities Committee Meeting about his renewable energy legislation, S.B. 385, which would require 20 percent of Michigan?s electricity to come from clean, renewable sources by 2020.
This bill would also require the Public Service Commission (PSC) to establish a renewable energy portfolio standard for each electric service provider and require providers to submit annual compliance reports to the PSC.
Also, Sen. Bruce Patterson, (R-Canton) announced a work group to study renewable portfolio standards and alternative fuels.
"Renewable energy is the ticket to a renewed economy for Michigan. We need an aggressive strategy to make this technology a reality," said Sen. Barcia. "Other states have already experienced job creation as a result of their efforts to encourage renewable energy, and our manufacturing infrastructure, natural resources, and workforce give Michigan the tools to become a national leader in this field."
So far, Barcia said, more than 20 other states and the District of Columbia have implemented a Renewable Portfolio Standard (RPS). "This legislation would allow Michigan to compete with our Great Lakes neighbors-like Wisconsin and Minnesota--which are already creating renewable energy-related jobs. It would also give our state the tools to capitalize on its manufacturing strengths and develop a clean energy industry. Michigan's skilled manufacturing base also makes the state a strong candidate for the production of the materials associated with renewable energy, for instance, windmills."
He added: "The State of Michigan currently spends over $18 billion a year to import energy from dirty, non-renewable sources. By doing so, we are not only harming our own water and air quality, but we are effectively subsidizing thousands of energy jobs in other states as well."
Michigan is the 14th windiest state in the country, and it is second in the Great Lakes in terms of wind generation potential, Sen. Barcia noted. "Studies by groups like Environment Michigan and the Apollo Alliance suggest that implementing even a modest RPS could lead to the creation of tens of thousands of jobs and would help keep a portion of the more than $18 billion we spend annually on dirty, non-renewable energy from other states."
Editor's Note: A copy of Barcia's testimony is available upon request to his office in Lansing.
The Senate Democratic Caucus also has launched a newly formatted website to increase access to information for constituents.
New features of the site include: video and audio podcasts; an RSS feed for instant news updates; and design changes that allow easier site navigation. The new site is located at http://www.senate.michigan.gov/dem
---
---

Dave Rogers




Dave Rogers is a former editorial writer for the Bay City Times and a widely read,
respected journalist/writer in and around Bay City.
(Contact Dave Via Email at carraroe@aol.com)

More from Dave Rogers
---
Send This Story to a Friend!
Letter to the editor
Link to this Story
Printer-Friendly Story View
---
--- Advertisments ---