Computer Vision Syndrome
Using a computer places several different demands on our eyes.
July 8, 2007 Leave a Comment
By: Dr. Lee Newton, Eye Care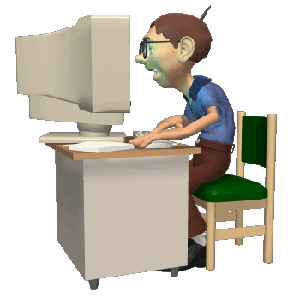 Millions of individuals suffer from 'computer vision syndrome'
Do you feel like your eyes tire more easily while working on the computer? Do you experience a sandy or gritty sensation? Neck or back pain? What does this have to do with vision?
Using a computer places several different demands on our eyes and visual system. Millions of individuals suffer from 'computer vision syndrome', a term given to many eye/vision symptoms associated with computer use.
The proper ergonomic setup is important, especially if you wear progressive addition (no-line trifocal) lenses. The best scenario is where your eye level, in a straight-ahead position, is at or even an inch or two above the top of the monitor. This allows clear vision through slight downgaze, without the need to adjust your head and neck accordingly.
The most common problem is the monitor being too high, in which case it is necessary to have an adjustable chair or lower the screen if possible. You should not have to tilt your head to see the screen clearly.
Of course, certain work environments may prevent you from achieving the ideal placement of the monitor. If so, it may be necessary to have your eye doctor write a customized glasses prescription based on your exact situation.
The 'pixellated' nature of computer text does not allow sharp contrast between the edge of "text" and "no text" (as in printed text), and this phenomenon has been shown to tire our eyes more than if we had looked at printed text for an equal amount of time. Although there is no cure for this, the best treatment is to use a good quality monitor and to take breaks a few times per hour. Let your eyes relax as you focus at distant objects, such as out a window, for a minute or two.
Some individuals prefer to use an anti-glare filter. Most find that glare is reduced if there is not a window immediately past the monitor or behind the user.
Studies show that our blink rate reduces significantly when using a computer. This can lead to dry eye sensation (sandy, gritty feeling) or exacerbate a pre-existing dry eye condition. Many individuals find that a forced air heating or cooling register in the immediate vicinity can make the problem even worse. The best treatment here is to not have air blowing directly at your workstation, drink 8 glasses of water daily, consciously remember to blink, and see your eye doctor if you still have symptoms.
These are just a few of the ways that computer use can interfere with maintaining clear, comfortable vision. If you have any questions about this topic or any suggestions for a future eye care topic, please email me at drnewton@newtoneyecarecenter.com.
I would like to take this opportunity to invite everyone to the ribbon cutting at Newton Eyecare Center, Thursday, July 12th, at 5:00 p.m. We're at 3720 Wilder, between Hank Graff and Gordon Foods. There will be a social hour following. Free wine will be served!
---
---

Dr. Lee Newton, Eye Care




Dr. Lee Newton has provided eye care services in Bay City ever since graduation from professional school. He and his family consider the Bay City area a great place to live, work, learn, and play!

More from Dr. Lee Newton, Eye Care
---
Send This Story to a Friend!
Letter to the editor
Link to this Story
Printer-Friendly Story View
---
--- Advertisments ---