BAY CITY AIRSHOW is Back to Blow You Away!
Valley Aero Club Presents, Barnstorming By the Bay Airshow - August 10-12th
July 22, 2007 Leave a Comment
By: Julie McCallum, Entertainment Editor

Who doesn't love the rush brought by the roar and fury of an aircraft zooming by and leaving contrails in the sky or watching the skydivers falling from the sky and a performer transferring from a biplane to a helicopter.


This year's Airshow, Barnstorming By the Bay, is sponsored by Valley Aero Club. The airshow will take place at James Clements Airport,
614 S. River Rd., Bay City
, August 11-12, 2007. Events take place between 11:00 a.m. - 5:00 p.m. each day.
Last year's Airshow brought in over 15,000 people to Bay City. Pam Binder, Volunteer PR Chairperson, said, "This is our fourth airshow in five years." "It is our plan to make this the biggest and the best ever." Binder said.

The Airshow provides a unique lineup of: Wing-walkers, aerobatics, formation flight, a daring airplane to helicopter human transfer, Otto the Helicopter, a family favorite, and back by popular demand, the Pacific Prowler - the B-25 and Wings of Mercy East providing airplane rides for the public.
(Pacific Prowler - Pictured Right)
According to Binder, new this year to the air show is the "Screamin' Rebel" Team of 4 T - 6's performing aerobatics and evasive maneuvers.
Also, a scheduled 'Fly By' will be performed by a KC-135.
(The KC-135 Stratotanker's principal mission is air refueling. This unique asset greatly enhances the Air Force's capability to accomplish its primary missions of Global Reach and Global Power. It also provides aerial refueling support to Air Force, Navy and Marine Corps aircraft as well as aircraft of allied nations. The KC-135 is also capable of transporting litter and ambulatory patients using patient support pallets during aeromedical evacuations.)
Binder said, "We are excited about plans for this great family event, providing a breath-taking, action-packed show and unique displays, its a family event geared for all ages."
The acts lined up are:
Super Stearman with its second generation wing-walker in a series of low level aerobatics
Otto the Helicopter a family favorite doing things with a helicopter the kids will love, and the Untied Team, who, along with Otto will perform a daring aircraft to helicopter a transfer of a performer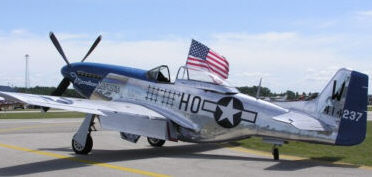 P-51 Mustang, (Pictured Right) WWII Warbird, a deHaviland Chipmunk and the return of the Pacific Prowler B-25 which will perform in the airshow and be available for public tours on the ground and flights over the bay.
Paul Stender returns with his ever thrilling and funny act of the Jet Powered Potty and his BRAND NEW Jet Powered Beer Can.
Wings of Mercy East returns with airplane rides for the public, $20 for Adults and $15.00 for children.
Static displays include many of the aerobatic planes parked on the ramp before and after the Airshow.
For details on Airshow Scheduled Performers Click Here


Funds from the Airshow go to Valley Aero Club, a non-profit charitable organization sponsoring projects for James Clements Airport since 1954, along with the Bay County United Way and the Bay Area Community Foundation. (Valley Aero Club is a group of pilots and aviation enthusiasts seeking to support and enhance the community since 1954 through aviation related activities.)
Proceeds from the airplane rides support Wings of Mercy, East Michigan and its mission of transporting needy patients to distant medical centers.
Admission Advance Tickets: $10 for Adults, and $6.00 for children ages 3-11, available at the web site http://www.BayCityAirshow.com & James Clements Airport on River Rd.
Prices at the gate: $12 for adults and $8.00 for children ages 3-11. Parking at the airport is $5.00. Free transport will be available from the Middle Grounds Island to and from the airport.
Food, beverages and a beer tent will be available on the grounds. (No dogs, coolers or bicycles)
Sponsoring groups for the event include: Dr. William Koelsch, DVM, Pinconning Veterinarian and local pilot; MacDonald Broadcasting, Airshow Media Sponsor with stations: The Bay; WKCQ and The Joe; Bay Valley Hotel, Airshow Premier Host Hotel; Hagen Ford; Showcase Mitsubishi and Bay Valley Animal Hospital. Sponsorships are still available.
---
Stayed tuned to MyBayCity.com for full coverage of the 2007 BAY CITY AIRSHOW!
Subscribe Today!
It's FREE! Each time a new edition of MyBayCity.com is published, our circulation wizard will send you an e-mail notice.
---
---
---
Send This Story to a Friend!
Letter to the editor
Link to this Story
Printer-Friendly Story View
---
--- Advertisments ---