ECONOMY IN FOR LONG TERM ADJUSTMENT, SAYS GENERAL MOTORS FORECASTER
Resolution of Iraqi War Won't Magically Make Fear of Recession Disappear
March 27, 2003 Leave a Comment
By: Dave Rogers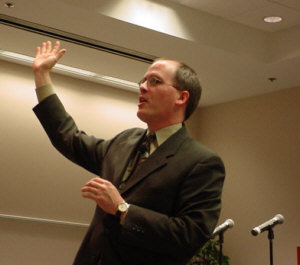 Paul Ballew captivates full house at Tri-County Economics Club with economic expertise.
Even after the situation in Iraq is resolved, don't expect the United States economy to recover immediately.
Excesses in price stimulated by over consumption built up during the 1990s and are transforming the economy. We will be adjusting to those excesses for some time to come.
And, there is a risk of a recession if ignited by some "unfortunate occurrence."
Those statements summarize the economic forecast of economist Paul Ballew to a local business group March 24 at Saginaw Valley State University.
For 13 consecutive years Mr. Ballew has presented his view of the state of the national and world economy to the Tri-County Economics Club. Mr. Ballew is General Motors Corporation's Executive Director for Global Market and Industry Analysis. This year his presentation was co-sponsored by the Saginaw Valley Manufacturers' Association.
"This is a daunting environment, although I am fairly optimistic," said Mr. Ballew. "In an era of change we want a flexible system capable of adjustment. We need to focus on what really matters, including the education of our children."The local business group was, of course, most interested in Ballew's take on the future of the automotive industry and the Michigan economyin particular.
Regarding autos, Mr. Ballew said: "The competition is unbelieveably fierce, like nothing ever experienced before." The erosion in market share has forced GM to be extremely aggressive on price and value, he said. The next three years will see deflationary pressures on the automotive industry. For example, new car prices have declined 4 percent and used car prices are down 7 percent. And, in the next three years the number of badges (vehicle nameplates) in the marketplace are expected to increase by 23 percent. "This intense competition is compelling us to do things better, cheaper," he said. "It is insufficient to be average, and that's a big cultural change for GM."
The Federal Reserve Board, for which Mr. Ballew formerly worked as a research officer and senior economist, "didn't do its job in pulling the economy away from the excesses of the '90s," he said, commenting: "It is not normal for a company having no earnings to have a stock price of $150 a share."
Closer to home, Mr. Ballew said: "Michigan has come a long way; it is far more business and investment friendly." A formerly uninviting taxation and business climate is better, apparently crediting former Gov. John Engler with the transformation during his decade long administration. Mr. Ballew noted that GM "has made a sizable investment in Lansing," referring to several new plants being constructed in the state capital. "The state remains heavily dependent on the automotive sector, he said.
Government, however, along with health care, felt the Ballew lash when he labeled those two sectors as out of control because they are not affected by price constraints. "Health care prices keep going up 6-7 percent a year," which he termed "an unsustainable rate. Dealing with the funding of health care is extremely difficult because "it deals with life and death," but another way to fund the system is critically needed, he indicated. The implication is that consumption not restrained by price, as in health care which is funded mainly by insurances, and in government, with its base in taxation, are prime examples of the over-consumption of the 90s. "There is a relationship between price and the amount consumed," Mr. Ballew stated.
Other points made bythe economist included:
*Fuel cells are the technology of the future, but costs must be lowered;
*China is the fastest-growing auto market in the world, with the U.S. in second place;
*Lower interest rates have served as a "shock absorber" for the economy through home refinancings and auto purchases; households will have to carry the load for the economy to continue to expand;
*A major problem is that there is very little unused production capacity in most sectors; Also, labor markets are soft and unemployment is high;
Unfortunately, tax cuts have been tabled, said Mr. Ballew, who opines that "fiscal stimulus is justified."Despite the problems and potential for recession, which "might be a good and cleansingthing," Mr. Ballew forsees a 2-3 percent growth rate next year. "Readjustment is part of the process of healing after the celebration of the 90s."*
---
---

Dave Rogers




Dave Rogers is a former editorial writer for the Bay City Times and a widely read,
respected journalist/writer in and around Bay City.
(Contact Dave Via Email at carraroe@aol.com)

More from Dave Rogers
---
Send This Story to a Friend!
Letter to the editor
Link to this Story
Printer-Friendly Story View
---
--- Advertisments ---