TIMBER!!! Market for Wood Returns Century After End of Lumbering
Nation's First Wood Ethanol Plant to Put Michigan in Energy Race Spotlight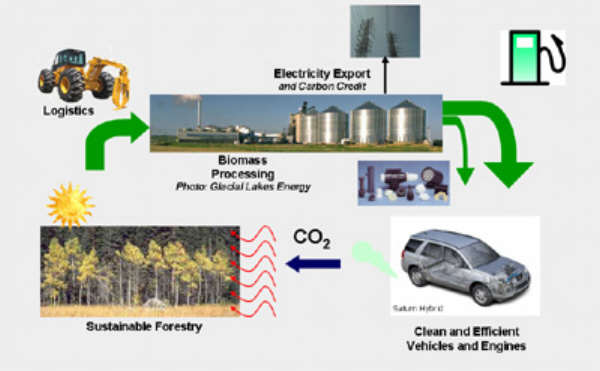 Graphic from Michigan Tech illustrates how the Wood to Wheels Project is designed to produce cheaper ethanol.
The glory days of lumbering ended a hundred years ago in Michigan, right?
But guess what?
They're back!!!!
Paul Bunyan and his lumberjacks soon may be back in demand again.
Massachusetts-based Mascoma Corporation will build a cellulosic ethanol plant in Michigan in its race to be the first in the nation to produce ethanol from wood on a commercial scale.
Mascoma CEO Bruce A. Jamerson announced that the plant will turn the state's abundant, non-food plant life into clean-burning fuel. Location of the plant has not been revealed but it is assumed it will be located somewhere north of Bay City.
Now not only every wood lot may become a profit center, but also every bag of yard waste may be saleable, much like scrap metal is now in demand.
In addition, the construction of the Mascoma plant will put Michigan in the national spotlight of the race for energy independence pitting corn ethanol against wood ethanol.
Governor Jennifer M. Granholm has called for Michigan to take the lead in reducing the demand for foreign oil and has set a goal for 1,000 E85 biodiesel pumps in the state by 2008.
"Michigan is moving aggressively to increase the production and use of alternative fuels," Granholm said, adding: "With organizations like NextEnergy, Michigan State University, and others attracting cutting-edge research and development in the ethanol and biofuels industries, Michigan can be the state that reduces our nation's dependence on foreign oil."
The new plant will be built using venture capital from East and West coast firms raised in a recent $30 million investment round conducted by Mascoma.
A corn ethanol plant built in Caro in 2002 by Michigan Ethanol LLC has changed its name to POET Bio-refining and is part of a chain of 20 such facilities in five Midwest states, Iowa, South Dakota, Minnesota and Missouri. The same firm has seven new plants in development in Indiana, Ohio and Minnesota.
At Caro, POET uses nearly 16 million bushels of corn to produce about 40 million gallons a year of environmentally-friendly high quality feedstock. The experience at Caro shows what happens to the market when a product is in high demand -- prices rise and producers respond. This breathes new life into the Michigan economy that sorely needs vitality.
Prices for corn are rising steadily, a fact that is good news for area farmers. August corn is priced at $3.03 per bushel and rises to $3.22 futures for January, 2008, $3.67 for October-November 2008 and $3.80 for October-November 2009. (See www.poetenergy.com.)
The Michigan Economic Development Corporation (MEDC), led by President and CEO James C. Epolito, is working with Mascoma on a tax incentive package for the project. A victory for MEDC on this project no doubt will go along way toward defusing criticism from conservative policy groups and journalistic critics about the agency.
State Sen. James A. Barcia, Bay City Democrat, has been a proponent of alternative energy and has sponsored several bills to encourage its use.
Unlike most current biofuel productions, Mascoma's Michigan cellulosic plant will make ethanol mainly from wood chips and other non-food agricultural crops.
Most of the nation's biofuel facilities convert corn and other food crops into fuel. Because cellulosic ethanol production uses non-food agricultural feedstock, it is critical to producing ethanol on a scale that could substitute for imported oil, according to Mr. Jamerson.
Mascoma, the leader in cellulosic biomass-to-ethanol development and production, recently announced it has raised $30 million in its second round of venture funding. The financing was led by General Catalyst Partners, with additional participation from Kleiner Perkins Caufield & Byers, Vantage Point Venture Partners, Atlas Venture, and Pinnacle Ventures, as well as existing investors Khosla Ventures and Flagship Ventures.
"We are entering a new and exciting phase," said Mascoma President and Director Dr. Colin South. "With this second round of funding completed, we are focused on further developing our production technologies and processes to make fuel ethanol from cellulose a practical and sustainable reality for consumers."
"Cellulosic biomass as a feedstock is key to the mass commercialization of ethanol," said Hemant Taneja, principal, General Catalyst Partners. "Mascoma's technology will provide the ability to move beyond corn-based ethanol and prove that a dependence upon foreign oil is far from inevitable."
Today ethanol in the U.S. is made primarily from corn, a resource with multiple uses with limits to its long term capacity. Ethanol made from cellulosic biomass (e.g. grass, wood, and various agricultural and forestry wastes) takes advantage of significantly lower raw material cost, more plentiful and varied feedstocks, and expands the potential for ethanol to blend with and displace gasoline with a cleaner, renewable, domestically-produced liquid fuel.
This round of funding represents a major milestone for Mascoma, and will be used for further research, the development and construction of new demonstration facilities, as well as designing commercial facilities for additional build-out. "We are focused on developing further cost efficiencies in commercializing cellulosic ethanol, and attracting new partners in complimentary spaces," said South. "Mascoma's decision to choose Michigan is helping us achieve a key part of our economic plan -- making our state a leader in alternative energy production," said Gov. Jennifer Granholm. "Cellulosic is the next step in wide-scale ethanol production, and this puts Michigan on the leading edge of technology that will create good-paying jobs for Michigan citizens."
Granholm advocates development of an alternative energy and alternative fuel industry in Michigan for both economic and environmental reasons. She notes that Natural Resources Defense Council research shows that ethanol made from cellulose could reduce global warming pollution as much as 88 percent compared to a gallon of gasoline.
"It is exciting that the birthplace of the American automobile industry is becoming a leader in next-generation biofuels," said Mr. Jamerson.
He said: "Michigan is an excellent state for one of the country's first cellulosic ethanol plants, given its many tons of biomass available for conversion into low-carbon, domestically-produced fuel. We look forward to working with Governor Granholm and Mr. Epolito in this initiative to rapidly advance the commercial production of cellulosic ethanol in Michigan."
Mascoma chose Michigan for the new plant based on the abundance of forestry and agricultural materials and the expertise found at Michigan State University and Michigan Technological University that will partner with Mascoma on the project to develop and hone scientific processes and Michigan feedstocks for cellulosic ethanol production.
Michigan State will provide expertise in areas including pretreatment technology for cellulosic ethanol production and assistance with energy crops that can be utilized by the bio-refinery. Michigan Tech will provide expertise through its "Wood to Wheels" initiative. This includes optimization of forestry feedstock materials for energy use, knowledge of sustainable forestry management practices, and access to its automotive engineering laboratories for analysis of the biofuels produced at the project site.
"Mascoma and Michigan are a great match, because our research institutions are focused on this science, and our 21st Century Jobs Fund is focused on bringing job-creating alternative energy projects to Michigan," Epolito said. "This new facility will lead to more jobs within our agriculture, timber, and manufacturing industries while ensuring sustainability and helping reduce our nation?s dependence on foreign oil."
Mascoma Corporation, headquartered in Cambridge, Massachusetts, home of Harvard University, focuses on low-carbon cellulosic biomass-to-ethanol. The firm has a research and development laboratory in Lebanon, New Hampshire.
Mascoma is developing advanced technologies with Professor Lee Lynd at Dartmouth College's Thayer School of Engineering by licensing 'best in class' microorganisms and enzymes, and with other sponsored research around the world. It is also developing several demonstration and commercial scale production facilities.
Earlier this year, the MEDC and NextEnergy, Michigan's alternative energy accelerator located in Detroit, established a cellulosic biofuels working group to help plan for the promotion of this industry in Michigan. They identified and targeted Mascoma as the ideal lead partner in generating renewable fuels from Michigan's forestry resources.
The MEDC and NextEnergy believe the partnership with Mascoma will dramatically advance Michigan as a national leader in the next generation of renewable fuels.
MEDC is helping Mascoma identify a plant site within the state that will be strategically located to provide ready access to the feedstock needed each day for production. The full value of state incentives offered to Mascoma is contingent on the final site selection.
The 21st Century Jobs Fund is a $2 billion initiative aimed at accelerating the diversification of Michigan's economy. For more information, see the MEDC Web site at www.michigan.org.###
---
---

Dave Rogers




Dave Rogers is a former editorial writer for the Bay City Times and a widely read,
respected journalist/writer in and around Bay City.
(Contact Dave Via Email at carraroe@aol.com)

More from Dave Rogers
---
Send This Story to a Friend!
Letter to the editor
Link to this Story
Printer-Friendly Story View
---
--- Advertisments ---