Michigan Challenge (IDOL) Country Night
Hats & Boots Parade at Stables
Judges Will Cut to the "Final Four" on Wednesday, August 1, 2007
July 29, 2007 Leave a Comment
By: O. J. Cunningham
Thanks to
Dick Bork of Labadie Auto
and
Ray Stack of Silver Sand Limo
for their support -- They made On-Line Voting for this competition a reality.
VOTE BELOW!!
---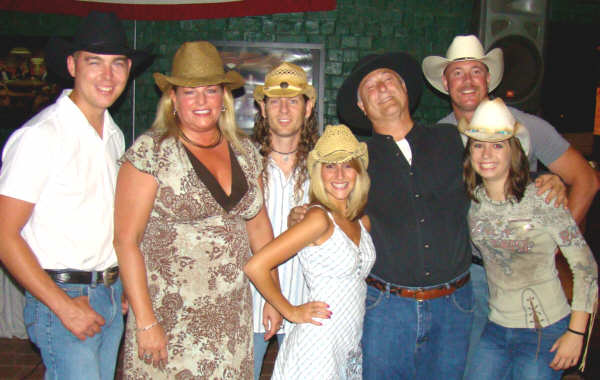 HAT NIGHT AT THE STABLES - Country Music, Country Singers and Cowboy Hats were on display at Stables on Wednesday night. Competition singers brought out their finest headgear. (L/R) Steve Armstrong, Karen Powell, John Cudworth, Kate Gembrowski, Judge Ron Graham, Carl Neview and Jenna Moeggenborg.
---
We all knew we were in for a "Hot Time" when Judge Ron Graham showed up for Country Night at the Stables wearing his best Sunday-go-to-meeting black cowboy hat. "We are going to hear some awesome country singing tonight," Graham said.
Fans and on-lookers also donned cowboy hats and country-western attire as they "boot scoot boogied" over to Stables on the West Side of Bay City for warm-ups at 8:30pm.
The competition got under way at about 9:00pm. And the singers did not disappoint!
One after another, the 10 finalists did their thing and brought ovation after ovation from the jam-packed crowd at Stables.
Only one week of singing remain for these 10 finalists. On the last night of competition (Wednesday, August 1st), the 10 singers will be able to sing any song of their choice.
On August 1st, the judges will pick the "Final Four." These 4 singers will perform at the Pig Gig on Friday night, where the winner will be crowned.
That grand prize winner will then sing at the Pig Gig on Saturday night and also receive an all expense paid trip to Las Vegas.

Kate Gembrowski
"I'm Doin' All Right"

John Dukarski
"Me & My Gang"

Kalei Souza
"God Bless The Broken Road"

Jenna Moeggenborg
"Why Havn't I Heard From You"

Ashley January
"Feel Like A Woman"

Steve Armstrong
"Poppa Loves Momma"

Carrie "C.J." Jones
"Blue"

Carl Neview
"That's My Name"

John Cudworth
"Chicks Dig It"

Karen Powell
"Crazy"

Vote For Any Three
You can only vote once per day. Thanks!