Market Falls 311.5 Points -- Not a Day to Panic, Relatively Speaking
Although nerve-wrecking, you could consider downward move normal.
July 29, 2007 Leave a Comment
By: Jerry Cole - Retirement, Investment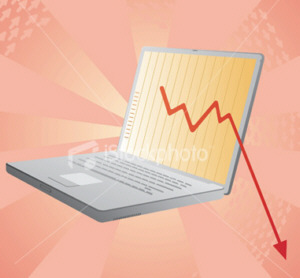 Relatively speaking, 311.5 Market Decline Not a Reason to Panic.
When you witness a market that has fallen 311.5 points, as the Dow Jones Industrial Average did yesterday, it is only natural to feel some alarm. Those are a lot of points! But you have to keep things in perspective, to look at things on a relative basis. Relatively speaking, yesterday was not a day to panic.
The move down was 2.3%. This by itself does not represent a "correction" in Wall St. speak. A stock market decline of 5% or more would be considered a correction.
Although nerve-wrecking, you could consider yesterday's move normal. It may have been in response to the recent surge in the market, which was surprisingly fast. It went from 13,000 to 14,000 in only 58 days. Before that, it took only 126 days for the Dow to move from 12000, to 13,000, which happened on April 25.
Of course, the major financial media is full of explanations as to why the market had the sharp move down.
The sub-prime mortgage debacle seems to head the list. This is a valid concern to be sure. The slow-down in the sale of both new homes and existing homes is beginning to have an effect on the economy. This has come about because of higher interest rates.
When home prices were rising, home owners were able to get out of mortgages they could not afford by refinancing or selling. Now, with tighter lending standards and falling home prices, they are unable to do that. Some are faced with a home value that has fallen below the value of their existing loan.
The tight lending standards have even caused turmoil in the prime borrowers area. Defaults by prime borrowers are rising. All of this has caused orders for new homes by builders to tumble, in some cases by 40%. And, since there has been a slow down in buying, inventories have risen sharply.
Thus, the bears see the recent turmoil in the mortgage-debt markets and in corporate junk bonds as a threat to the economy. They believe it will slow down economic growth and therefore hit stock-market values. The bulls on the other hand see the recent credit crunch as isolated and long overdue.
In their view, the debt market will sort out its troubles in the near future. The bulls also believe in the strong underlying economy. To that end, the U.S. gross domestic product grew at a 3.4% annual pace in the second quarter. This was a strong rebound from the 0.6% gain in the first quarter of the year.
The core consumer price index rose 1.4% in the second quarter. The core CPI, which remember excludes food and energy, was down from the 2.4% rise in the first quarter, a good sign for inflation. To be in the Fed's "comfort zone," the core number must fall between 1% and 2%.
Consumer spending however, slowed to a 1.3% annual pace, down from a 3.7% pace in the first quarter. Consumer spending accounts for 70% of the economy.
In any event, a down turn always brings an opportunity to upgrade the quality of a portfolio on the cheap. It can be an opportunity to discover good stocks that got unduly whacked. It is an opportunity to lower your risks.
And remember - Human nature is always in conflict with successful investing!
I invite your questions.
Or Contact Jerry Cole at:
509 Center Ave, Suite #102, Bay City, MI
(989) 892-5055


(The opinions expressed are solely those of the author and not Gen worth Financial Securities Corporation.)
---
---
---
Send This Story to a Friend!
Letter to the editor
Link to this Story
Printer-Friendly Story View
---
--- Advertisments ---