Majority of Americans Do Not Know About Danger of the Sun To Eyes
Top quality sunglasses have one additional important feature - polarization
July 29, 2007 Leave a Comment
By: Dr. Lee Newton, Eye Care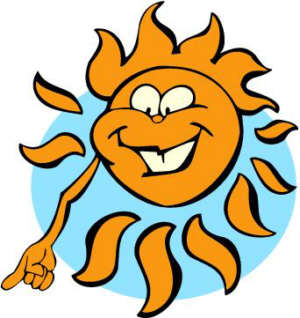 Ultraviolet light from the sun can hurt our eyes, as well as our skin
Do we all know that the sun can cause damage to the eyes?
Actually, a recent survey showed that a majority of Americans DID NOT know that the rays from the sun cause damage to the eyes.
As you may know, the sun emits a lot of energy, and this energy falls in different places on the electromagnetic spectrum. Some is visible light, which we can see. But there are other types of energy that our eyes can't see.
And one of these types, ultraviolet, can hurt our eyes, as well as our skin.
In the study alluded to above, most Americans DID know that sun exposure can damage the skin.
How does this happen? The answer is at the cellular level, referring to the changes this energy has on the cells and tissues - of our skin and eyes. In the eyes, some of the changes are classified as cataracts and macular degeneration - things that happen inside the eyes. There can also be photokeratitis - irritation of the cornea (front part) caused typically from light/energy reflected from a layer of snow on the ground.
There are three types of ultraviolet (UV) energy: UVA, UVB, and UVC. Actually, most of the UVC is filtered out by the earth's atmosphere before it reaches us. Unfortunately, if the ozone layer happens to thin too much, we will lose this degree of protection. For now, UVA and UVB are where our concern lies.
You should wear sunglasses that block at least 99% of the UVA and UVB light. One may think that even 80%-90% would be a passing grade -but the reality is that our pupils will dilate somewhat behind a dark lens - and in this case of inadequate UV coverage - more UV may enter the eyes than if you had worn nothing at all.
An interesting fact is that you can have UV protection in a clear lens - this makes sense when you consider that UV can't be seen anyway.
What are the characteristics of a good sunlens?
As above, it must block 99+% of UVA and UVB.
It also must transmit only 10%-25% (or block 75%-90%) of visible light (this is the darkness factor).
Top quality sunglasses have one additional feature - polarization. This feature also blocks glare, which we will define as reflected light from a surface, such as water, snow, or the road.
Here are some interesting facts about UV, sunglasses, and our eyes:
At noon on a sunny day, we only need about 2% of the available visible light to provide for 20/20, functional vision.
UV damage is cumulative. This means that exposure you received when you were young is added to the incremental exposure you sustain when you neglect to wear your sunglasses today and tomorrow.
Therefore, it is not true that you are safe by just avoiding excessive doses of the sun (applies to skin and eyes).
Studies have shown that some visible light is also implicated in macular degeneration - so it's not totally a UV issue.
Vehicle windshields actually block nearly all UV - but the side and rear windows don't, so you should protect your eyes even while in the car.
Statistics show that glare is a factor in many traffic accidents.
Some contact lenses block UV. This should be viewed as an added degree of protection, not the only one.
Along the same lines, sunglasses with a really small lens shape will not block rays that come from the side. Adequate "wrap" or center-to-side curvature to fit your face optimally is important as well.
My favorite one:
Most of the UV exposure we receive happens before we are 21 years old! Thus it is most important to protect children. It is still important in adults for the reasons mentioned above, but essential in children.
Several companies produce sunglasses for infants and children. They are soft and conform to the face, are made of impact resistant material, and even allow prescription lenses to be used.
I invite your questions and feedback
Or Contact Dr. Lee Newton at:
3720 E. Wilder Road, Bay City, MI
(989) 667-9393


Coming in August: Each week we will feature a children's vision topic!
---
---

Dr. Lee Newton, Eye Care




Dr. Lee Newton has provided eye care services in Bay City ever since graduation from professional school. He and his family consider the Bay City area a great place to live, work, learn, and play!

More from Dr. Lee Newton, Eye Care
---
Send This Story to a Friend!
Letter to the editor
Link to this Story
Printer-Friendly Story View
---
--- Advertisments ---