Regular Teeth Cleaning Helps Prevent Gingivitis & Gum Disease
Regular Dental Care is an Investment in the Future of Your Mouth
August 2, 2007 Leave a Comment
By: Ken Nelson, DDS, Dentistry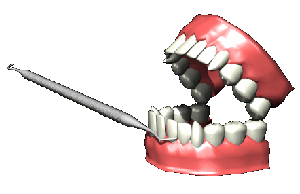 Keeping your teeth clean helps prevents gingivitis and keeps gum disease under control.
Keeping your teeth clean by way of a professional cleaning helps prevent gingivitis and keep gum disease under control. When the dentist checks your teeth, minor and major problems are noted to either watch or treat. Similarly, x-rays allow dental professionals to find hidden problems.
By having these procedures done on a regular basis, you are investing in the future of your mouth. Keeping the calculus (tarter) from forming on your teeth is a daily battle. But if that build up is not removed by a professional regularly, calculus will cause gingivitis and gum disease.
The regular maintenance of a professional cleaning helps avoid the more expensive treatment cost of fighting gum disease.
By finding a cavity or other problem early, treatment is usually limited and dentist until a problem is obvious usually leads to more involved treatment which is more expensive.
To provide proof as to why a cleaning, exam and x-rays are a bargain, let's look at two scenarios. A cavity is found between your teeth on x-rays taken today. A filling is scheduled in the near future and the problem is resolved.
If however you only visit the dentist when you have pain or every couple years for a checkup, then chances are the cavity described before continues to grow until it is very large. Removal of the decay and repairing the tooth could involve a root canal, build-up, and crown. The cost for these last three items is over ten times the cost of a routine check-up.
After reading these two scenarios, it is obvious that by investing a little time and money on a regular basis you are probably preventing major problems and therefore major expenses.
I hope to hear from you soon to schedule your dental cleaning and examination.
Or Contact Dr. Ken Nelson at:
800 S. Euclid Ave, Bay City, MI 48706
(989) 686-5410


---
---

Ken Nelson, DDS, Dentistry




Dr. Nelson has served patients at West Bay Dental since 1985. Dr. Nelson provides most dental services with an emphasis on cosmetics, full mouth reconstruction, oral surgery and implants.

More from Ken Nelson, DDS, Dentistry
---
Send This Story to a Friend!
Letter to the editor
Link to this Story
Printer-Friendly Story View
---
--- Advertisments ---