REMEMBER - The Only Way To Coast Is DOWNHILL
Reaching a successful investment goal takes discipline.
August 5, 2007 Leave a Comment
By: Jerry Cole - Retirement, Investment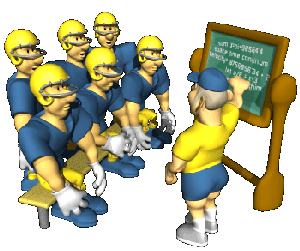 The strategy you set down for yourself will only be as good as your behavior.
Today's worry for the market was the jobs report. The report has not seemed to effect the market one way or the other. July payrolls added 92,000 jobs, the slowest pace since February. The unemployment rate ticked up to 4.6%, the highest rate since the first of the year. However, both of these numbers are very good by historical standards.
The market worries about such reports because it is concerned how the Federal Reserve will interpret the data Too strong data could influence the Fed to either stay the course on interest rates, or even increase rates. This would surely upset the market. Rising interest rates would further disrupt already disorderly credit markets.
A weak report, on the other hand, could send a signal that economic growth is slowing. As long as employment remains steady, the bulls argue, corporate profits should keep rising, consumers should keep spending and stocks should go higher.
A weak report would also raise the likelihood that people will default on their mortgages and exacerbate a very bad situation in that part of the economy.
The Fed's policy-setting federal Open Market Committee holds a one day meeting on Tuesday and it is expected by most followers of the Fed to keep its federal funds rate at 5.25%, where it has been for more than a year.
Of course what happens to the economy at any given time may not effect your overall investment plan. But a trend will and should effect your planning. What changes you make has everything to do with where you are in the life-cycle. Assume a long life. The life expectancy for a man born in 1940 was 58 years and 61.3 for a woman.
Today, however, those life expectancies are 76.9 years and 78.4 years respectively (ref. U.S. Social Security Administration periodic life tables). And even after you retire, you have to keep planning. For example, given how long retirement can last (30 years or more), it's critical to allocate a portion of your investments for growth to stay ahead of inflation.
Few things enhance risks more than a short time horizon. The longer an investor has to reach his or her goal, the less risky any course of action is for him or her. The longer an investor's time horizon, the more risk he or she can afford to take.
With a longer time horizon, the more time an investor has to make up for any losses , and/or to compound gains. So obviously, the sooner you put an investment plan into action, the better chance you have for success.
Also, you cannot afford to make risky assumptions. Some examples of this are "I'm going to work in retirement", or "my taxes will go down in retirement", or "I can live on 70% or 80% of my pre-retirement income". You need to take a reality check on these type of assumptions There can be a big difference between what you say you may do or might do, versus what you actually end up doing.
Reaching a successful investment goal takes discipline. The strategy you set down for yourself will only be as good as your behavior.
Remember - The only way to coast is downhill!
I invite your questions.
Or Contact Jerry Cole at:
509 Center Ave, Suite #102, Bay City, MI
(989) 892-5055


(The opinions expressed are solely those of the author and not Gen worth Financial Securities Corporation.)
---
---
---
Send This Story to a Friend!
Letter to the editor
Link to this Story
Printer-Friendly Story View
---
--- Advertisments ---