Lumber Barons' Fish Boil Served EVERY FRIDAY NIGHT
A Fiery, Flavorful Favorite!
August 12, 2007 Leave a Comment
By: Julie McCallum, Entertainment Editor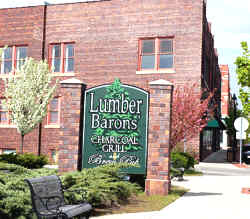 The LumberBarons and The Stables presents The Friday Night Fish Boil - A Fiery, Flavorful Favorite.
What is it about the Lumber Barons' Fish Boil that makes food writers, travel columnists, visitors, and locals sing its praises?
Maybe it's the main ingredient - steaks of mild, delicate whitefish fresh from the local waters of Lake Huron. Perhaps it's the fiery spectacle of the "boil over" that signals it's time to eat.
Most assuredly the savory combination of ingredients that fill the boiling kettle plays a strong role.
One fact everyone seems to agree on - the end result is delicious. What began as an economical way to feed large, hungry groups of lumberjacks and fishermen has become an integral part of the Lumber Barons' experience.
It all starts with a hot wood fire under a kettle of salted water. When the temperature is just right, the boil master adds to the kettle a porous steel basket filled with small potatoes and onions. A few minutes later, another basket with the fresh whitefish steaks is added and the water is brought back to a rolling boil.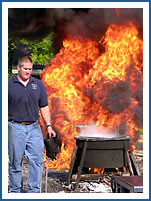 At just the right moment, a dose of kerosene is tossed onto the fire, causing it to blaze well over the top of the kettle - to the accompaniment of clicking cameras. The superheated fire causes the water to boil over the kettle's sides, dousing the flames while carrying off the fish oil that has collected on the surface.
With the use of a metal pole, the baskets are lifted from the kettle, drained, and then served up with a generous drizzling of butter. Even people who say they don't like fish have been known to change their minds. Second servings are expected, so don't be shy.
The authentic LUMBER BARONS' Fish Boil is served EVERY FRIDAY NIGHT throughout the fall, starting at 5pm.
All you can eat dinner & entertainment includes: Lake Huron Fresh WhiteFish (If you like Lobster, you're gonna LOVE this!) Served with drawn butter & lemon. Baby Red Skin Potatoes boiled with Fresh Onions Michigan Sweet Corn on the Cob Garden Fresh Salad Rolls & Butter Michigan Apple Pie for dessert Just $14.95!
Bring the whole family! (Children under 10, half price) It is recommended that you arrive a half hour earlier than your reservation so you can watch the boil over. Serving times and reservation policies vary, call ahead for specific serving times, 891-0100.
---
---
---
Send This Story to a Friend!
Letter to the editor
Link to this Story
Printer-Friendly Story View
---
--- Advertisments ---