Children's Vision Issues Discussed
Nearsightedness, Farsightedness, and Astigmatism
August 12, 2007 Leave a Comment
By: Dr. Lee Newton, Eye Care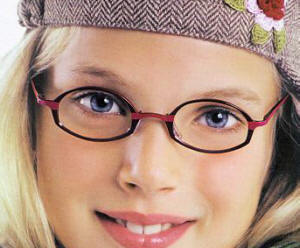 Most infants are born a little bit farsighted.
In this first installment of children's vision concerns, we will "focus" on conditions that can cause blurry vision, eyestrain, and other symptoms.
The definitions of nearsightedness and farsightedness can be confusing - think not of the deficiency but of what you can see if you have the condition.
Nearsightedness means that distance vision is somewhat blurry to very blurry, depending on the extent. So - without correction - a nearsighted individual usually can see clearly at close ranges.
Farsightedness means that the eyes have to overwork to see clearly. In small amounts, the individual (especially children, somewhat less true with adults) can usually see very clearly in the distance and up close.
In increasing amounts, farsightedness will affect near vision before it will affect distance vision. In moderate to large amounts, it can cause an inward eye turn. The reason for this is that having to over-focus the eyes stimulates the convergence mechanism, and in certain instances the system cannot maintain normal alignment while compensating.
Farsightedness can also cause difficulty in shifting focus from distance to near.
Astigmatism means the eye is shaped more as a football than a basketball, with two different curvatures, on flatter and one steeper. This condition causes a defocus at all distances of focus. The degree of blur depends on the magnitude of the condition.
So how are these conditions pertinent to children?
Most infants are born a little bit farsighted. As the visual system develops, this usually diminishes in amount. Typically this is not detrimental to clear vision or normal development.
But not all infants are born farsighted. Some are born nearsighted, some with astigmatism, some with a different condition in each eye.
The common thread is that visual conditions in small amounts are usually not problematic and usually do not need to be corrected at very young ages.
The exceptions are when there is a difference between the two eyes, if the eyes are equal but have a very high amount of one of the above-mentioned conditions, or if the amounts are small to moderate but have an effect on eye coordination.
The rationale is that infants' and toddlers' visual worlds are right in front of them. They don't need to pass a driving test, or see the chalkboard clearly, yet. When they start school we give a higher priority to correcting small amounts of these conditions. Another reason that visual conditions aren't always prescribed for at young ages is this - since the eyes and brain are still developing, we don't want to remove all stimuli for the visual system to correct itself.
For example, correcting small to moderate amounts of farsightedness in a 3 or 4 year old with healthy eyes, clear vision, and good alignment would likely do nothing more than cause that child to be farsighted for the rest of his life. And as the child got older, s/he would be more dependent on this correction than was true at such a young age. Of course there are exceptions - but this is true most of the time.
But any imbalance between the two eyes can cause a delay and/or deficiency in development of the visual system and should be addressed as soon as practical.
An interesting fact is that studies have shown a higher prevalence of nearsightedness in children today than in generations past. Also significant is that nearsightedness is occurring at an earlier age now than it was 20-30 years ago.
You may remember a study several years ago about the association between the development of nearsightedness and nightlights on in the bedroom while the child was sleeping. That study didn't adequately control for all variables, so the conclusions were not valid.
But there certainly is a nature vs. nurture debate for this condition. As is usually the case, both processes (heredity and environment) are significant to some extent.
What's the bottom line in this discussion? Have your child's eyes examined early and regularly. Children don't know if there's a problem because they don't know a standard of normal against which to compare.
The American Optometric Association recommends an initial examination between the ages of 6 and 12 months of age, and at approximately 2 years intervals until the child starts school. Then yearly examinations are recommended.
Some say vision is life's most precious gift, so make sure your child does not have any unnecessary barriers to seeing clearly and learning effectively!
I invite your questions and feedback.
Or Contact Dr. Lee Newton at:
3720 E. Wilder Road, Bay City, MI
(989) 667-9393


---
---

Dr. Lee Newton, Eye Care




Dr. Lee Newton has provided eye care services in Bay City ever since graduation from professional school. He and his family consider the Bay City area a great place to live, work, learn, and play!

More from Dr. Lee Newton, Eye Care
---
Send This Story to a Friend!
Letter to the editor
Link to this Story
Printer-Friendly Story View
---
--- Advertisments ---