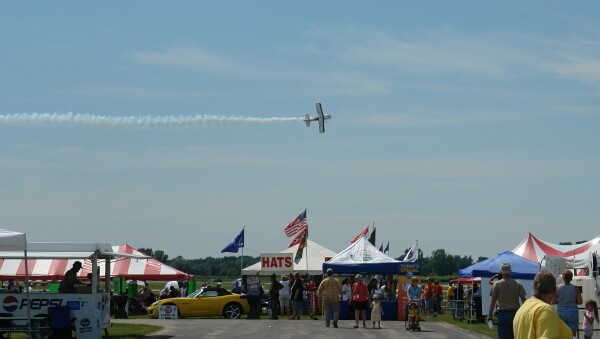 Barnstorming by the Bay
Bay City Air Show 2007 Roars Overhead!
August 12, 2007 Leave a Comment
By: Stephen Kent
About noon, Sunday August 12, 2007 a few people might have been transported back in time when they heard the unmistakable rumble of radial engines and saw a formation of World War II fighters circle the city and head south down the river. In fact if was the beginning if the second day air show at Bay City's James Clements Airport.
In the spirit of Bay County's 150th Birthday, the show's theme was "Barnstorming by the Bay--Return of the Old Tyme Airshow." Organizers brought back the classic airshow performers from the days of the barnstorming flying circuses when crowds thrilled to wing-walkers, loop-de-loops, and death defying aerial stunts.
The show has become an annual event put on by the Valley Aero Club, a 501(c)(3) Michigan non-profit charitable organization. The club has worked since 1954 to support Bay City's historic James Clements Airport since 1954 by funding many improvements the City could not afford. Valley Aero Club works with Boy Scouts to help them attain their Aviation Merit Badges and hosts the FAA Safety Seminars for pilots, along with the annual Father's Day Fly-in Breakfast.
The airshow is one presented as a community service. "We're an all volunteer club." said organizer Pam Binder. "No one is paid. All proceeds from the show will be returned to the community through contributions to local charities including the United Way of Bay County and the Bay Area Community Foundation."
---

Even with a running head start the Super Chipmunk can't beat the Jet Truck

---

Wing-walker Tony Kazian dangles from the struts after a mid-air transfer from the top wind of Dave Dacy's Stearman bi-plane.

---

Chicago's Vlado Lenoch pre-flights his P-51D Mustang, Moonbeam McSwine

---

---

Brendon Satkowiak (8) and Logan Ayers (6) play pilot as they launch their balsa wood planes

---

Jim Greeson from Monroe Michigan talks about his LT6G. Purchased in 1992, it took four years to restore to flying condition. The plane is painted in a Korean War theme.

---

Donald Patrick has one HOT job!

Looking up the crew ladder into the Mitchel B-25 bomber

---

Clements Airport lets everyone get up close and personal.

---

Don't try this at home!

Don't buy this for your kid!

---

---

P-51 Mustang provides fighter cover for the Mitchel B-25 bomber

---
---
---

Stephen Kent




Steve Kent and his family have lived in Bay City for 40 years. He is VP of Technical Services at MMCC which produces MyBayCity.Com. Kent is active in many Bay City civic organizations.

More from Stephen Kent
---
Send This Story to a Friend!
Letter to the editor
Link to this Story
Printer-Friendly Story View
---
--- Advertisments ---