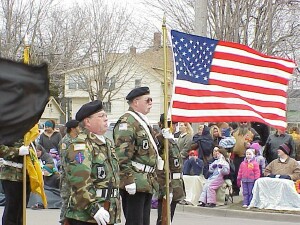 Veterans proudly carry the Colors
---
Bay City turns GREEN for 48th Annual St. Pat's Parade
50,000 turn out for the annual event.
March 19, 2002 Leave a Comment
By: Stephen Kent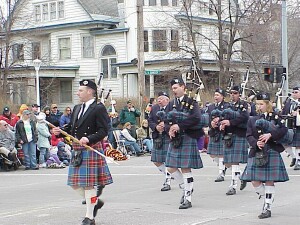 It was a cold and blustery day, but over 50,000 area "Irish" turned out to watch Bay City, 48th annual St. Patrick's Day Parade. The crowd occupied both sides of Center Ave. for the full two mile parade route. 146 entrants were in the parade which started at 2:00 pm and lasted over two hours.
As always, all segments of the community were represented. There were politicians and media personalities, churches and scout troops, businesses and clubs, beauty queens, high school courts, and lots of kids and dogs and even horses! And, of course, there were bands. Six high schools sent their marching bands, which joined pipe and drum corps such as the Celtic Blue Highlanders.
Tradition dictates that the parade kick off with an adrenaline rush. Fire engines, police cars and ambulances from all the local communities lead the parade with lights flashing and sirens blasting. It's a thrill for kids of every age.
Each year the parade is trimmed with vintage automobiles and trucks. Dr. Harry Farris drove his 1926 Ford "TT" truck and represented the Bay City Rotary Club. The sign on the side told of Rotary's leadership role in the worldwide effort which has all but eliminated Polio from the world.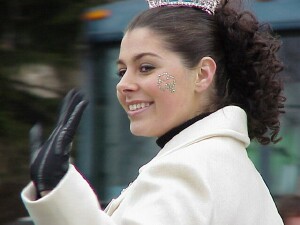 Bay Arenac Queen Ashley Purdo
Parade entries included a wide variety of vehicles, floats and marching units. The Chesaning Showboat entry pulled a float representing the Showboat itself. On the bow was Queen Sara Weigold and her court of Laura Kensrud, Melissa Landry and Angela Birchmeier. A decorated flatbed trailer with sign declaring "United we Dance", featured an entire dance floor, DJ and group of line dancers.
The largest band was Bay City Central's Marching Wolves, which is also the oldest continuous marching band in the State. The best drum line was Saginaw High School's TROJAN BAND.
With the exception of perhaps a fire engine, the LONGEST entry was the Bay City Rowing Club which towed a trailer full of rowing shells including their classic eight man racing shell, the "Wah Wah Sum". At over 50 feet long and only two feet wide, the "Wah Wah Sum" is as impressive on a trailer as it is cutting through the water.
Despite the slightly cold weather, the parade was a great success and fun for all. Proud American flags and smiles on all the faces reinforced the feeling of community that Bay City is famous for.
Just for the fun of it, you might want to check out these St. Pat's stories from previous years. It's interesting just to see how digital cameras have evolved since 2002:
2019
,
2018
,
2017
,
2016
,
2015-a
,
2015-b
,
2015-c
,
2014
,
2013-a
,
2013-b
,
2012
,
2011
,
2010
,
2009
,
2008
,
2007-a
,
2007-b
,
2006
,
2006-b
,
2005
,
2004-a
,
2004-b
,
2003-a
,
2003-b
,
2003-c
,
2002
For another take on the subject of parades, check out what was going on in 1978 in this
1978 Flashback
article from the archives of the Bay County Sports Page & Bay City Enterprise newspapers. Published from 1976 through 1984, those papers were the "grandparents" of today's MyBayCity.com.
---
---

Stephen Kent




Steve Kent and his family have lived in Bay City for 40 years. He is VP of Technical Services at MMCC which produces MyBayCity.Com. Kent is active in many Bay City civic organizations.

More from Stephen Kent
---
Send This Story to a Friend!
Letter to the editor
Link to this Story
Printer-Friendly Story View
---
--- Advertisments ---