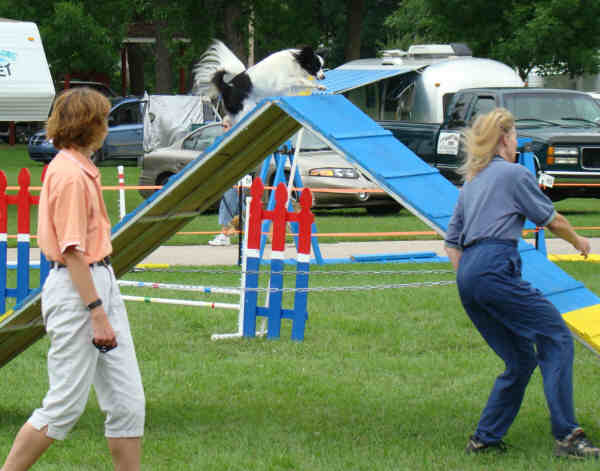 Betsy Lynch of Delaware Ohio works with her dog, Chaos during Agility competition.
Judge on the left is Becky Dean.
---
Canines Rule At Fairgrounds' Dog Agility Competition
Tennessee, Ohio and Michigan Dogs Take Part in Two-day Event
August 26, 2007 Leave a Comment
By: O. J. Cunningham
Karen Burns was up to her knees in animals over the weekend.
They have names like Ringo, Daisy, Frantic, Chaos, Ripley, Jet, Spice, Hottie, Bounce, Meg, Zipper, Lily Sahdow, Morgan, Houston, Busy Lizzie and Will.
They come from as far away as Tennessee and Ohio and all parts of Michigan.
They're dogs. And they're here to compete.
Burns, the Tournament Director for the 2007 USDAA Agility Event at the County Fairgrounds, was most happy that the weather cooperated.
The event is sponsored by the Bay County Humane Society.
"The cool weather has been good for the dogs," Burns said on Sunday. "Today is going to be a bit warm as the clouds move away," Burns went on. "But no rain," she smiled.

Lemme Outta Here

A fast-running dog emerges from the tube during his Agility course competition.

Clock Watching

Dave Perry of Auburn Hills works with his dog "Fly" during a Flyball practice session at the Bay County Fairgrounds.
The 2nd Annual Dog Agility Event at Fairgrounds hosted dogs and their trainers from Tennessee, Ohio and Michigan. "We have almost 200 dogs here for the two-day event," Burns said.
According to Burns, one hundred twenty dogs are competing in the "Flyball" competition and another sixty-nine are signed up for Agility competition.
Breeds competing included: Pugs, Jack Russel Terriers, Shetland Sheepdogs, Border Collies, Rat Terriers, Doberman Pinschers, King Charles Spaniels, All Americans, Australian Sheepdogs and Papillions.
Betsy Lynch of Delaware, Ohio was in town with her dog, Chaos, for the Agility competition. "Chaos did really well," Lynch said about her Papillion breed dog. "This was our first weekend showing," Lynch beamed, petting here pup. "We both did just fine. It was a great event."
Dogs competed in five classes: Standard Class, Gamblers Class, Jumpers Class, Pairs Relay and Snooker.
Judges for the competition were Joe Sare (Master's Division) and Becky Dean (Advanced Division.)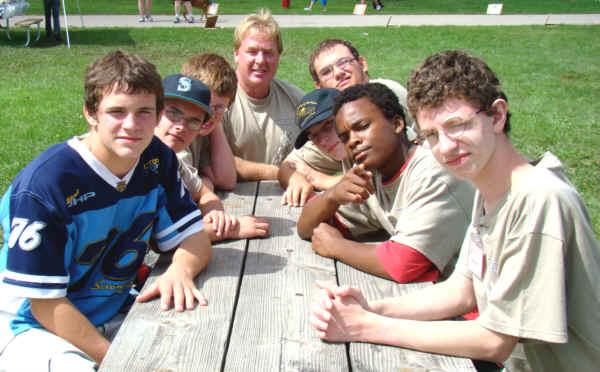 Over 100 volunteers helped the Bay County Human Society put on the two-day event. Pictured above are Chad, Brent, Jeff, Curtis, Michael, ColbyT and Austin. At the head of the table is coordinator Scott Peterson.
Burns said that the event could never happen without the help of over 100 volunteers. "Everybody has just pitched in," Burns said. Dave Perry of Auburn Hills, Michigan was working/training with his Border Collie named "Fly on the basic techniques of "Flyball."
Both dog and trainer were sitting in the shade after a number of hectic runs up and down the Flyball track. "I don't know who's working harder," panted a smiling Perry as both Perry and "Fly" drank water to cool down. "it's pretty hot out here all of a sudden."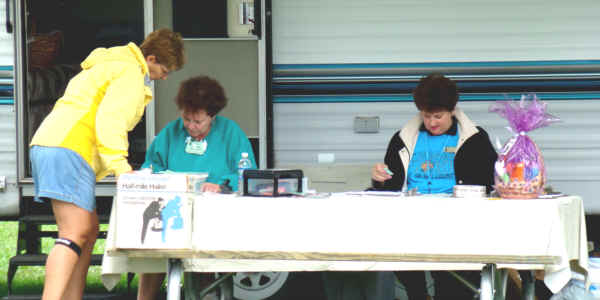 Karen Burns (left) along with volunteers Jeannie Wolicki-Nichols and Debbie Andrews are going over details at the Registration Tent.
---
---

O. J. Cunningham




O. J. Cunningham is the Publisher of MyBayCity.com. Cunningham previously published Sports Page & Bay City Enterprise. He is the President/CEO of OJ Advertising, Inc.

More from O. J. Cunningham
---
Send This Story to a Friend!
Letter to the editor
Link to this Story
Printer-Friendly Story View
---
--- Advertisments ---