Central High Addition Gets Special City Inspection OK to Open on Time
Fire Suppression Issues Resolved as $69.5 Million Bond Work Progresses
August 26, 2007 Leave a Comment
By: Dave Rogers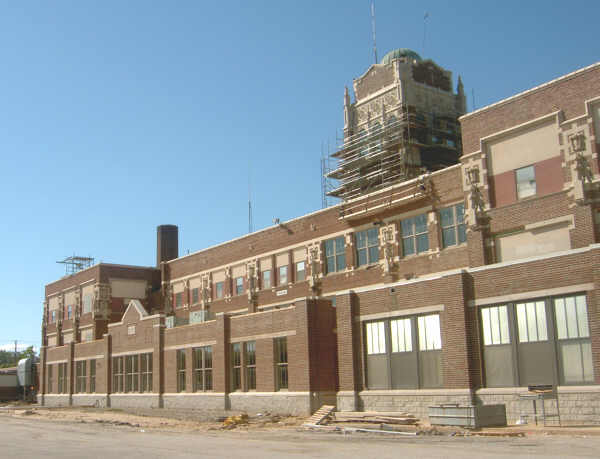 New addition at rear of Central High will open on time after all after city clears code enforcement issues.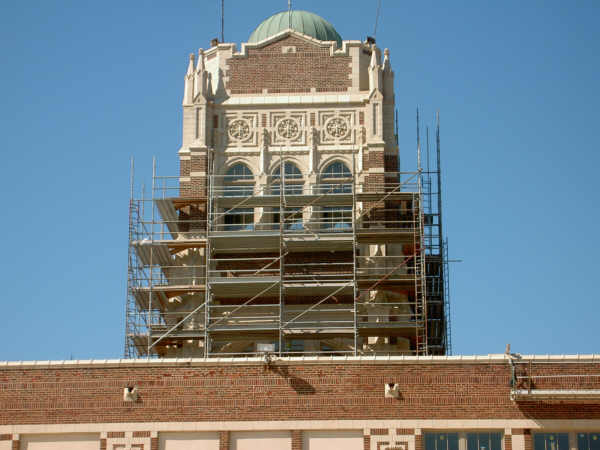 Work continues on Central High tower, an icon of the city, under improvements approved by voters in a bond issue last year.
Central High, one of the most recognizable buildings in the city, an educational icon built in 1922, has new life thanks to voters of the Bay City School District and will open on time because of cooperation from the City of Bay City.
Problems with a major addition and extensive remodeling to Central High that threatened to delay the opening of school have been resolved at the last minute by the City of Bay City, according to City Manager Robert V. Belleman.
Among problems recently resolved for the $18 million project were fire suppression plans for the work that were reviewed and approved, the manager said.
Mr. Belleman, in his general information memo issued Friday, said during the construction of bond issue improvements "several major items developed which could have prevented the school from achieving a re-opening" on time. Students are slated to return to school at Central and in the district on Sept. 4.
City officials worked with the architect and builder and "were able to resolve these major issues and ensure that the building would be ready for the new school year," said Mr. Belleman, adding:
"I believe the partnership that has formed between the City of Bay City and the Bay City Public School System as it relates to the Central High Project is one example of the City's Building/Code Enforcement Department aiding property owners and developers in investing in this community."
New lighting, alarms, doors and flooring were installed at Central in preparation for the return of students and staff after Labor Day, the manager noted.
The Central remodeling is part of a $69.5 million bond issue adopted last May by voters that will provide improvements to Western High and Middle School, Handy Middle School and Kolb, Linsday, MacGregor, Mackensen, McAlear-Sawden and Washington elementaries.
The district website states that bond spending will include $49 million in safety and security issues including asbestos removal, electrical and mechanical code updates and making buildings handicap-accessible; $17.3 million in other top priority repairs including prevention of water infiltration and damage and site repairs and improvements; and $3.2 million in additions for population shifts and conversions to meet academic needs.
About $14 million is being spent on upgrades to the 1973 vintage Western High, including a two-story 20,680 square foot classroom addition to ease crowding, and a like amount at Handy Middle School, like Central, built in 1922.
The Central project includes a 6,000 square foot addition to the library, estimated at $750,000, and a 2,880 square foot addition to the music room, estimated at $360,000. Remodeling totals an estimated $8.4 million, including upgraded doors, terrazzo floors, windows, ceilings, masonry and toilets.
Mechanical systems improvements include a $240,000 boiler, $1.6 million in heating renovations and $1.3 million in new air handling equipment, for a total of $3.2 million.
Electrical remodeling of $2.3 million includes new exit and emergency lighting costing about $421,000; new fire alarm system at $500,000 plus; $332,000 in lighting controls, $900,000 to replace obsolete electrical service and wiring and $150,000 in auditorium lighting controls.
Also, the school's parking lot will be extended east to Johnson Street and the old tennis courts just east of Johnson near 14th Street will be removed and lawn installed.
###
---
---

Dave Rogers




Dave Rogers is a former editorial writer for the Bay City Times and a widely read,
respected journalist/writer in and around Bay City.
(Contact Dave Via Email at carraroe@aol.com)

More from Dave Rogers
---
Send This Story to a Friend!
Letter to the editor
Link to this Story
Printer-Friendly Story View
---
--- Advertisments ---