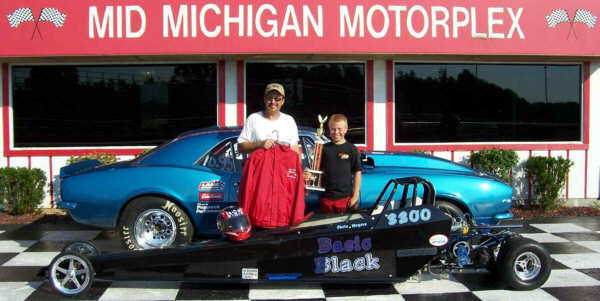 In 2006 Roth and Meyers shared a victory on the same day at Mid Michigan Motorplex Drag Strip.
---
Local Bay City Boy & Grandpa Spend Their Time Together "Speeding"
Chris Meyers receives trophy & $100 Savings Bond recently in Stanton, MI
September 3, 2007 Leave a Comment
By: Julie McCallum, Entertainment Editor
Bay City's Christopher Meyers, 12, and Grandpa Chris Roth spend their time together at the drag strip.
First video clip is of Meyers at Mid Michigan Motoplex in Stanton Michigan.
(Video Footage by Julie Munger. For best results turn volume UP.)
Meyers started racing at age 8 with the help and guidance from Roth and family. Meyers is a 7th grade student at Handy Middle School.
Roth, said, "I started going to the races around 1970 at Tri city dragway, then got out of it for awhile. We got back into racing about 10 years ago."
Roth continued, "Christopher, at age 7, drew me a picture of a junior dragster and asked if he could get one like the picture." "We found one the next spring and he started racing at eight years old. We didn't know much about the little car at the time but the people at the track were very helpful. It didn't take too long and he started doing pretty well and even won a few races the first year."
Recently, Meyers and Roth both raced at the Mid Michigan Motorplex located in Stanton, Michigan on August 26, 2007. Meyers raced his dragster in the Junior Dragster class 10-12 age group which is timed for an eighth of a mile. Roth also raced his '67 Camaro in the pro class which is timed for a quarter mile.


Meyer's dragster named, "Black Magic" is based on a Briggs and Stratton 5 horse motor. The block is an after market block called Blockzilla it has a longer stroke and a larger bore and is made to run the 8.90 class. It Uses methanol for fuel. According to Roth it is for sale, because next year Meyers will move up in age group and need a bigger & faster dragster. This junior dragster can go up to 75 mph.
Meyers received a second place trophy and a $100.00 savings bond. He missed 1st place by .009 seconds. Meyers explained, "A lot of people think it's a straight line, (line that you drive) and its not, you have to judge the end of the track." Meyers continued, "You don't leave at the green light. It's the 3rd yellow light and the reaction of the car will leave on the green light and that will be the reaction time."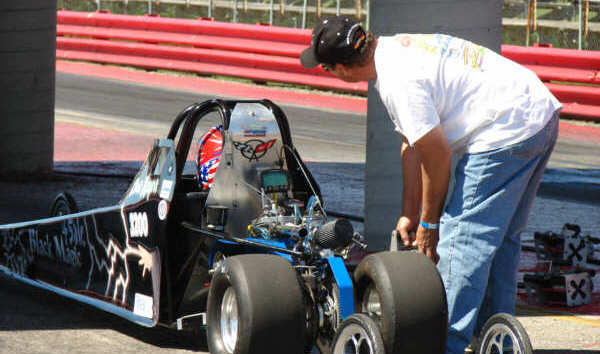 (Above)
All the cars must be remote started for safety reasons there can not be any onboard starter in the car and must it be started by an adult.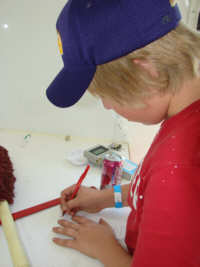 (Above Left)
Meyers protection gear includes fire proof suit pants, jacket, shoes, neck brace, helmet, wrist straps, and safety helmet. Meyers also has 5 point harness seat belts that protect him. They are attached to the car and they all connect to him at his waist. There is a lap belt and a shoulder harness that all attach to him to keep him safe while in the car.
(Above Right)
Meyers uses a weather station to record changes in the weather which helps predict elapse time. "We keep track of temperature, barometric pressure and humidity." said Roth.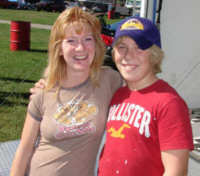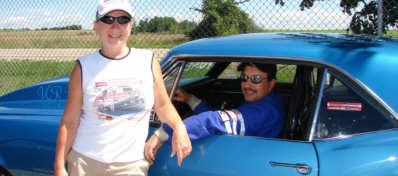 (Above Left)
Chris's Mom, Carla Weitzel gives him a hug after he qualifies to the finals.
(Above Right)
Roth with wife Vivian in the staging area as Roth prepares for his race in the pro class.
In July of 2007 Meyers raced at Bristol, Tennessee, there were 76 cars in his class and over 700 cars overall. He got down to the last 5 cars in his class but lost by two hundredths of a second to a kid with a perfect reaction time. Meyers won a trophy and received a $500.00 dollar savings bond.
In 2006, Meyers won awards for the "Best of Show" and "Muffle Rappin" at the BE COOL CAR SHOW in Downtown Bay City. Meyers hopes to return to the Be Cool Car Show in 2008.
According to Roth, Mid Michigan Motorplex has one of the best junior programs in the country. At most tracks the kids are racing for a trophy. At Mid Michigan Motorplex they are racing for a $200.00 bond for first place, $100.00 for the runner up and $50.00 bond for the semis. The winner and runner up also get a trophy.
---
The Mid Michigan Motorplex uses only Compulink state of the art timing systems. This high tech computer system will give the racers elapsed times at 5 different locations on a quarter mile pass. This system also controls new state of the art Daktronics scoreboards, making it possible for the fans in the stands to keep track of how their favorite driver is doing. The Motorplex also supplies the racers with Sunoco brand racing fuel in 110 and 112 octane as well as racing methanol.
---
---
---
Send This Story to a Friend!
Letter to the editor
Link to this Story
Printer-Friendly Story View
---
--- Advertisments ---