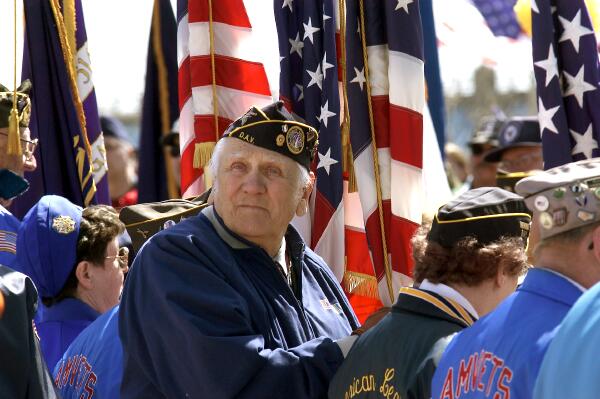 Crowd at Veterans Memorial Park Gathers in Tribute to Troops (Photo by Andy Rogers)
---
Rally 'Taps' Pride forThose Who Serve, and Memories of Those Who Served
Veterans Among Us Often Forgotten, But They Are Always There When Needed
April 15, 2003 Leave a Comment
By: Dave Rogers
They are there, among the flags and signs and banners.
They are singing, and talking, and cheering the troops.
They are among those who put their names on the banner to be sent overseas to the troops in Iraq.
They listen to themusic, hearts swelling with pride, and spirits touched with grief when the 21-gun salute sounds and the haunting tones of "Taps" are played.
They are ordinary Americans this chilly Saturday night in Veterans Memorial Park in Bay City, Michigan, cheering the troops among the crowd of thousands.
But they were extraordinary patriots those forgotten days when they put on blue or brown or white uniforms and were tested to the limit of their lives in the service of their country in foreign lands.
The only way you know them is by the little military campaign caps they wear, or perhaps by the colorful jackets with letters connoting organizations we often find hard to recall.
They wear the symbols of pride, VFW, Veterans of Foreign Wars; DAV, Disabled American Veterans; American Legion, Polish Legion of American Veterans, AMVETS, Vietnam Veterans of America and even veterans of Desert Storm and other conflicts with no official organization yet.
We take them for granted, but they are always there at events like this, men and women, old and younger. Memorial Day, Veterans Day, Flag Day, military funerals, civic events. Always.
They are always there now just like they always were then, in a time of crisis, when we needed them.
And, soon we hope, new caps will join the legions of veterans. Ones perhaps with different symbols, meaning the Gulf War, Operation Iraqi Freedom, or some other world trouble spot.
Right now those patriots are in harms way, in the middle East, dealing with a repressive dictatorship which is part of a massive threat to our country.
The least we can do is gather here to cheer, sing, shout perhaps, sign banners, wave flags. And honor those who have gone before, who are often forgotten and usually neglected. The members of the VFW, DAV, American Legion, Vietnam Veterans of America and other veterans groups who have served this country so well in the past and continue to serve.
They have always been there whenthis country needed them, they are always there among us when tributes to others who serve are needed, and they will always be there to keep America strong.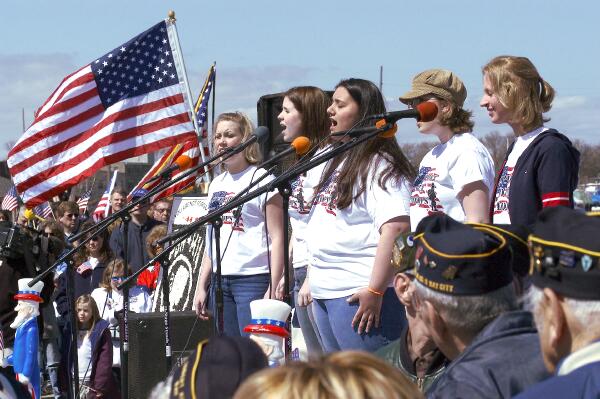 (Photo by Andy Rogers)
---
---

Dave Rogers




Dave Rogers is a former editorial writer for the Bay City Times and a widely read,
respected journalist/writer in and around Bay City.
(Contact Dave Via Email at carraroe@aol.com)

More from Dave Rogers
---
Send This Story to a Friend!
Letter to the editor
Link to this Story
Printer-Friendly Story View
---
--- Advertisments ---