Western cheerleaders make a double pyramid to thrill the excited home school crowd at the Midland High Stadium. At halftime, Western senior cheerleaders (Right) Chelsey Tiede and Michaela Yenior had a prediction that came true: "We won't lose!"
---
Western Set for Saginaw Friday Buoyed by 2-0 Start; Midland Stings Wolves
Friday Games - Wolves at A-H; Saints vs. USA, Pinny vs. S-S
September 3, 2007 Leave a Comment
By: Guest Columnist
Students are just returning to school Tuesday but most Bay County high school football teams already have two games under their belts and await fresh opponents as they return to a Friday night game schedule.
Bay City Western entertains Saginaw High's Trojans;
Bay City Central travels to Saginaw Arthur Hill to try to chop down the resurgent Lumberjacks;
After a week off, the Bobcats of John Glenn are home to the Tawas Braves;
All Saints Cougars face off against the USA Patriots at St. Stan's Field;
The Spartans of Pinconning host Standish-Sterling;

WESTERN-MIDLAND DOW
"Our superior conditioning eventually will pay off in a victory," Western High Principal Oren Lusher confidently predicted at halftime of the Warrior battle with Midland Dow's Chargers last Thursday night.
Former Western athletic director Marty Gottesman nodded agreement and both were prophetically correct, but not without some tense moments, in a nail-biting double overtime barn-burner that saw Western eventually triumph 21-14.
The victory continued Western's comeback from a frustrating 2-7 season last year. Coach Jim Eurick's tough early practice routines appear to have given the Warriors a new lease on life.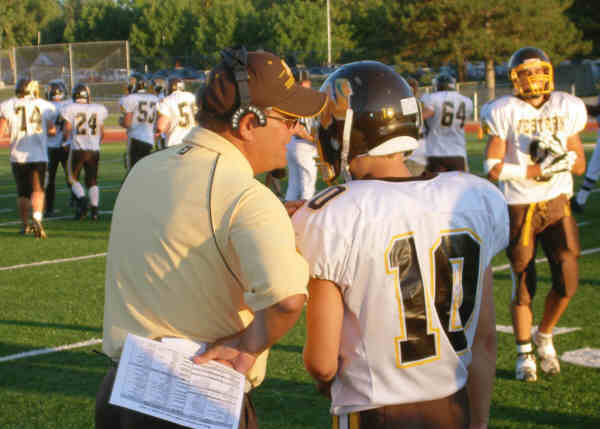 Western Coach Jim Eurick consults with Quarterback Matt Grew (10) as the Warriors offense takes over.
(MyBayCity Photo by Maylin Groya)
Warrior QB Matt Grew, packing 145-pounds on a wiry 5-10 frame, scooted for 74 yards on 18 carries and two TDs and clicked on 7 passes in 19 attempts as Western nearly doubled the total offense of Dow 299-159.
A tough Western defense held the Chargers to just 60 second-half yards with Austin Clarey leading the Warriors with 12 tackles.
Workhorse Western back Justin Gwizdala ground out a game-high 129 yards on 28 rushes, Matt Johnson grabbed four aerials from Grew for 42 yards and Corey Arnold snagged three passes for 56 yards.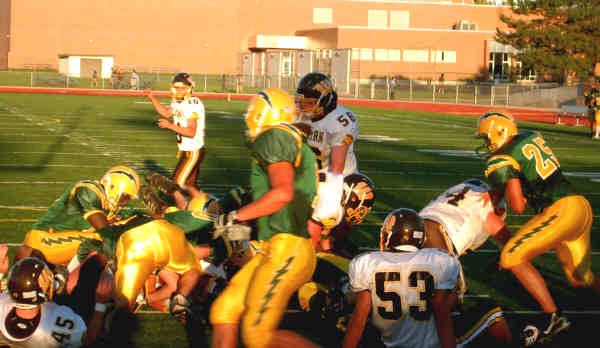 Justin Gwizdala, Warrior running back, is over the goal line and under this pileup of Dow Chargers for the first Western touchdown in the second quarter.
(MyBayCity Photo by Maylin Groya)

CENTRAL-MIDLAND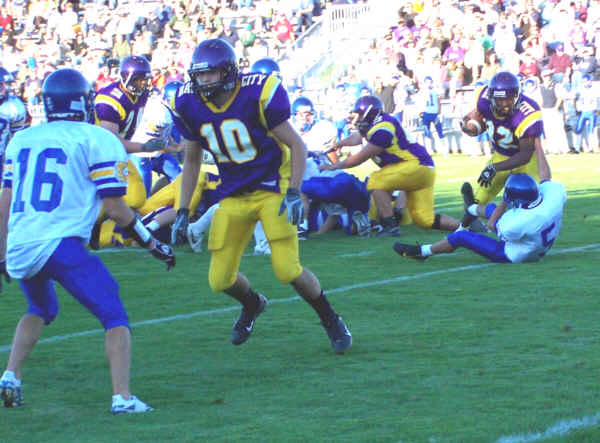 Central running-back Luther Ware (32) scrambles for a few yards against Midland Dow. Ware rushed for over 130 yards on the night. Also pictured is Central's wide receiver Ryan Brunette (10).
(MyBayCity Photo by Jordan Velasquez)
Like an angry bee buzzing from two season-ending losses to Bay City Central last year and an opening game swatting from the Mt. Pleasant Oilers, Midland's Chemics stung the Wolves last Thursday 19-13.
The win put the Chemics abreast of the Wolves in all-time records, 20-20-1, as the Valley's most hotly contested rivalry put another classic into the books. Central took two from Midland last year, during the regular season and the playoffs.
The game hinged on a key third quarter interception by Chemic Kevin Alcott and a big defensive stop on fourth and three at the 33 yard line. Midland substitute running back/wide receiver/defensive back Mike Albrecht nailed Wolf speedster Trenton Robinson as he tried to skirt the left end on an option play, stuffing the last serious Central threat.
The old "flea flicker" was a winner for Midland, with the versatile Albrecht snagging a pass and lateraling on the run to Alcott who scampered for 25 yards to set up a 10 yard TD run by Joel Parsons.
(Note to Sports Historians: The flea-flicker was a favorite play of Bay City's All Time All Pro Bill Hewitt, a 1928 Central grad and University of Michigan star who won his spurs with the Chicago Bears in the 1930s and '40s. In 1937 Hewitt leaped high and flicked a pass to Bronco Nagurski steaming down the sideline for the win in the final minutes of a key game.)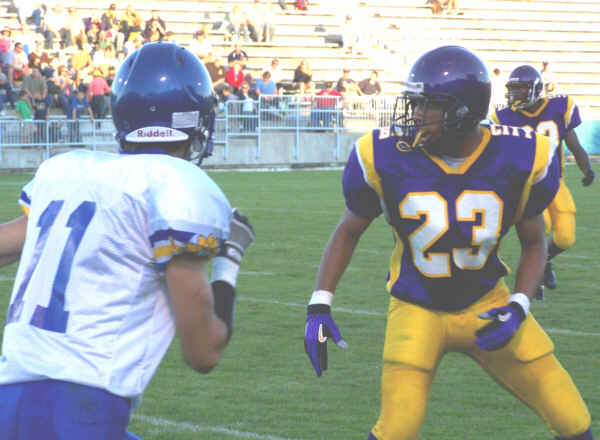 Central defensive back Justin Reed (23) goes one-on-one with a Midland Dow wide receiver..
(MyBayCity Photo by Jordan Velasquez)
"We had them going for a while and Central's interior linemen did a great job all night but they had us bottled up defensively," said onetime Central 1946 All State tackle Lynn Conway, watching the game with former St. James and Bay City All Stars back Andy Wendland.
Luther Ware was the big gun for the Wolves, smashing for 137 yards on 17 carries for a sterling 8.0 yard per carry average. Alex Bush logged 72 yards through the air on 8 completions in 15 attempts with one touchdown and two interceptions. He also ran 12 times for 46 yards and a TD.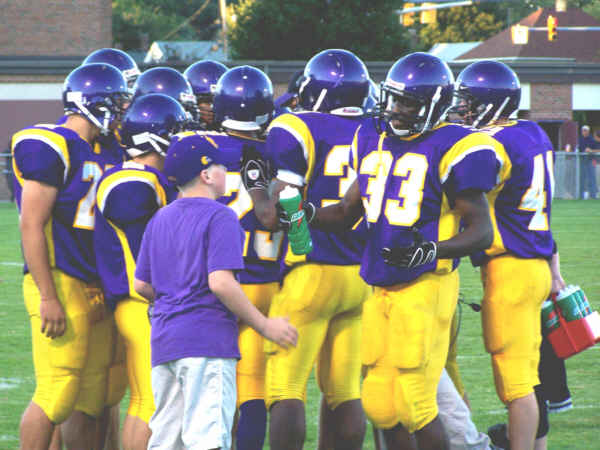 Trenton Robinson (33) takes a drink during a break in the action against Midland Dow. RB.
(MyBayCity Photo by Jordan Velasquez)
---
---
---
Send This Story to a Friend!
Letter to the editor
Link to this Story
Printer-Friendly Story View
---
--- Advertisments ---