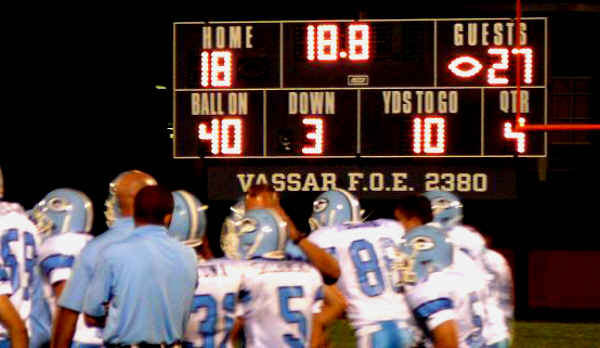 Garber players celebrate after 27-18 win over Vassar.
---
Dukes Vulcanize the Vassar on the Road; Pinny Loses to Sanford-Meridian
Another Win for Garber, Now 2-0, Primed for Bridgeport; Pinny Roped 20-7
September 1, 2007 Leave a Comment
By: Chelsea Anderson

The Garber High Dukes, now 2-0 after their latest victory at Vassar High, are gearing up for a Friday matchup against the Bridgeport Bearcats.
Last week high-stepping Garber senior Josh Pierson took a big step toward another 1,000 yard rushing year.
Pierson ran wild as the Dukes conquered the Vulcans on Thursday with a 27-18 win, fighting back from a 12-7 first quarter deficit.
The senior running back galloped 197 yards on 32 carries for a six yard per rush average and three touchdowns for the Dukes.
"You could feel the intensity in the air. It was an awesome game." says spectator Zach Palmer, watching intently. "The fans were definitely into it, which was noticeable from the cheering."
Garber and Vassar each had a win under their belts, and both teams played well, hoping for another.
At halftime the score was close, with Garber ahead 13-12. However, in the 3rd quarter Garber made two more touchdowns by Pierson, bringing the Dukes up to a 27-12 count.
Veteran Coach Dave Schwartz credited a tough Duke defense with shutting down the Vulcans after the intermission, noting that Jimmy Cornejo had nine tackles and an interception and Shane O'Mara chipped in with six stops and a recovered fumble.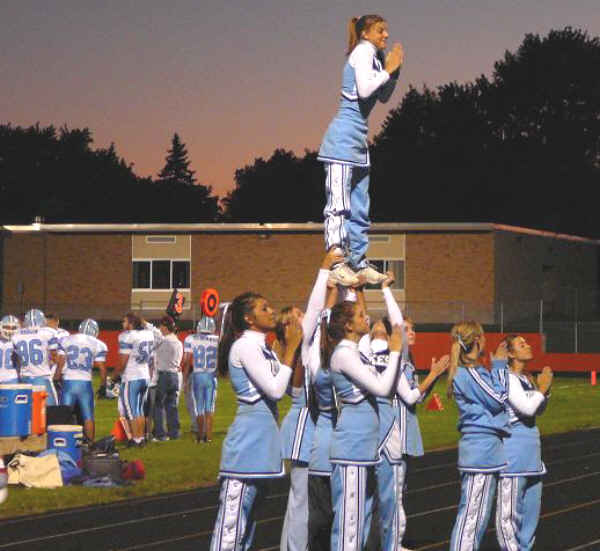 Essexville Garber cheerleaders had a lot to cheer about in their 27-18 win at Vassar.
(MyBayCity Photo by Chelsea Anderson)
With less than a minute left in the game the Vulcans punched in another touchdown, but the Dukes had already secured their second win of the season and it was too late for a miracle comeback.
The Garber Dukes, now in contention for the Tri-Valley East crown, face off Friday night against Bridgeport at Essexville. Last week Bridgeport took a 63-34 pasting from the Millington Cardinals and no doubt will be still smarting from that loss and eager to show sterner stuff this week.
The Bearcats sport a bigtime quarterback threat in Bryson Ruffin who completed 22 of 33 passes for 183 yards and four TDs in a losing cause against Millington.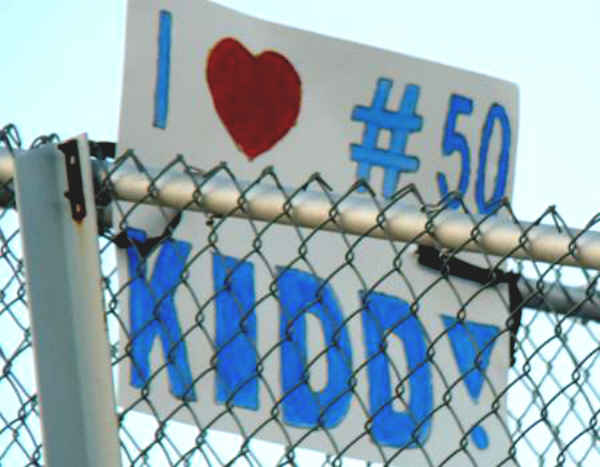 There was joy everywhere during the Garber Duke win at Vassar.
(MyBayCity Photo by Chelsea Anderson)

PINCONNING-SANFORD MERIDIAN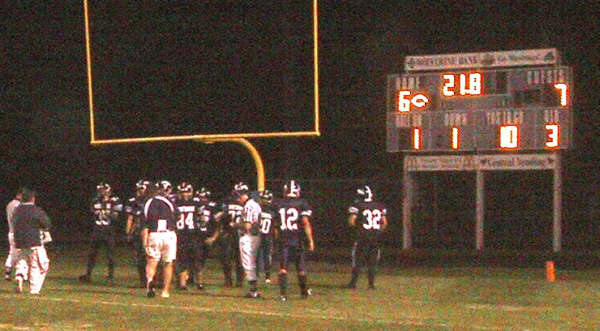 The Sanford-Meridian scoreboard shows the early lead held by the Pinny Spartans.
(MyBayCity Photo by Chris Bellon)

Pinconning Players look onto the field as they battle Sanford-Meridian.
(MyBayCity Photo by Chris Bellon)
The Pinconning Spartans came up short against Sanford-Meridian 20-7 last Thursday night but a four-yard second quarter scamper by Quarterback Barret Penix and extra point by Brandon Koth gave Pinconning a short-lived halftime lead 7-6.
Meridian's Mustangs put up a 98-yard TD pass from Jason Hockemeyer to Dan Rau and Matt Bowen scored twice on runs to lasso the Spartans. Coach Chip Kleinhans and staff are hopeful for better things as the season progresses and the team gains experience.
###
---
---
---
Send This Story to a Friend!
Letter to the editor
Link to this Story
Printer-Friendly Story View
---
--- Advertisments ---