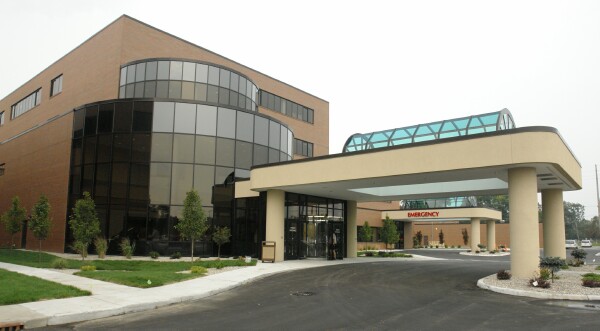 A Guided Tour of Your New
Bay Regional Medical Services Tower
MyBayCity.com Cameras Shadow Staff, Visitors in New $54 Million Facility
September 9, 2007 Leave a Comment
By: Guest Columnist
EDITOR'S NOTE:
MyBayCity.com photographers Steve Kent and Dave Rogers took a guided tour of the "Grand New $54 Million Patient Services Tower" and shot these pictures for you to preview the facility from the comfort of your computer in case you weren't able to take the tour yourselves.
Bay Regional Medical Center has tripled its square footage, from 61,000 square feet, by adding 142,000 square feet in a $54 million new Patient Services Tower.
The project more than doubles the size of the emergency department and hikes ER beds from 21 to 35; boosts operating rooms from 11 to 14, adds a new Cardiovascular Care Unit (CVCU) increasing beds from six to 28 and generally upgrades services in the first major construction project since the hospital was built in 1977.
Staff members were involved in the design from the layout of rooms, equipment and service flow to the colors of rooms, wall decorations and artwork. Floors are done in the McLaren Health Care corporation's colors of light green and blue.
As soon as the new tower is fully equipped and smoothly running, vacated departments in the 61,000 square feet of the original building will be renovated.
"Instead of constructing a building that just fits our needs for today, we've left ourselves some room to grow as dictated by the future healthcare needs of the Bay Area," said Marketing Director Kurt Miller.
New staff is being recruited from other areas of the country and officials said there is no shortage of nurses and doctors ready to come to Bay City and provide services to patients.
LET'S TAKE THE TOUR . . .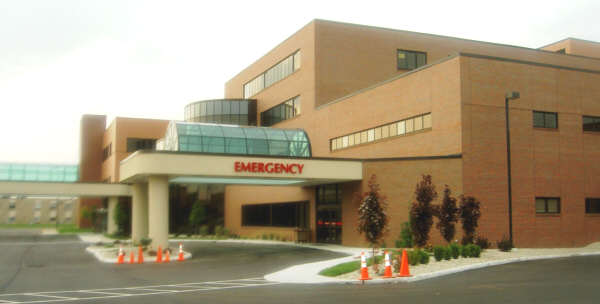 New emergency entrance at south end of building sparkles as it awaits the first ambulance when the new tower opens Sept. 17.
(MyBayCity Photo by Dave Rogers)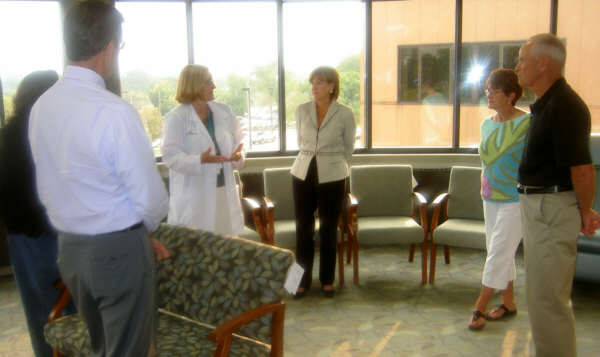 Mary Schubert, obstetrics nurse-manager, shows off the new family waiting room in the maternity section and describes the larger Family Birthplace and Women's Health rooms with pullout sofas, refrigerators and other amenities.
(MyBayCity Photo by Dave Rogers)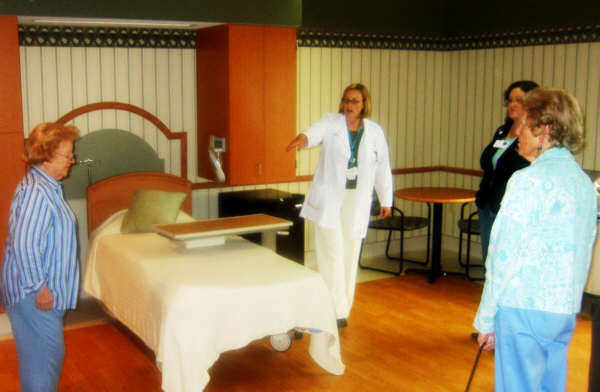 Twelve single room maternity care labor, delivery, recovery rooms plus 10 private rooms provide state-of-the-art fetal monitoring systems that are safer for patients in labor, Mrs. Schubert explains. Three tubs are provided for hydrotherapy, a new triage area adds efficiency and doctors can monitor mothers in labor from remote computer Internet access. "Bay Regional is also first in the area to have an improved infant security system," she said.
(MyBayCity Photo by Dave Rogers)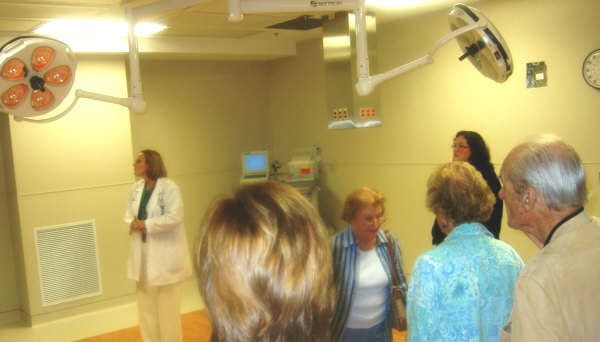 Since multiple births are up 30 percent in recent years, a special C-Section room with advanced medical technology has been installed at Bay Regional to handle an increasing number of Caesarean Section births.
(MyBayCity Photo by Dave Rogers)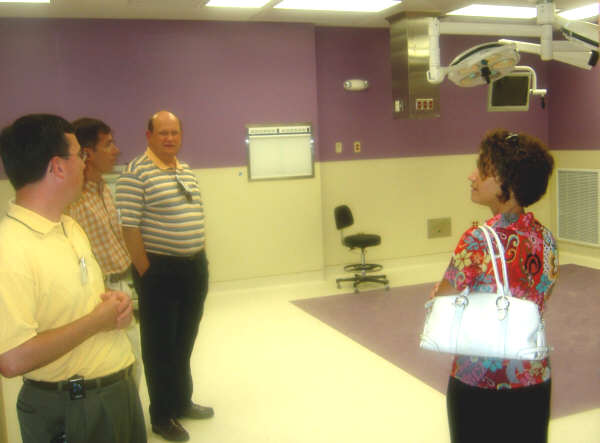 Surgeons look over one of the 14 operating rooms they will be using when the new tower is opened.
(MyBayCity Photo by Dave Rogers)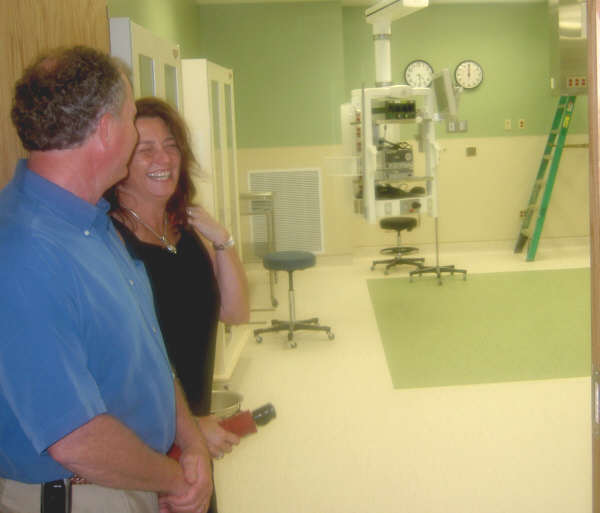 Tim and Beth Boutell enjoy the tour as they look over one of the rooms still being readied for the opening.
(MyBayCity Photo by Dave Rogers)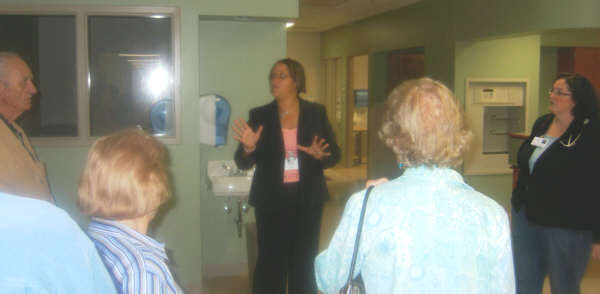 Glenda Cross, surgical manager, explains pre-operation procedures and the different phases of service provided for patients needing surgery. This area of the hospital has increased from 22 to 33 beds.
(MyBayCity Photo by Dave Rogers)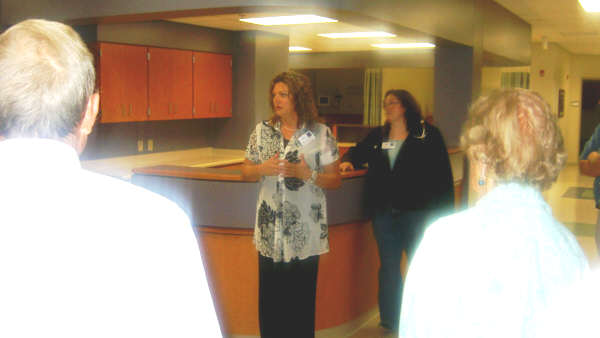 Willa Rousseau, director of patient care services, describes the new centrally-located cardiac catheterization laboratory area to which patients now will be directly admitted. Previously, physicians were required to visit patients on different floors. The design of the area provides visual access to every area from the two nurses' stations. The area has its own parking lot and also includes a special pacemaker clinic. Nuclear medicine also has been consolidated in a nearby area.
(MyBayCity Photo by Dave Rogers)
---
---
---
Send This Story to a Friend!
Letter to the editor
Link to this Story
Printer-Friendly Story View
---
--- Advertisments ---