Do You Think it is Safe to Drink Tap Water?
What you should know about Purified Water
September 16, 2007 Leave a Comment
By: Julie McCallum,
Senior Staff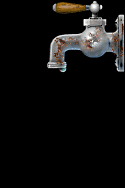 In the 2007 Water Quality Report from the City of Bay City Water Treatment Plant it states that it is Not necessary for their customers to go to the extra expense of buying bottled water in order to have safe drinking water.
Also it goes on to explain why our water "sometimes" smells or tastes musty or like dirt and why it is sometimes colored or cloudy.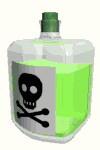 Also in the report, Questions on Dioxin and PCB contaminants being in our drinking water were answered: " If you don't see it listed in this report then it was not detected in our tap water." Also mentions that water with Low residual levels of chlorine is save to drink.
The Bay City water treatment plant produces approximately 10,000,000 gallons of water per day, of which only about 1/10 of one percent is ever used for human consumption.
The majority of the water they produce is used for industrial processing, cleaning, washing clothes, bathing, flushing your toilet and other non consumption uses.
Personally, I buy my drinking water from
Serv-A-Pure
water store. It is a family owned business that has been around since 1946.
Their water is purified, not just filtered. It is 99.99999% pure. Their water contains nothing but H2O. It is purified by de-ionization, sediment filtration, ultraviolet lights and carbon absorption. There is no fluoride, sodium, arsenic, heavy metals or radon, its nothing but pure water.
(
De-ionization
is a process that removes impurities by ion-exchange to produce the highest quality water possible.)
Many people have questions on which bottled water is good, according to Richard Herzberger, President of Serv-A-Pure, water that is Purified by Reverse Osmosis or De-ionization is acceptable, not Spring Water.
According to the FDA the definition of Spring water (water that comes out of the ground on its own or is bottled near water that comes out of the ground on its own.) There is no regulation as to "what" TDS (Total dissolved Solids) are allowed. Actually spring water may contain more TDS than municipal water. By government regulations if a label reads purified water it must contain less than 10 mg/l of total dissolved solids.
Some people use Water Pitcher filters. These pitchers use a carbon filter which is placed on the top. It removes odor, sediment, and taste but the carbon also breeds bacteria.
Herzberger's wife Sandy, said, "People don't realize how much we depend on water in our everyday life." The average person uses approximately 100 gallons per day in their day to day activities, but we only consume about one liter a day for drinking, so does it not make sense to have a higher quality water for drinking?
According to Herzberger, the ideal is to have 3 types of water in your homes.
1. The water direct from a source, like a well or municipal water, to use to flush your toilet and water grass etc.
2. Conditioned water to wash clothes and run your dishwasher. Also helps protect your fixtures.
3. Purified water to drink and cook with.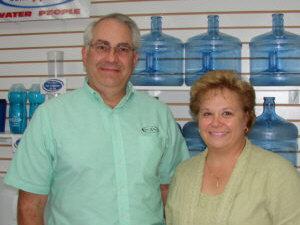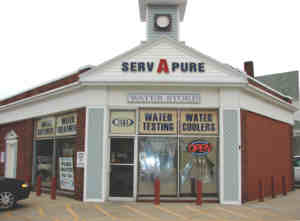 (Above Left)
Richard Herzberger, President of Serv-A-Pure Water Store and his wife Sandy Herzberger, Manager.
(Above Right)
Serv-A-Pure is located on the East Side of Bay City on the corner of Columbus & N. Farragut.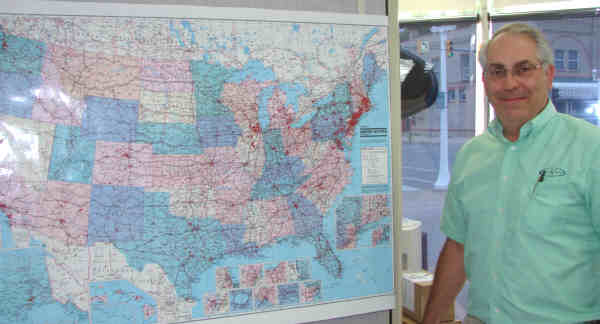 Herzberger shows on a map how many locations Serv-A-Pure ships to and/or have installed systems, which is approximately 375-400 different locations throughout the United States and Canada, plus many repeat orders throughout the country.
Serv-A-Pure also supplies many places that need ultra pure water applications like labs, hospitals, dialysis centers, semiconductor manufacture, automotive components, solar cell applications.
Serv-A-Pure Water can also be found at the following Bay City Locations:
Grains & Green - 912 N. Euclid
Discount Health - 1006 W. Ohio
Kroger's - 2986 Center Avenue
---
Click Here for more on our nation's drinking water.
---
---
---
Send This Story to a Friend!
Letter to the editor
Link to this Story
Printer-Friendly Story View
---
--- Advertisments ---