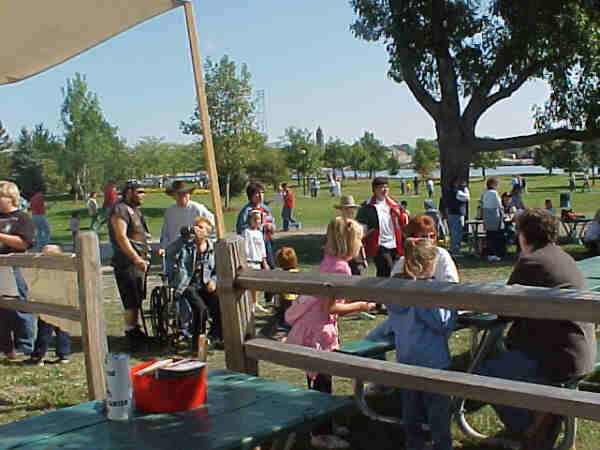 Thousands of tourists frequent Bay City events like the River of Time re-enactment held annually.
---
Bay City Has Remade Itself in the Past 20 Years for the New Economy
Success of Tourism Thrust is Bearing Fruit, But Industries Still Needed
April 20, 2003 Leave a Comment
By: Dave Rogers
What does the future hold for the residents of Bay County and the Saginaw Valley?
The economy is the key, of course, and right now the operative word is "uncertainty." That applies to the national, state and local level.
Bay City pins its hopes on tourism, with a new $34 million hotel-conference center rising on the riverfront and a 40-acre development in the planning stages just south of the hotel.
Local economic development interests still are trying to get it together after a destructive split of a decade ago between the public and private sectors, and we are among those cheering the renewed efforts. Leaders who deserve credit for this effort are County Executive Tom Hickner and Chemical Bank Executive Dominic Monastiere.
Will the hotel-conference center alone provide enough of a draw to bring a constant stream of conventions and conferences, boosting the local economy? Who knows, but it certainly will help to have the added hotel rooms and the large conference center right downtown. Combined with the Bay City Holiday Inn's 100 rooms, and nearby 150-room Bay Valley Inn and other hostelries, the city will be able to accommodate many average-size conventions, making us competitive with other Michigan cities.
As a media columnist and observer of the local scene since 1959, this corner has been boosting tourism as a complementary factor to industrial jobs for many years. I recall a "River City Ramblings" column for The Bay City Times in the early 1980s talking about the need to clean up the riverfront and develop tourism. The headline on the column was: "Tourism Could Be Key to Bay Economic Success." The date was July 1, 1982.
Since then the picture of Bay City and Bay County has brightened considerably:
1) Peggy and Paul Rowley led the successful effort to built a Riverwalk and Rail Trail linking city with townships; it is a heavily-used amenity that adds a suburban touch to old city neighborhoods.
2)A host of entrepreneurs and old house lovers brought gentrification to new heights along Center Avenue and to other old neighborhoods; what some considered aging white elephants ready for the wrecker's ball became lovely Victorian palaces reminiscent of the glory days of the 19th and early 20th centuries. It is all in how you approach the old properties, whether loving care is put into them. Values have commensurately reflected the rise in old home esteem, too.
The Bay Area Community Foundation, another creation of the community-minded Rowleys, and the Kantzler Foundation, shaped through the wisdom of attorney Bob Sarow, added a long-neglected dimension to community development -- philanthropy. Another positive constant has been the Rotary Club of Bay City, which sponsored the move of the Trombley House to Veterans Memorial Park in the late 1970s. Rotary's community project leadership stretches back to development of James Clements Airport in the 1930s. The local club was founded in 1915.
Major events have been launchedwhich bring thousands of visitors here, including the River Roar, Pig Gig, Tall Ships, offshore powerboat races, fireworks festival, summertime arts and music presentations in the World Friendship Shell, River of Time and others. Some wintertime festivals are needed to balance the acts.
Acting on an idea suggested by the Bay Area Convention and Visitors Bureau, the With impetus provided by the Bay Area Convention and Visitors Bureau, the Bay County Historical Society in 1996 launched a series oftrolley tours based on the architectural, industrial and social history of the city; in the past two years the tour buses from Midwest populations centers have begun to flow into Bay City and, with hard work, this trade will continue and grow.
Acomprehensive list of activities and what the tourism folks call "destination attractions" are needed to keep the visitors here a day or two to stay at the hotel and boost the local economy. History is the drawing card that has worked for Charleston, South Carolina, Savannah, Georgia, New Orleans, Louisiana, Alton, Illinois, and especially Mackinac Island, Michigan. Chicken dinners are already in use as a tourism draw, so we need to focus more on our fabulous history and our architectural masterpieces. Detroit's Greenfield Village is pumping $300 million into a remake of the old Henry Ford farm in a bold attempt to make it the nation's greatest tourist attraction. That should help Bay City by bringing hordes of tourists within 100 miles. How to get them up here is the question.
An enthusiastic group of old sailors headed by Dick Janke and Mike Kegley are working hard to bring an old destroyer here to relive the glory days of the Defoe Shipbuilding Co. and Bay City's part in naval production beginning with World War I and running through the Vietnam Conflict. Reports from around the nation show that old ships do in fact draw lots of people to a community and the USS Charles F. Adams could be the anchor needed for the city's development dream on the old Industrial Brownhoist property on the riverfront.
Despite the glitz of tourism, jobs are still the key to our local economy. The amazing success of Valley Center Technology Park, with its 1,000 jobs in about 20 industries, is testimony to that. The automotive sector, and perhaps the chemical industry, cannot alone continue to prop up the local job market. There are signs of weakening and the major new plants have gone to Lansing and the Detroit area. Flint is fading fast, plagued by political troubles. That's not good news for our working commuters, for it's very tough to drive to Lansing or Detroit every day to work. Even Mt. Pleasant's Soaring Eagle casino is laying off workers because of the slow economy, and Bay City doesn't want a casino even if it could get one, which it probably never could get because of political considerations.
Can Bay City keep building tourism and develop our high tech job-producing economy even more? Can Bay City reinvent itself and become an even better place to live? If we solve our political problems and work together, it's a good bet.
---
---

Dave Rogers




Dave Rogers is a former editorial writer for the Bay City Times and a widely read,
respected journalist/writer in and around Bay City.
(Contact Dave Via Email at carraroe@aol.com)

More from Dave Rogers
---
Send This Story to a Friend!
Letter to the editor
Link to this Story
Printer-Friendly Story View
---
--- Advertisments ---