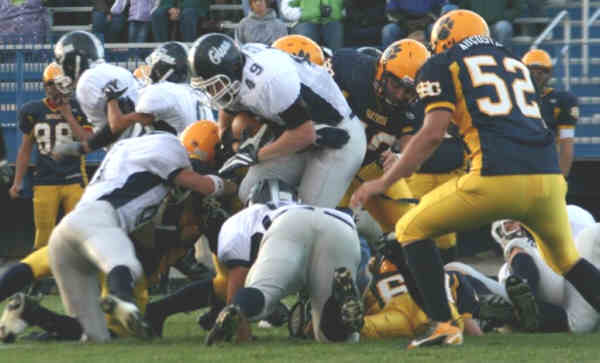 SHORT GAIN -- (49) Tyler Clemons Runs For A Short Gain as John Glenn Season Mark Falls to 3-1
---
John Glenn Comes Up Short Against Standish-Sterling Panthers for First Loss
Fumbles Spell Doom for Bobcats Who Hit the Road to Ogemaw on Friday
September 16, 2007 Leave a Comment
By: Maria Vos & Shannon Smith

The John Glenn Bobcats come up short Friday night against the Standish-Sterling Panthers. JG took their first loss of the season, 19-10. The Panthers are rated ninth in the AP Division 5 playoff rankings released this week.
Though they started off strong in the first quarter, the Bobcat's defense struggled to hold back the Panther's from scoring the game's first touchdown, made by Brad Bialobrzeski, with 15 seconds left on the clock. With the extra point no good; the score was 6-0 in favor of Standish leading into the second quarter.
Starting off the new quarter, the Bobcats dazzled, completing numerous passes and making phenomenal runs. But, starting off a series of fumbles that would last through the game, the ball was given up at the Panther's 7 yard line.
However, with more determination, John Glenn went after the ball and were able to return it their possession. With 3:18 left in the half, the Bobcats fought to Panther's 12 yard line, enabling Tyler Clemons to score for Glenn. Ty Richards scored the extra point changing the score to 6-7, Bobcat's lead.
But the Bobcat's didn't stop there. Gaining back the ball yet again, Glenn's quarterback, Richard Watson, was able to complete a 45 yard pass to junior tight end Ryan Green sending JG to the Panther's 20 yard line. From there, John Glenn's senior running back, Chad Tacey, was able to carry the ball to the Panther 7 yard line. With only 3 seconds left to play in the half, the Bobcat's decided to try a 3 point field goal which was completed by Richards. Glenn led 10-6 going into halftime.
Kicking off the third quarter, John Glenn tried to contain Standish which scored the first touchdown of the second half after only 3 minutes. Though the extra point as no good, the Panthers still pulled ahead 12-10, and held the lead for the remainder of the game.
Near the start of the fourth quarter, the Panther's Trevor Trombley, who took credit for two of their three touchdowns, scored the final TD with 8:08 to play. The extra point topped off the games scoring, 19-10.
Although the spirits of the players were low, the Bobcat fans stood behind their team. As Glenn exited the field, the fan's encouraging words could be heard as proof that JGHS will return ready to win.
Bangor John Glenn will play again next Friday against the Ogemaw Height Falcons, at Ogemaw.###
---
---
---
Send This Story to a Friend!
Letter to the editor
Link to this Story
Printer-Friendly Story View
---
--- Advertisments ---