Wolves (2-2) Host Flint Central, Warriors (3-1) Head for Traverse City
Ingram Unstoppable; Wolves' Mistakes Give Mt. Pleasant too Many Chances
September 19, 2007 Leave a Comment
By: Kevin Leahy

The unpredictable Flint Central Phoenix come to Engel Stadium on Friday with two first rate quarterbacks who both can light it up.
The Phoenix are winless in four outings but backup quarterback Andre Gibson threw a scare into Midland Dow last Friday before Charger QB Kyle Partlo scampered 28 yards and dove into the end zone with 1:13 left on the clock for a 26-22 victory.
Gibson replaced last year's star Chance Garner late in the second quarter and turned a 20-7 deficit into a 22-20 Phoenix lead. Gibson not only threw for 96 yards and a TD but also gained 62 yards on six running attempts for a 10 plus yard per carry average.
In Valley statistics, Garner hit on 34 passes of 88 tries for a 39 percent average and two touchdowns while Gibson was 13 for 28 for 46 percent and three TDs.
Matt Grew of Western has clicked on 49 percent of his 63 passes for 517 yards and five TDS, ranking him fourth in valley passing. Grew also is second in Valley scoring with seven TDs. The Warriors' Justin Gwizdala is second in Valley rushing with 397 yards on 67 carries for a 5.9 yard average and one TD. Luther Ware of Central is fourth in rushing with 347 yards on 63 attempts for a 5.5 yard average and two scores.
In Valley receiving, Corey Arnold and Scottosentoski are second and third to Tyler Mills of Mt. Pleasant, who has hauled in 15 throws for 401 yards and six TDs. Arnold has 14 catches for 225 yards and two touchdowns and Osentoski snagged 8 passes for 179 yards and three scores.
Meanwhile, Bay City Central is coming off a loss last Friday in which their nemesis was another gunslinger, William Arnold of Mt. Pleasant. Central's offense could have been their best defense against Mt. Pleasant but turnovers foiled the Wolfpack.
The best way to defend an offense like Mt. Pleasant's is to keep them off the field, and Central kept giving them chances.
After five fumbles and one interception from the Wolves the Oilers walked off Elmer Engel field with a 38-13 victory to remain unbeaten (4-0) in the Saginaw Valley League.
Although only being out-gained by 34 yards in total offense (374-338) the Wolves nullified many of those yards by giving the ball back.
It didn't take long for the talented Arnold to make the Wolves pay, with touchdown passes of 72, 28 and rushing for another. Within four plays the Oilers turned three Wolves turnovers into 21 points.
Mistakes against good teams like that will always show up on the final scoreboard. Luther Ware and Dylan Byington were the only Wolves to strike pay dirt, with Ware punching it in from two yards out in the second quarter and Byington through the air from 14 yards out late in the fourth from back up quarterback Mike Schepper.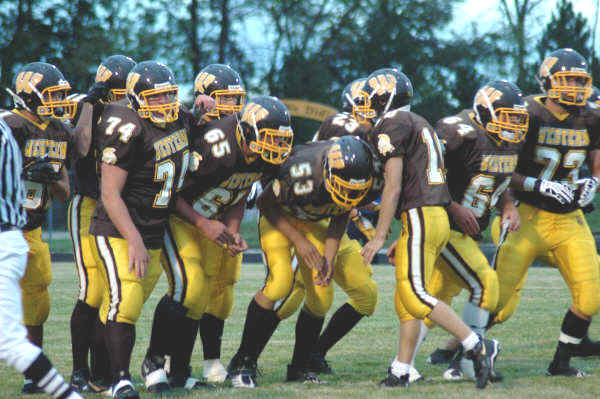 The Warrior offense tallied 22 points last week against Southwestern but could not contain Mark Ingram. The Warriors hope to score enough points this week against Traverse City.
(MyBayCity Photo)
INGRAM A ONE-MAN GANG AT WESTERN
The Western Warriors Friday face a Traverse City Central team that last Friday engineered one of the most amazing comebacks in high school football this season.
Down 21-0 to Petoskey in the second quarter, the Trojans roared back and, with two seconds left, grabbed a 22-21 victory.
TC QB Sam Martin rushed for 160 yards on 17 carries and clicked for 70 yards on 4 completions in 8 passing attempts.
Earlier in the season the Trojans beat winless Alpena 10-0 and lost to Grand Rapids Forest Hills Central in their first game 17-7.
Last week Western gave perhaps the state's top running back a good run for his money before finally bowing to superior speed. Without Mark Ingram, Western no doubt would have come off a winner.
Ingram, running back at Flint Southwestern Academy, has a reputation as a great running back, and Western found that out last Friday.
After gaining nearly a quarter mile and scoring six touchdowns against the Warriors Friday night in his teams 39-22 victory, the reputation is growing into a "Ripleys Believe It Or Not" story.
The knights showed up in Auburn undefeated and mired in controversy but Mark Ingram shuns controversy and runs to his home (the end zone) when he feels threatened. And when playing the Warriors, opposing running backs usually feel threatened; they have their own reputation as being a tough hard hitting defensive squad. The Warriors had given up only 26 points in their first three games.
The double trouble facing Ingram proved to be ignored by him once he snapped his chin strap. It's all about game time to that particular player. He finished with touchdown runs of 11, 6, 15, 59, 69 and 65 in route to 358 yards on the ground himself.
After a week where his coach was suspended indefinitely for allowing two felony convicted players on work release to play with his team, Ingram showed the Warrior faithful what they didn't want to see; it's just about football for him come Friday night.
The Warriors seemed to be unphased by Ingram's fleet footed track skills when they cut the knights lead to 32-22 with a Matt Grew to Corey Arnold touchdown pass with only 7:33 to play.
Grew, the Warrior quarterback had four scores of his own to keep up with Ingram's stat fest. Grew rushed for two scores, passed for one and scored a two-point conversion. The Warrior come-back was stymied by Ingram the very next play when he scampered 59 yards for the final score.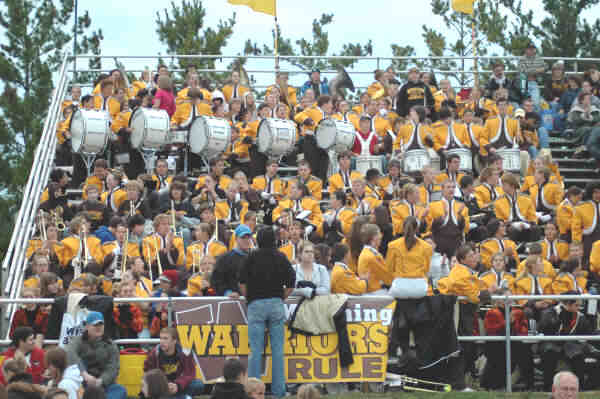 Western Warrior Marching Band plays the fight song during last Friday night action against Flint Southwestern.
(MyBayCity Photo) ###
---
---

Kevin Leahy




Kevin Leahy has an interest in all sports-related activities at the Local, State and National levels. Looking for the inside story? Leahy's got it . . .

More from Kevin Leahy
---
Send This Story to a Friend!
Letter to the editor
Link to this Story
Printer-Friendly Story View
---
--- Advertisments ---