Welcome Home for Iraq-Afghanistan Veterans Set Next Weekend at VA Hospital
POW/MIA Day Held Friday With Veterans, MyBayCity.com Speakers
September 23, 2007 Leave a Comment
By: Guest Columnist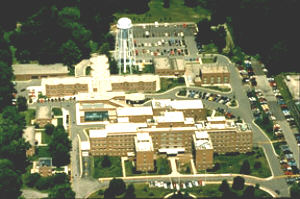 Aleda E. Lutz Veterans Administration Medical Center, Saginaw.
The first annual Welcome Home event for Iraq and Afghanistan veterans on Saturday, September 29, 2007 from 11 a.m. to 3 p.m. at the Aleda E. Lutz Veterans Affairs Medical Center in Saginaw.
The VA medical center will host the event in the medical center auditorium. Veterans and their families have been invited to learn about medical benefits and enjoy carnival games, food, and prizes.
Gabriel Perez, medical center director, told MyBayCity.com that about 600 Iraq and Afghanistan veterans have been treated over the past two years at the Saginaw facility. Most of the 600 were suffering from mental problems associated with their combat service, said Mr. Perez.
Several former prisoners of war from World War II, Korea and Vietnam spoke at POW/MIA day last Friday, Sept. 21, as dozens of POWs from the area from Pontiac to the Straits of Mackinaw attended a dinner at the VA medical center.
Among former World War II POWs were Bob Smith, of Flint, an Army Air Corps veteran whose B-24 was shot down over Germany, and Bob Straley, of Mio, a 175-pound Army infantryman who weighed 90 pounds when finally liberated. "My family didn't recognize me," he recalled. Smith told of being forced to march 65 miles to a new internment camp when the Russians were closing in on his camp, called Stalag Luft 3.
The Marine Corps League, Flint Detachment, presented the colors and conducted a POW/MIA table ceremony with hats representing the various branches of the service at empty chairs symbolizing the veterans no longer with us.
A POW Pledge of Allegiance was read and the program featured a Prisoner of War Medal Symbolism: "The eagle, symbol of the United States and the American spirit, though surrounded by barbed wire and bayonet points, stands with price and dignity, continually on the alert for the freedom, through symbolizing the hope that upholds the spirit of the Prisoner of War."
President George W. Bush issued a Presidential Proclamation declaring: "Today, we honor a special group of patriots; those who have been prisoners of war and those who are still missing in action. We remain forever in their debt and we renew our commitment to them and to their families never to rest until we have accounted for every missing service member."
Speakers included several former prisoners of war, including Dallas Mossman, of Flint, who said information about POWs is available on the website "koreanwareducator.com." Lynnita Jean Brown, of Tuscola, Illinois, is founder and CEO of Korean War Educator.
Mr. Mossman said: "A goal of The Korean War Educator Foundation is to publish as many memoirs of Korean War veterans and Gold Star family members as is possible in book form." He added: "Retrieving and preserving those memoirs, as well as publishing them, will help educate the American public about a deadly war that was much, much more than the 'conflict' it has been labeled for more than 50 years. All profits from any book sales will go to the Korean War Educator Foundation."
Mr. Mossman, a light weapons infantryman with the 2nd Division, enlisted in Genesee County in 1946, was captured in Korea in April, 1951 and was released in August, 1953.
Mr. Perez paid tribute to the POWs on hand for the event. Welcome was by Carrie Seward, chief, voluntary service, VA Saginaw; and Alfonso Todd, chief, pastoral care service, VA Saginaw.
D. Laurence Rogers, MyBayCity.com columnist, urged former POWs to write their personal experiences and have them archived in hometown libraries and/or historical societies. "You all have great stories that generations to come will benefit from, but only if you write them now," said Mr. Rogers.
---
---
---
Send This Story to a Friend!
Letter to the editor
Link to this Story
Printer-Friendly Story View
---
--- Advertisments ---