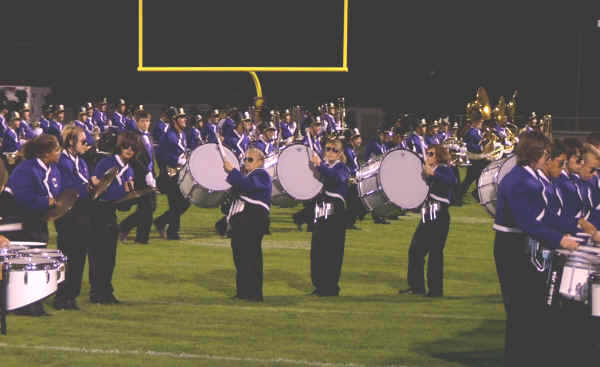 The Bay City Central "Marching Wolves" had plenty to celebrate as BC Central routed Flint Central 55-6.
---
WINNERS ALL!!! Central, Western, Pinconning Score Mid-Season Victories
Are Wolves thinking playoffs? How About Western? Pinconning Notches 1st Win
September 23, 2007 Leave a Comment
By: Kevin Leahy

Bay City Central Wolves might be thinking they belong in the playoffs after their 55-6 rout of Flint Central Friday night.
"If we can win out we will make the playoffs this year," said Tim Marciniak principal at Bay City Central.
Standing at (3-2, 2-2) with Midland Dow, Heritage, and Western still on their schedule the Wolves won't have it as easy as they did this past Friday night.
With a display of speed and a swarming defense the Wolves blitzed the Phoenix often and caused 4 turnovers.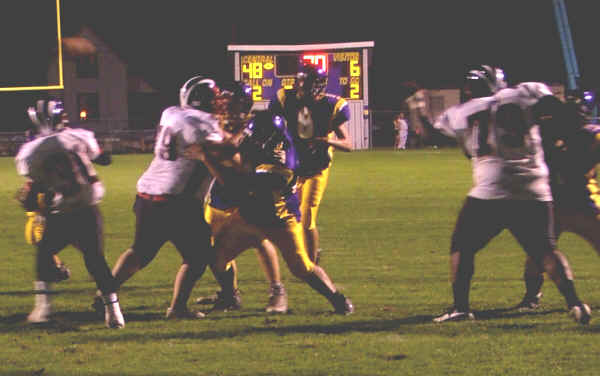 Players battle in the trenches as the BC Central scoreboard shows the one-sided win by Bay City Central over Flint Central.
(MyBayCity Photo by O. J. Cunningham)
Justin Reed had two interceptions in the first quarter, his first snatch he returned 48 yards to set up Luther Ware's first of four touchdowns.
With Reed's second steal of the first quarter he would not be denied returning 78 yards to the end zone. Ware who sat the whole second half after running all over the field for 165 yards on 16 carries, scored from 9,1,9,and 6 yards out.
Trenton Robinson ran to pay dirt from nine yards out in between Ware's third and fourth touchdown. The Wolves were up 48-0 before Flint Central scored their lone touchdown with six seconds left before the half.
Coach Morley Fraser enjoyed the luxury of resting most of his starters after straight shooting Dylan Byington felt the end zone adrenalin by catching Mike Schepper's two yard pass with two defenders draped all over him in the third quarter.
In the Wolves kicking duel Ryan Brunette had one more (4) extra point kick than fellow team mate Mitch Martens.
The Wolves defense was the catalyst for this victory by swarm tackling and pressuring Flint Central's quarterbacks as soon as they touched the ball.
The speed the Wolves showed was exactly what they expected going into this season and if they maintain that intensity and mistake free offense they just might make the play-offs.
The Wolves hope to keep it on track as they travel to Midland Dow this Friday.

Western knocks down another victory
Western Warriors (4-1, 3-1) held on against Traverse City Central (3-2) 14-10 Friday night up in Traverse City.
Western's Dan Alba broke up a Traverse City pass from Sam Martin in the end zone as time expired on TC Central's come back bid.
The Warriors went up 7-3 with 4:32 left in the first half after an 82 yard 13 play drive they scored on a 15 yard pass from Matt Grew to Matt Johnson.
After halftime the Warriors drove the ball to the Trojans 11 yard line but then gave the ball over on downs.
TC Central proved their offense was just as efficient driving 85 yards for their only touchdown on a 41-yard sweep by Tim Ohlhert.
The Warriors never gave up and showed their heart by sustaining another 82 yard scoring drive with Grew pitching to Justin Gwizdala for a four yard touchdown with 4:51 left in the game to cap the scoring.
The Warriors finished with 83 yards rushing and 130 yards through the air with Grew going 13 for 17 and a touchdown.
Although being out gained by the Trojans 230-213 the Warriors scored when they needed to and tightened up their defense at critical points in the game to secure the victory.
The Warriors will be happy to be back home next week in a key Saginaw valley match up against Midland High.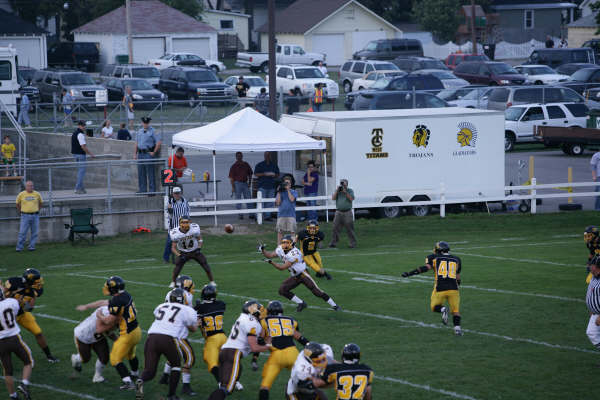 (23) Scott Osentoski receiving a pass from Matt Grew for a first down.
(MyBayCity Photo by Maeling Groya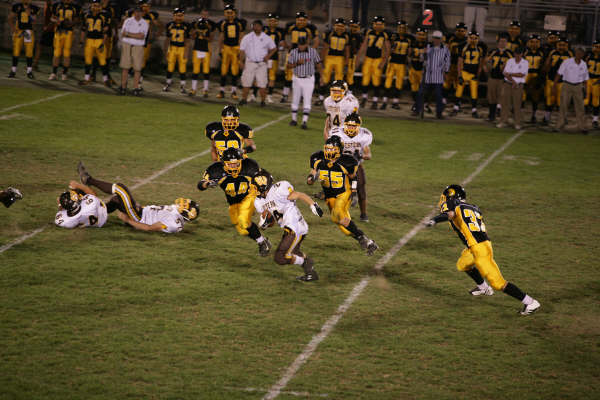 (24) Justin Gwizdala breaks into the open against Traverse City.
(MyBayCity Photo by Maeling Groya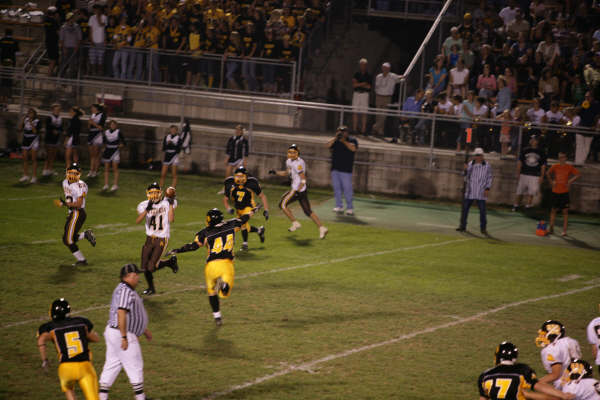 (41) Cory Arnold catches a pass from quarterback Matt Grew.
(MyBayCity Photo by Maeling Groya

Pinconning finds winning ways
Running back Ryan Kleinhans broke from the pack Friday night on TD runs of 71 and 60 yards while the rest of the Spartans followed for their first victory 40-8 over Oscoda (0-5, 0-3).
Kleinhans finished the night with 224 yards while teammate Lucas Foco had touchdown passes of 43 and 10 yards from quarterback Barret Penix.
Nick Schultz was just as productive from his defensive position returning two interceptions 35 and 19 yards respectively to the end zone.
Brandon Koth kicked all five extra points to round out the Spartans scoring surge.
Oscoda tossed it in by scoring in the fourth quarter when Justin Cain hit Mike Lamrock for the Owls only touchdown and extra points.
Pinconning will be back at home next week against a tough Tawas team in their North East Michigan Conference match-up.###
---
---

Kevin Leahy




Kevin Leahy has an interest in all sports-related activities at the Local, State and National levels. Looking for the inside story? Leahy's got it . . .

More from Kevin Leahy
---
Send This Story to a Friend!
Letter to the editor
Link to this Story
Printer-Friendly Story View
---
--- Advertisments ---