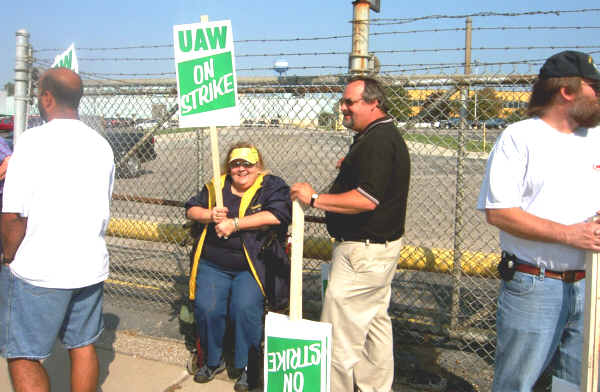 Bonnie Lauria, 66, GM retiree, talks bargaining issues with Harvey Schneider, chairman of the UAW apprenticeship committee. Bonnie worked the picket line using her walker wearing a button reading "hands off my pension."
---
The Historic UAW Strike "Nobody Wanted" Shuts Bay City GM PowerTrain
Union Members Strong, Determined, But Still Hopeful for Early Settlement
September 24, 2007 Leave a Comment
By: Dave Rogers
General Motors workers in Bay City said they didn't want to walk out but were forced to it and were hopeful for early settlement of a historic strike, first in 31 years, but were dubious of company intentions.
"What do we want? A contract! When do we want it, now!" was the chant as several dozen union members carrying "UAW on Strike" signs marched in bright sunshine and 80 degree temperatures today on Woodside Avenue at the GM PowerTrain front gate.
"We are union!" others piped in. Many passing vehicles honked in support and some held up clenched fists indicating solidarity with the striking workers.
United Auto Workers president Ron Gettelfinger sliced right to the heart of the issue in comments during a 12:15 p.m. news conference in Detroit:
"As much as the workers do they can't seem to give up enough; and as much as the executives get they can't get enough."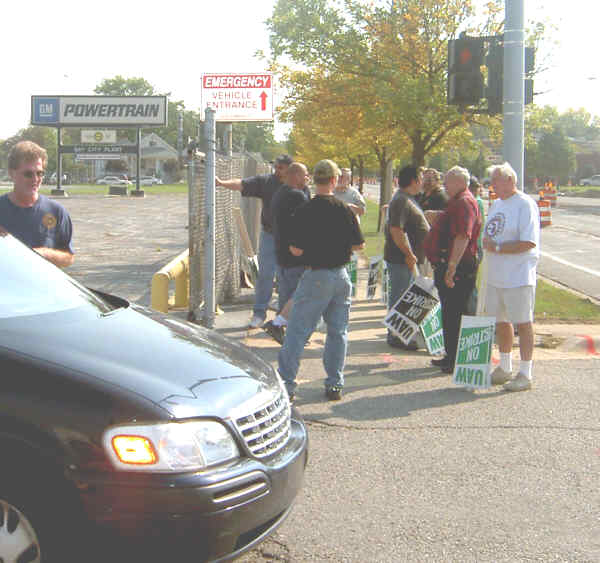 Brian Kowalski, skilled trades worker at Bay City GM PowerTrain, hands out orange strike leaflets to union members leaving the plant at 11 a.m. Monday.
(MyBayCity Photo by Dave Rogers)
Some observers noted the strike couldn't come at a worse time since the State Legislature is engaged in a heated battle over raising taxes or cutting services and a partial shutdown of state government looms for the first time 47 years, since 1959.
The strike could have a major impact on the state budget in terms of income taxes, higher welfare costs and other implications, observers said. Plus the image of Michigan as a state with labor problems is sure to gain national attention.
Gettelfinger parried a question about a general strike in the news conference but observers worried that shutting down Ford and Chrysler might be next if progress is not made quickly.
As it is, there are predictions that supplier plants will begin shutting down in 24-48 hours, parts trucks will be sidelined and other stunning economic effects soon will be felt.
"We were pushed into this strike," exclaimed Gettelfinger. "Do we want a strike? Absolutely not! But there comes a point at which we have to draw the line. They pushed us over the cliff."
Gettelfinger explained that the VEBA (Voluntary Employees Beneficiary Association), a trust fund for health care, was not an issue that caused the strike. "Job security, investment in product and economic issues are the important thing," he said.
Queried whether executive pay levels were an issue in that they were viewed as offsetting worker interests, the UAW chief said pointedly: "That continues to be an exercise in futility."
Bargaining committee chairman Jay Swaton said he and committee members escorted workers out of the plant beginning at 11 a.m. "The members feel strongly that this is the right thing to do. Nobody wanted the strike, but we need to preserve our rights. They all went out in a very positive mood."
UAW member Bud LaLonde was checking off workers, giving them picket duty schedules slated to being operations at 6 p.m. tonight.
UAW picketer Clete VanSnepson was heard to say: "A lot of people said it would never happen."
Another UAW picketer was more graphic: "I heard from our side they thought Gettelfinger and (UAW Vice President Cal) Rapson didn't have the balls to do it." Another worker said: "When your own people issue a challenge like that it's hard to ignore it."
Harvey Schneider, chairman of the apprenticeship committee, who has no apprentices to train at present, said: "I've got my fingers crossed. It's a historic moment, that's for sure."
Bonnie Lauria, 66, who retired in 2000 after about 25 years service, said: "It's all about health care." She worked at GM from 1972 to 20-00 with a four and a half year layoff. She added: "I want to protect my benefits and those of other members, too."
Inside the plant gates, a white pickup truck with a sign reading "Securitas" patrolled and a GM management public relations aide came out to talk to television news personnel, pointing out the company property line in an implicit warning to stay off.###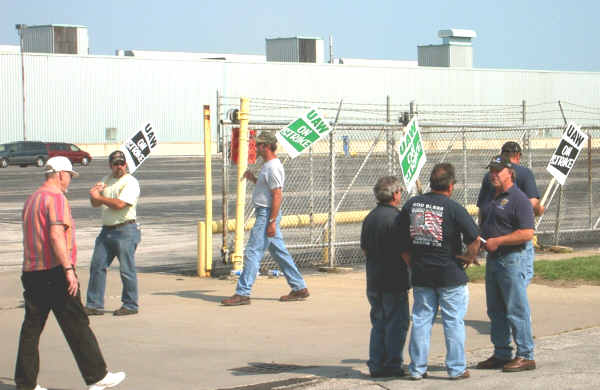 UAW Local 362 Bargaining Chairman Jay Swaton, center, with hat, encourages pickets at the east gate shortly after the strike began at 11 a.m.
(MyBayCity Photo by Dave Rogers)
---
---

Dave Rogers




Dave Rogers is a former editorial writer for the Bay City Times and a widely read,
respected journalist/writer in and around Bay City.
(Contact Dave Via Email at carraroe@aol.com)

More from Dave Rogers
---
Send This Story to a Friend!
Letter to the editor
Link to this Story
Printer-Friendly Story View
---
--- Advertisments ---