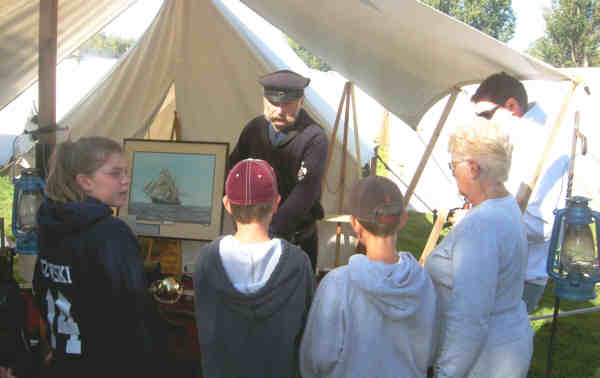 >"Sailor" Bob Boquette of Saginaw, with the USS Michigan exhibit, explains nautical terms to a crowd Saturday at the 2007 River of Time.
---
Re-enactors Bask in Balmy Weather at River of Time Living History Event
18th Encampment Draws Huge Crowds to Riverfront Veterans Park
September 29, 2007 Leave a Comment
By: Dave Rogers
It was the 17th and one of the best of the River of Time series.
Hundreds of re-enactors strutted their stuff in colorful costumes, fired their muskets and cannon, made old-time music, cooked food over wood fires and slept in tents like the olden days.
Crowds thronged the riverfront venue to watch the battles, hear the music, make butter, pan for gold, burn wood with a magnifying glass, play frontier games, eat caramel corn and enjoy the sunshine.
The scene even included a wedding as Tanya Counterman and Louis Prieur tied the knot in traditional fashion, dressed as voyageurs after the marriage was "bartered" by the father and bridegroom with furs in a re-enactment of an ancient custom.
The Christian Cowboys put on gunfight skits including re-enactment of the assassination of "Wild Bill" in Deadwood, South Dakota Territory, in 1876.
Wyatt Earp and "Doc" Holliday are there, blasting away at the famed "Gunfight at the OK Corral."
The First Michigan Colored Infantry is there, explaining how their ancestors began training in 1863 after the Emancipation Proclamation and left Detroit for the South to see combat in the Civil War.
The 16th Michigan Volunteer Infantry is there, reprising their role in 48 major battles including Gettysburg where they held the crucial Little Round Top hill against a furious Confederate assault.
Tittabawassee Fife and Drum Corps held the crowd enthralled with concerts Saturday and Sunday, marching tunefully to the log cabin in full regalia.
President Lincoln (re-enactor Fred Friebe from Livonia) recited the Gettysburg Address both Saturday and Sunday and Mrs. Lincoln had Mother Goose Story Time for the kids on Saturday.
Saginaw's Paul Davis explained maritime warfare in the program tent Saturday at noon. Davis is a collector of Civil War artifacts and is a regular presenter at the 7th Michigan Cavalry Civil War Round Table.
Interpretive presenter Genot Picor portrayed a 16th century French Voyageur, Stacy Alt was Patrick Henry and Ken Hoard conducted a colonial worship service on Sunday followed by a Civil War era church service by Mike Frazho. Nancy Hadden presented a "Captured by Clothes" period fashion show.
Don Marquardt, Indian Joe and the Sanford Brigade presented a paddle dance and showed off a huge war canoe similar to those used by the early Native Americans.
At the historic Trombley House visitors could see how people lived in the 1800s. Trombley House is a Greek Revival structure, the first frame house built in Bay City. It was the home and fur trading post of Mader and Joseph Trombley. Dee Dee Wacksman and Donna Lowe presided over a quilt raffle and showed guests through heritage and herb gardens. Inside, food was being prepared on an old-fashioned wood stove.
Popular vendors were Ma and Pa's Kettle Korn and Little John's home made root beer. Sgt. Jim's Mess Tent near the Meyer Cabin (the General Store) was serving tasty beef stew, hot dogs and brats.
The General Store featured cider and donuts and an antique sale was held on the porch of the cabin.
The band "Chasin' Steel" cranked up bluegrass music Saturday afternoon with three and four part harmonies on banjo, mandolin, guitar and acoustic bass, plus occasional notes from a hammered dulcimer.
With the weatherman cooperating all weekend, it was a grand and glorious River of Time 2007.###
Click for link to
Second River of Time Article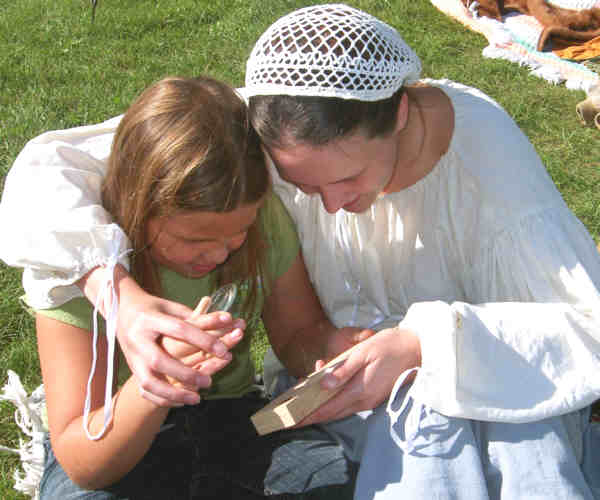 Claire Anderson, 7, of Bay City, learns how to "write with the sun" burning her name into wood with instruction from re-enactor Kendra "Kricket" Williams, 21, of Millington.
(MyBayCity Photo by Dave Rogers)
Pvt. Nick (Nicole) Stark of Midland, a member of the 42nd Royal Highlanders, British unit in the Revolutionary War, displays her musket
(MyBayCity Photo by Dave Rogers)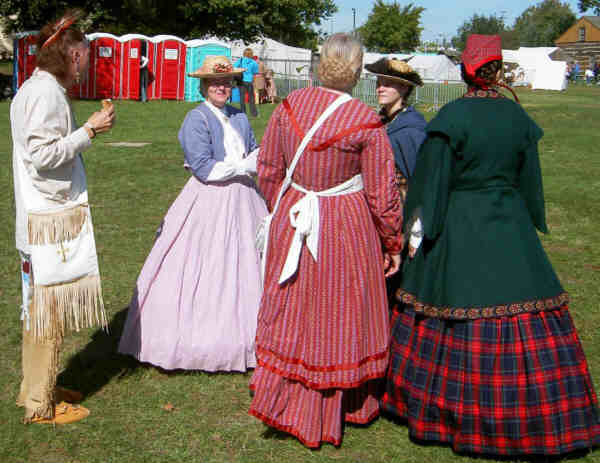 "Indian Joe," Joe Kotlewski, of Bay City, eats an ice cream as he talks about the event with Kathleen Spiekerman, Unionville, daughters Victoria Mandigo, right, and Kathleen Kern, and grand-daughter Ashley Kern, left, of Bay Port.
(MyBayCity Photo by Dave Rogers)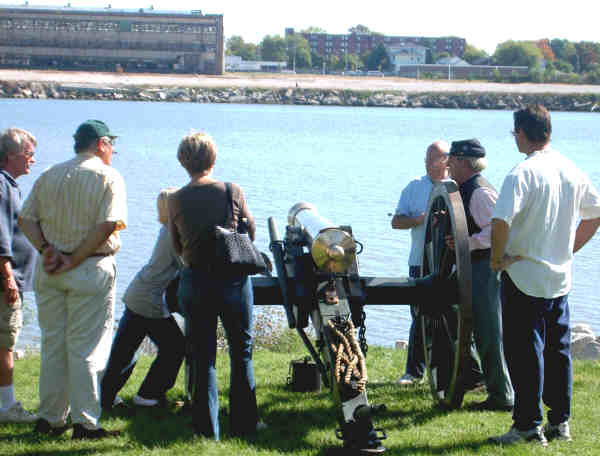 Corporal Rick Julian of Columbiaville demonstrates a brass six pounder cannon to a group of onlookers. The cannon, valued at $2 million, is one of four originally issued to a Flint unit in the Civil War; it was salvaged from a Genesee County Road Commission scrap heap and purchased by re-enactors for $100. A new carriage was constructed according to the original model.
(MyBayCity Photo by Dave Rogers)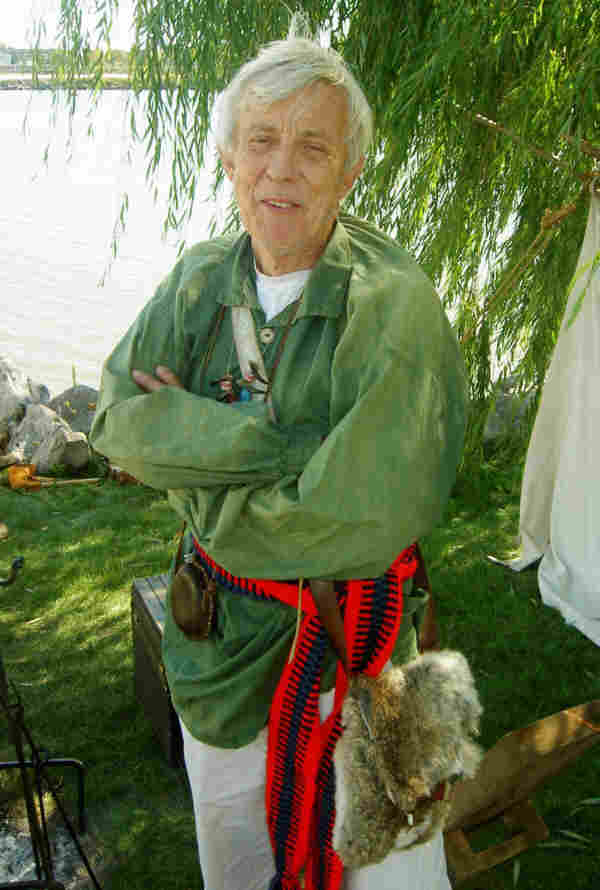 Voyageur Don Marquardt of the Sanford Brigade has been a regular at River of Time for many years. The Brigade is active in visiting schools and giving educational programs explaining the French contribution to settlement of the Great Lakes area.
(MyBayCity Photo by Dave Rogers)
MyBayCity.com has covered the River of Time since 2003.
Take any of these links for prior year coverage:

2018.a, 2018.b
2017.a, 2017.b, 2017.c,
2015, 2014, 2013,
2012, 2011, 2010, 2009,
2008, 2008, 2008, 2008,
2007, 2007,
2006, 2006,
2005, 2005, 2005,
2004, 2003,
---
---

Dave Rogers




Dave Rogers is a former editorial writer for the Bay City Times and a widely read,
respected journalist/writer in and around Bay City.
(Contact Dave Via Email at carraroe@aol.com)

More from Dave Rogers
---
Send This Story to a Friend!
Letter to the editor
Link to this Story
Printer-Friendly Story View
---
--- Advertisments ---