Things I Learned Today . . .
While Looking Up "Other" Things
E-mail scams, The Smoking Gun, Carrot Top, Movie Reviews and Homerun fever
May 30, 2003 Leave a Comment
By: O. J. Cunningham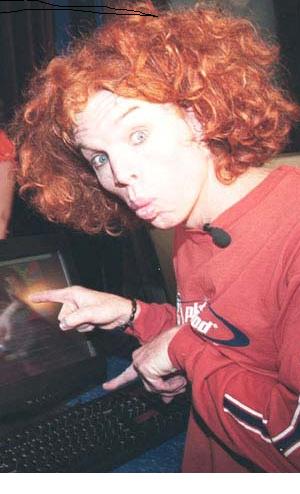 Carrot Top -- The Red Menace
I had a few minutes this afternoon while my Lean Cuisine Roasted Turkey Dinner was heating in the microwave. Aren't we all eating thinner this month? You know the drill. It's summer. (Well maybe it is.) And it's time to get the bathing suit out. You remember the old bathing suit. The one that didn't fit last year but we're sure it will fit this year. And we certainly don't want any excess flesh jiggling about while we frolic in the Michigan sunshine. (Where is that sunshine anyway? And whatever happened to Global Warming?)
But I digress. While my Lean Cuisine was being nuked in the microwave, I thought I'd take a cruise thru the spam e-mail links gathering dust in my Outlook Express "junk" folder. That's the folder that I use to filter unwanted mail. But can't sleep at night because I worry about the mail I might not be getting.
While cruising, I found a great link that offers an in-depth look at the nine (9) greatest e-mail scams of the year 2003. If you've fallen for or been taken in by any of them, I apologize. I'm not laughing at you. Really! I'm laughing with you. After all, I must confess, I seriously considered taking a chance on the multi-million dollar Nigerian money transfer idea. After all . . . What's the worst that could happen? Where is Nigeria anyway?
9 E-Mail Scams
I made a floating reminder in my palm pilot about 2 months ago to check out the site named
The Smoking Gun.
I get a lot of "windshield time" in my car between client appointments and spend early mornings with
Bob and Tom
and my early afternoons with
Rush Limbaugh
. They always make reference to The Smoking Gun Website. Today I finally made the trip. And now you can, too.
The Smoking Gun
Carrot Top is sweeping the nation. The phone ads are bad enough.
Carrot Top Phone Ads
, but you must take a moment to visit
Carrot Top's Web Site
to fully appreciate the magnitude of this "red-haired menace." Good Grief Man!!
Somebody Stop Him.
Summer movies are a way of life in mid-Michigan. The kids are out of school. Nights are longer. It's the time of year that we've waited for all winter. Hey! Here's an idea! Let's go into a dark, freezing theater and see a bunch of advertising and a movie. (I don't like the ads either) Well, I've been to a few blockbusters already. But in case you're just gearing up for the summer festival of movies. Here's the inside scoop.
Summer Movie Guide
Saw a story in the local daily recently about a family with nine kids and one on the way. Can only assume that naming all those young'ns might be difficult. Golly gee! I remember what a fuss it was to just pick names for two kids back in the old days when family planning was so popular. (Did I type that?) Anyway, if you need help with naming your kids or your pet rabbits, this site should make it a bit easier.
Help To Pick A Baby's Name
And finally, the best for last. Summer is baseball in the midwest. Someday soon, the Tigers will win again. Ken Griffey will be healthy. And Barry Bonds (626) will be closing in on Willy Mays (660), Babe Ruth (714) and Hank Aaron (755) as he (Bonds) becomes the all-time Home Run King of baseball. Bookmark this site now. I promise you'll thank me in the morning.
Home Run Tracker
Enjoy June. I hear the temperature might actually hit 70 degrees next week.
---
---

O. J. Cunningham




O. J. Cunningham is the Publisher of MyBayCity.com. Cunningham previously published Sports Page & Bay City Enterprise. He is the President/CEO of OJ Advertising, Inc.

More from O. J. Cunningham
---
Send This Story to a Friend!
Letter to the editor
Link to this Story
Printer-Friendly Story View
---
--- Advertisments ---