State Theatre Presents
'DREAM GIRLS'
& More for November
A Story of Greed, Tough Hate, and Romance
October 28, 2007 Leave a Comment
By: Mike Bacigalupo - State Theatre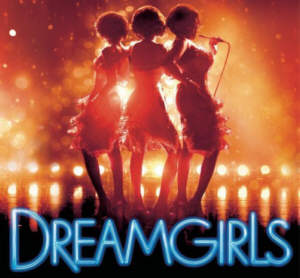 'Dream Girls' Thursday, November 1, 2007
8:15 pm. State Theatre
The Bay City State Theatre Presents, Gallery Walk Movie, 'Dream Girls' on Thursday, November 1, 2007 at 8:15 pm.
This is an Alzheimers Awareness Fundraiser Sponsored by The Bay County Dementia Round Table.
Based on the 1981 Broadway musical comes Dreamgirls, a story of greed, tough hate, and romance.
Three young women - Deena Jones, Effie White, and Lorrell Robinson - desire to become pop stars and get their wish when they're picked to be backup singers for the legendary James *Thunder* Early.
Then they're set free for leads, but Curtis Taylor and Effie's brother C.C. decide for Deena to be lead which upsets Effie. Rated PG-13
Tickets are just $5.00 Call (989) 892-2660 to order tickets by phone.
State Theatre of Bay City is located at 913 Washington Ave., Bay City, MI 48708.
---
On FRIDAY, NOVEMBER 2, 2007
AT 8:00 State Theatre Presents BACK OF THE MOON, Sponsored by WCMU Public Radio.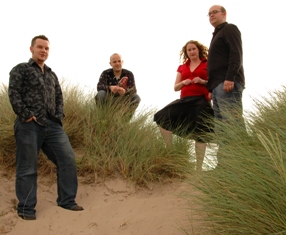 Back of the Moon
are a traditional Scottish folk band, with both new and traditional tunes and songs cast in fresh modern sounding arrangements.
Since forming in 2000, the band have rapidly gained a reputation for their dynamic live performances, touring annually throughout the UK, Canada, USA and eight different European Countries.
Visit http://www.backofthemoon.co.uk/
Back of the Moon create their giant acoustic sound through a tightly woven frontline of Scottish border pipes and fiddle, an intimate pairing of low whistle and flute, the distinctive rhythmic force of their guitar/piano rhythm combo.
At times augmented by bodhran and Cape Breton Stepdancing, and awesome three-part vocal harmonies in their Scottish songs - in which each unique singer takes the lead. 2005 saw them win Best Folk Band at the Scottish Trad Music Awards, having received Best Up and Coming Act at the awards back in 2003 and Best Celtic Group at Lorient Interceltic Festival 2003.
Tickets are $20.00 and On line ticket purchases are available for your convenience.
Click Here To Buy Tickets On Line.
---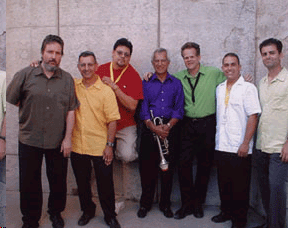 Tumbao Bravo Sponsored by Tri-Star TRUST BANK
Saturday, NOVEMBER 3, 2007
at 7:30 PM.
2007 Jazz and Blues sponsored by Tri-Star TRUST BANK
Tumbao Bravo is a 5-7 piece Cuban Jazz combo consisting of Congas, Timbales, Sax/ Flute/ Piccolo, Trumpet/ Flugelhorn, Piano, Bass Guitar, and Bongos.
Mambos, Cha Chas, Rumbas and Boleros are just some of the authentic rhythms explored by this exciting group. Many of our songs are composed by band members as well as some classic Cuban Jazz tunes.
Musically rewarding and quite danceable, our presentation is entertaining and fun. We can perform as the smaller group of five pieces, (without trumpet) for quieter background music; or the full 7 piece group which adds Trumpet and Bongos.
Formed in August of 2003 by conguero Alberto Nacif and reedman Paul VornHagen, Tumbao Bravo won the 2005 Detroit Music Award for Outstanding Jazz Recording for their debut release, Montuno Salad. The summer of 2006 saw the release of the second CD, Amigos: From Our Hands which has received huge airplay on the Detroit area airwaves as well as national radio.
Tumbao Bravo has performed at all the major jazz festivals in Michigan including Detroit International Jazz Festival, Ann Arbor Jazz Festival, Lansing Jazz Festival, Sterlingfest, and Michigan Jazz Fest. Jazz club venues include: Baker's Keyboard Lounge, Andy's Jazz Club in Chicago, Ill., the Firefly Club and Goodnite Gracies in Ann Arbor, MI.
Tickets are $20.00
Click Here To Buy Tickets On Line.
Visit http://www.tumbaobravo.com
---
Sunday, NOVEMBER 4, 2007 at 6:30 PM. State Theatre Presents
Harbor Sounds Chorus of the Barbershop Harmony Society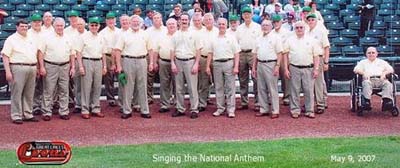 Harbor Sounds Chorus of the Barbershop Harmony Society *United We Sing - A Patriotic Song Fest
The Award winning Harbor Sounds Chorus is a proud member of The Barbershop Harmony Society.
Members come from all walks of life, actually including one local Barber. Most reside in the Saginaw Valley area with some as far as 50 miles from Bay City.
The Chorus performs an original American Style of Music called Barbershop Harmony. Their genre includes, oldies, contemporary and religious selections.
You may find them performing at weddings, retirement parties, Community Fund Raisers, church services and funerals. Each year they send quartets out into the community and provide *Singing Valentines*. For the past few years they have performed a joint show with the Tri Cities Chapter of Sweet Adelines in Wenona Park down town Bay City.
For more information about the Harbor Sound Chorus, contact Ralph Brown at (989) 684-7903 or by email at chess5@chartermi.net
$8.00 General Admission - $5.00 Students & Sr. Citizens
Click Here To Buy Tickets On Line
State Theatre of Bay City is located at
913 Washington Ave., Bay City, MI 48708.
---
---
---
Send This Story to a Friend!
Letter to the editor
Link to this Story
Printer-Friendly Story View
---
--- Advertisments ---