Ideal Party Store Host
Wine Event at Doubletree
Grand Ballroom
"We Had Over 250 People & 160 Wines," said Jerry Crete, Host of Event.
November 1, 2007 Leave a Comment
By: Kevin Leahy
Jim Campbell manager at Ideal Party Store gives directions to the next best wine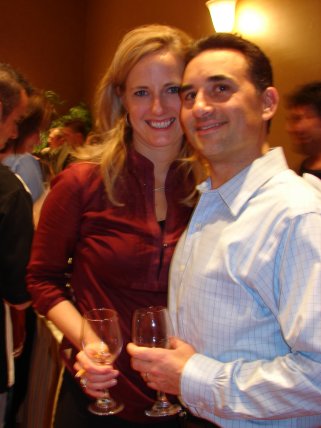 Vicki and Scott Halstead found the tastings stimulating
Wine fans were out in full force last Thursday night for one of Bay City's largest wine tastings. Ideal Party Store puts on their tasting once a year and this year it was held at Doubletree Hotel.
"We had over 250 people and 160 wines to try," said Ideal Party Store owner Jerry Crete. And trying they were, the crowd was almost in a frenzy trying to get their last tastes in before they ran out of time.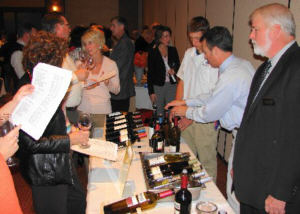 If you do the math on a 160 wines in 120 minutes that's 1.33 tastes per minute if your palate is capable. Fortunately the lines at each of the 15 vendors would only allow a more reasonable rate.
For most of the women in attendance the most sought after wine of the night was the Vieve Clique Champagne at Jim Campbell's table that Joan Swide recommended and Molly Conners not only recommended she also asked, "if I would get her another because she had been at their table too many times already," which as a gentleman I quickly obliged.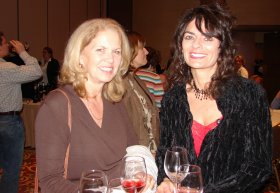 You really had to go about your tasting with a plan of attack and a pen to take notes on those that peaked your interest. The $35.00 ticket at the door gave you a list of all the vendors and the wines they would be sampling.
"Did you try the Fransiscan Merlot it is rich, smooth and chocolaty," added Swide.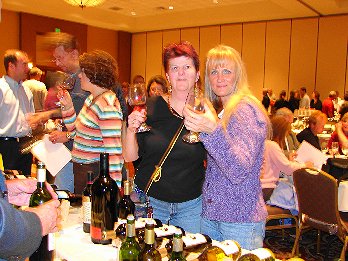 As an odd twist as a wine maker who placed first in the MI State Fair wine competition in the red semi-sweet category. 
(Right)
Teal Bruce and Joan Swide toast to a fine night of toast's
I am a fan of BIG reds which are normally real dry, so I looked over my four sheets of vendors wines and checked off the many high-end Cabernets' I sought out.
There were three times as many ordinary table wine varieties in the semi dry/sweet class. But once you found the table with the wine you sought, then you got to taste as many more that looked interesting. An event like that can open your taste's to new sensations that you can continually enjoy that otherwise may never have been discovered.
Hopefully everyone there made a discovery of something new they can enjoy frequently with dinner or something a bit more of an indulgence to be enjoyed celebrating something special.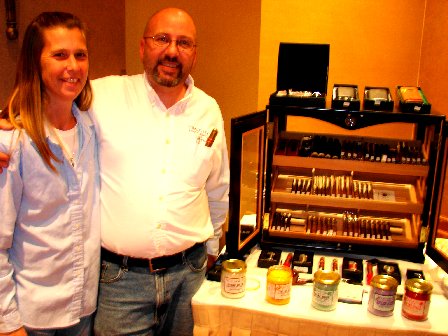 Cigars were also available from Tim Socier of Timothy's fine Cigars as one of the vendors, although when trying to get to know any wine the nose or bouquet of the wine is like an on ramp to the highway of your taste buds...don't miss it or your lost.
A good cigar with a huge chocolaty cherry oaky Port is almost overindulgence, but you must live it up selfishly once in a while, just not while getting your first impression of a new wine.
In the center of the Grand Ball room was a huge table of cheeses and hors d'oeuvres of shrimp cocktail and many other delights, but most people were more attentive to the wine tables with their limited time.
The Ideal tasting went from 7-9:00PM but some of those in attendance arrived from the Fabiano Brothers industry tasting which was held just prior to Ideals right in the next room.
Ideal Party Store offered discounts on case orders during the event that participants will not get until next years tasting.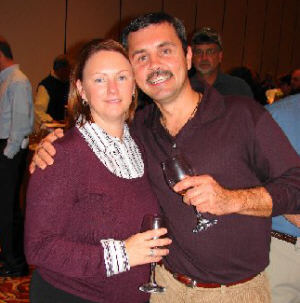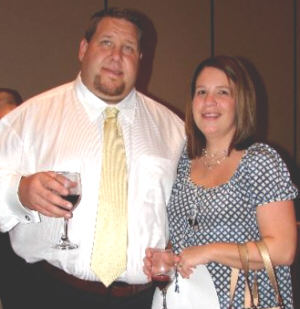 (Left)
Mrs. and Mr. John Herman (former winemaker) "We enjoy wine once in a while, but we like beer."
(Right)
Mr. and Mrs. Dennis Johnson enjoying their night out.
By the amount of people in attendance the appreciation for wine in Bay City is pretty high. I think I'm going to go uncork a bottle of spring 2007 spiced rhubarb right now.
---
---

Kevin Leahy




Kevin Leahy has an interest in all sports-related activities at the Local, State and National levels. Looking for the inside story? Leahy's got it . . .

More from Kevin Leahy
---
Send This Story to a Friend!
Letter to the editor
Link to this Story
Printer-Friendly Story View
---
--- Advertisments ---