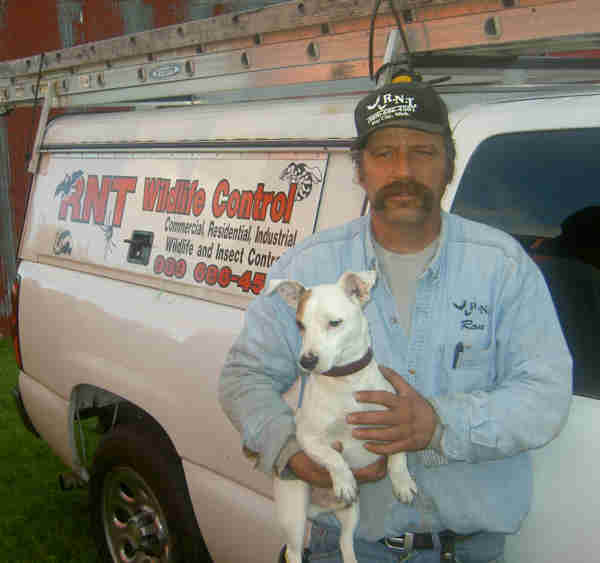 Ron Mitrzyk with his Jack Russell terrier and his work vehicle for RNT Wildlife Control.
---
Mice, Rats, Skunks, All in a Day's Work for Wildlife Expert Ron Mitrzyk
Other Jobs: Chickens in Las Vegas, Wild Boar in Midland, Wolves Up North
November 4, 2007 Leave a Comment
By: Dave Rogers
Ron Mitrzyk likes to call himself "Rat Ron."
Why such a moniker?
Because he is one of this area's top wildlife control experts, and the designation is part of his professional persona.
Plus, it's good advertising and easier to remember than Mitrzyk.
He earned the nickname in his younger days as a muskrat trapper in the swampy areas of Bay County. The "rat" stands for muskrat.
Actually, the name of his company is RNT Wildlife Control, specializing in Commercial, Residential, Industrial, Wildlife & Insect Control.
Mitrzyk leads a life that many outdoor types envy:
He's outside a lot and works with animals.


He's in contact with state and federal wildlife control officials on a regular basis;


He's up-to-date on animal habits and laws;


He knows esoteric information like the range of a cougar (500 miles);


He knows where the wild boar are (in 26 counties);


He knows how to eliminate mice from your home (they're often in the attic, at least they were in mine); and


He can tell you how to control skunks in your neighborhood.

Mitrzyk is a fascinating guy to interview because of the breadth of his knowledge in a field that few people know much about these days.

An important part of his job is knowing how state laws affect animals, including trapping regulations and rules about moving animals after they are trapped.



---
--- Advertisements ---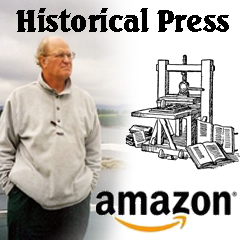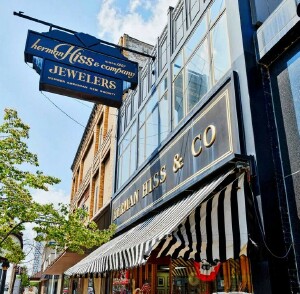 ---


"For instance, you can't drop off a skunk on state property without a permit," he says. "You can't even transport an animal without a permit from the DNR," he added.

His work keeps him moving both on private business and under contract with state and federal agencies.

One of Mitrzyk's recent jobs was killing pigeons that were making a mess at the casino in Mt. Pleasant.

For the past five years he's been on a starling project for the U.S. Department of Agriculture Wildlife Service during winters. The government helps dairy farmers eliminate the pesky birds because they defecate in water tanks and poison the cows. They also eat the high protein nuggets that are feed for the cattle and pigs.

"I see they're flying, already coming in, big flocks, up to 5-10,000 birds," he said one day this fall. One farm where he worked was in the Thumb where illegal aliens were arrested by the Immigration Service.

"Once it's cool they settle down in barns and feed on pig chow," he said of the starlings.

Part of his control strategy is to pre-bait the birds for a week to 10 days and wait until all the non-target birds have moved on before setting his poison for the starlings.

One job he had for the government was working on a control program in Las Vegas involving Exotic New Castle disease affecting chickens. He was part of a task force in 2002-2003.

"That disease came in from fighting chickens from Mexico and California," he said. He won an award for his work on that project from the federal Animal Plant Health Inspection Services.

Not many hunters have had the opportunity to shoot 400 deer, even in a lifetime. But Mitrzyk did that as part of a job he did for the DNR at a deer farm in Lewiston. The DNR required a double fence to be installed at the farm.

Mitrzyk said he "does a lot of bat work" as well as trapping raccoons, skunks and woodchucks. These pests are live trapped and euthanized, he said, because "the DNR doesn't want me to relocate them; they don't want to spread the problem."

Relocation of animals can be done on private land of at least 40 acres provided the landowner gives permission and a permit has been approved.

Mitrzyk has a pesticide license for spraying through the Michigan Department of Agriculture.

He also has worked on a state wolf project, tracking, counting and tagging the beasts that once were rare and but now have been reclassified as non-endangered although they are still protected.

Recently the wolverine was put on the protected list in Michigan. "They weren't on the list because none were known to be in the state," he said. However, wolverines have been spotted, and photographed in recent years. (See MyBayCity.com archives, Jan. 7, 2006.) Few people see wild boar because they move around only at night and stay away from people, he said, but north of M-61 they proliferate on state land at the Horton Heath Ranch. His work consists of monitoring the huge beasts that have been seen in 26 counties, he said.

He trapped some wild boar in Midland and noted that some have been seen in West Branch and even on the north branch of the Kawkawlin River. Last year a wild boar "rutted up" a yard in Monitor Township.

Animal control work has dangers: the first year he was bitten by a raccoon and had to have rabies shots. He was also bitten by a squirrel despite his elkhide gloves. He also had a rat run across his arms and face when he was attempting to remove it from behind a refrigerator with snake tongs. He was bitten by a brown recluse spider 12 years ago.

Mitrzyk is doing the work he loves after years of a variety of jobs in the scrap iron, automotive and concrete hauling businesses. He started RNT (stands for Ron's Nuisance Trapping) Wildlife Control in 1995.

His firm has been known variously as R&T Animal Control and R&T Wildlife Control. He found it necessary to change the name "because too many people thought I was the dog pound," he observed.

Mitrzyk was raised in the 1960s and early 1970s around the sand pits off Chip Road, in Pinconning and the Auburn area where he learned to trap as a boy. His favorites were muskrats and fox.

After attending St. Joseph School, Auburn, he was graduated from Western High in 1974. He cut iron for one year at Morris Nover in Saginaw, put in three and a half years at Bay City Chevrolet until he was laid off in 1979. He farmed 40 acres in Pinconning for 15 years, did painting on the side and hauled concrete for Clawson and R&R for 10 years.

He has been on the board of a statewide organization of nuisance animal control specialists for six years and often attends seminars at Michigan State University.

Mitrzyk may be contacted at RNTwildlifecontrol@charter.net or by calling him at 686-4501.###

---
---

Dave Rogers




Dave Rogers is a former editorial writer for the Bay City Times and a widely read,
respected journalist/writer in and around Bay City.
(Contact Dave Via Email at carraroe@aol.com)

More from Dave Rogers
---
Send This Story to a Friend!
Letter to the editor
Link to this Story
Printer-Friendly Story View
---
--- Advertisments ---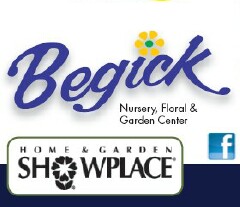 0200 Nd: 06-23-2019 d 4 cpr 0






SPONSORED LINKS
---
LOCAL LINKS
(Ads not affiliated with Google)
---
---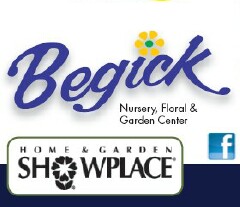 ---
---
Ads By MyBayCity.com
Rotary Club of Bay City
rotary.org


Click Here To Join Today
---
Ads By MyBayCity.com
Historical Press - By Dave Rogers
Purchase Your Copy Today!


http://www.amazon.com/D.Laurence-Rogers/e/B001KCA8ZY/ref=ntt_athr_dp_pel_pop_1
---
---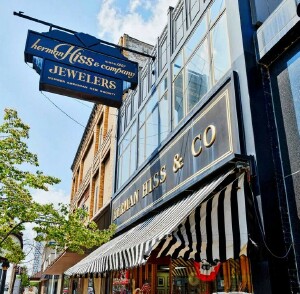 ---