Weather Alert?
I'm not anal, I just need to know
Weather Alert?
My Fishing Buddy Dan Says - "Look Out The Window, Dummy."
June 4, 2003 Leave a Comment
By: O. J. Cunningham

What I Want . . .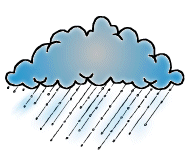 What I Get . . .
Local on the 8's . . .
If you know what that phrase means, keep reading.
'Cuz you're one of us
.
If you're scratching your head . . . just maybe this bit of opinion is not for you . . .
. . . and thenperhaps, as my sweet 16-year-old princess of a daughter, Jessica might say (with a smile, of course . . .
and no offense intended, Dad)
. . . "Click Off!"


A Sad Tale Of Woe
Here's what happened to me. My tale of woe. And I share it with you just because this degree of evil should never befall another human being.
Two weeks ago, 7:00 a.m., I'm minding my own business, sipping coffee in my comfy kitchen, wondering what ever happened to global warming and watching the Weather Channel.
Little did I know that my life was about to change.
Without warning, Heather Tesch, the first chair, on-air (I wonder what she gets for annual salary) meteorologist, makes me an offer I can't refuse. (Remember, it's 7:00 a.m., first cup of coffee . . . all that baggage. I guess I could have refused . . . but . . .) Anyway, the cherub-faced, blonde-haired vixen entices me with a beguiling smile and her tantalizing promise of up-to-the-minute weather forecasting on my desktop via the web link
www.weather.com/alert
. We're talking desktop weather here! And let's not diminish thefact that I don't even have to ask for it. Remember . . . It is (Can you believe it?) automated.
How can I refuse? I signed up. Actually, I think it was my son, Christopher's idea. But really! What choice was there? We're talking up-to-the-minute weather here folks! 24/7 weather. Yes Sir. That's what I want. What I need! What we all need! 24/7 weather.
Big Mistake . . .
My outdoor social life is now in the toilet. Am I a big fan of the Weather Channel?Not anymore. Did I like Heather Tesch? First Outlook! Marshall Seese, Jim Cantori? Oh Yeah! Travel Weather? Yes Sir! Show me a little Jet Stream. Offshore flow? That's me, baby! Wrap-around low! C'mon. Bring it on. How can anyone ever have too much 5-DayBusiness Planner?
So that was me every day at 7:00am.
Day after day, I looked forward to Heather's morning dance in front of the national weather map. Pointing here! Motioning there! Like Blimpies . . . It was a beautiful thing.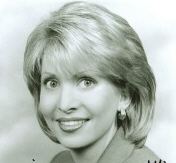 Heather Tesch
It's a Beautiful Thing
Now it's all gone. Everything is lost. Since I joined the "Weather Alert Cult," they're watching my every move. (Don't roll your eyes at me like that!) I know they are. I'm on their growing list of "weather geeks." Oh sure! They send me the desktop weather forecast every day. Just like they promised. I even get bulletins about tornado warnings in places like Oklahoma and flood footage from Mississippi. Every morning, there it is. The Weekly Planner. I click. I look ahead. Like a good boy, I plan. I see Wednesday is going to be 75 degrees and sunny.
I make plans. I'll cut the grass. Maybe go fishing. Organize a cook-out.
Isee Sunday's forecast . . . warm . . . light wind . . . Perhaps a round of golf? Let's invite mom over . . . that might be nice too.
So I make commitments. I send e-mails. Organize events . . .But they're watching, listening . . . Heather and Marshall and that really old guy named John, I think, that knows wayyyyyyyy too much about hurricanes . . . Since I joined their cult, they're all locked onto my desktop IP address, monitoring my every click, scanning my e-mails. Waiting . . . lurking . . . watching . . . meteorological devils, poised and ready to change the actual weather (based on my personal plans) to nasty, wet, windy, cold, rainy . . . ruining everything.
I can't live like this anymore. . . It's got to stop. No moreweather addiction for me. I'm breaking out of the Cult. I'm taking the 12-step de-programming program. Say goodbye, sweet Heather. Bon Voyage, Marshall. I really don't care anymore where all the USA lightning strikes were last night. Really! I Don't.
But Wait! What's that? Palm Pilot Weather, you say? I can get instant weather . . . maps in motion . . . Instant? . . . Right here? . . . Right Now? . . . On my Palm Pilot? Wireless weather!
You're Teasing! It's so obvious. Of course! Why didn't I think of it sooner? Palm Pilot Weather . . . Palm Pilot Maps in Motion.
Now you're talkin' Way Cool!
Where do I sign up?
---
---

O. J. Cunningham




O. J. Cunningham is the Publisher of MyBayCity.com. Cunningham previously published Sports Page & Bay City Enterprise. He is the President/CEO of OJ Advertising, Inc.

More from O. J. Cunningham
---
Send This Story to a Friend!
Letter to the editor
Link to this Story
Printer-Friendly Story View
---
--- Advertisments ---