Fabiano Brothers Expansion Plans in Monitor Township
Fourth Generation of Fabiano Family Going Strong
November 25, 2007 Leave a Comment
By: Stephen Kent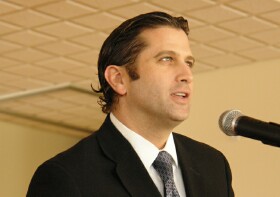 Last Weeks program - Nov 20, 2007:
James C. Fabiano II Talks About Family Business Expansion in Bay County
The old saying is that a family owned business is founded by the first generation, expanded by the second, and sold or closed by the third. The saying is true since only 5% of such businesses survive past that third generation.
Jim Fabiano and his family break the mold. He and his brother Joe are the fourth generation to own Fabiano Brothers, Inc, a company founded by their great grandfather Gennaro Fabiano
Gennaro immigrated to the US in 1899 from Italy, where he and his family had run a 'cantina' in San Ippolito, Italy, selling fruit, vegetables and his own homemade wine. Working for the railroad in St. Louis, Missouri, Gennaro saved his money so that every other year he could go back to Italy and return with two more if his 8 children, and eventually his wife, Maria.
The family settled in Eaton Rapids, Michigan, where they opened a Fruit Market. By 1915 they moved to Lansing to open a new store and a few years later to Mt. Pleasant to establish the Fabiano Fruit Market as a retail and wholesale store.
During prohibition in 1923 Fabiano Brothers began to distribute Stroh Near Beer in its two county territory and with the repeal of that act in 1933 the company begins selling regular beer. The next year they begins a continuing partnership with Anheuser-Busch.
Fabiano Brothers was incorporated in 1969 and in 1977 began acquiring other related businesses starting with Johnston Sales, a Mount Pleasant wholesaler. By 1991 the company had acquired Max R. H. Treu of Saginaw and moved its operations to that city. The company has continue to expand and acquire other businesses to become one of the largest beer, wine, and liquor distributors in the region.
The latest chapter in the company's history is their expansion to a huge new facility in Bay county's Monitor Township. The company will develop and anchor a 71 acre business park to be called ?Market Place Corporate Center? where Fabiano Brothers, Inc. will build a new facility with corporate offices.
Fabiano praised local government and business groups for their cooperation in this venture. He singled out Rotarian Fred Hollister of Bay Future for his help.
The new facility will occupy about 25 acres of the 71 acre parcel. The $16 million facility will be some 200,000 square feet. Fabiano noted that 80% of the construction work will be done by local labor and 75% of that will be union.
Other tenants are being actively courted to occupy the remaining space. Two likely prospects would use 9 and 10 acre parcels. Other prospects include a hotel and a fast food restaurant chain, which plans to open 50 outlets in the region.
Fabiano made a point of the difficulty of attracting business to any area. "When word gets out that someone is looking it generates a feeding frenzy in other cities and states". Everyone tries to put together packages to attract the prospect.
The new distribution facility should be occupied by January 2009 and will eventually handle 6 million cases of beer a year.
---
CLUB NEWS
Congratulations to Cindy Chadwick on her designation as a Paul Harris Fellow Plus 2. Cindy is also a member of the Paul Harris Society with her pledge of continuing support of the Rotary Foundation.
---
Upcoming Programs
(See the official schedule at
RotaryBayCity.org
)
November 27 Michigan Business Tax - Gary Riedlinger C.P.A. Yeo & Yeo


December 4 Sylvan Learning Center presented by Tom Yoder


December 11 Bay City's own Fall Youth Baseball Team: The RiverDawgs.


December 18 Holiday Program



---
CLUB ANNOUNCEMENTS
Two special meetings are scheduled for 11:00 November 27
International Night Wrap Up.
Community Grants committee.


Register soon for the District Conference in Mt. Pleasant and consider attending the The International Conference in L.A.


Vocational Days are scheduled for March 4 and March 18. Please sign up to sponsor students by January 8. The club typically hosts about 180 students. If you can take several students that helps. The committee prefers that you do March 4 because Delta College is doing March 18 and generally takes a very large group. See Ralph Knop or Griff Acker.


---
Visit RotaryBayCity.org, web site of the Rotary Club of Bay City, Michigan
---
---

Stephen Kent




Steve Kent and his family have lived in Bay City for 40 years. He is VP of Technical Services at MMCC which produces MyBayCity.Com. Kent is active in many Bay City civic organizations.

More from Stephen Kent
---
Send This Story to a Friend!
Letter to the editor
Link to this Story
Printer-Friendly Story View
---
--- Advertisments ---