Legislature Seen Near Deal on Re-Regulation of Power, Vital to Bay Project
Bills Expected Soon to Address Consumers Energy New Plant Need
November 28, 2007 Leave a Comment
By: Dave Rogers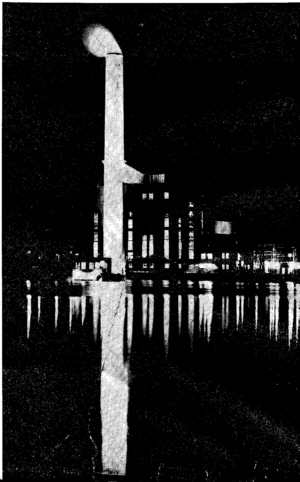 New Consumers electrical generating plant would supplement existing Karn-Weadock facility that now serves most of the Saginaw Valley.
A deal is reportedly in the works that will set the stage for a seven-year financial bonanza for Bay County . . .
. . . and one that will gear up new vitally needed power generation deemed key to growth of the state's economy.
Talks are underway behind the scenes between Republicans and Democrats in the Legislature on a deal to re-regulate the utility industry in Michigan.
Lansing sources say bills may soon be filed on a compromise that will help secure the proposed $2 billion expansion to the Karn-Weadock generating complex in Hampton Township.
After California blackouts several years ago, other states began abandoning deregulation because no new coal-fired plants have been built. Without the certainty of stable revenue from regulated rates no bank will chance backing such large projects.
And coal is the cheapest power generation method, industry sources state. How does "clean coal" work: Super-critical pulverized coal produces steam at 1,200 degrees Fahrenheit that with old technology is at 1,000 degrees Fahrenheit; instead of 2,500 psi (pounds per square inch), 3,500 psi is produced.
"More megawatts of electricity are produced from the same amount of coal; it's like better gas mileage," said an industry source, noting that pollution is reduced by at least 10 percent.
"Looking back, P.A. 141 (deregulation) was a philosophical attempt to trick economic reality," said former Republican Senate leader Ken Sikkema, adding: "It was competition for competition's sake."
Other sources said deregulation was an experiment that didn't work and has not lowered electric prices.
Sources said several gas-fired plants were built in Michigan in the past few years but some have gone bankrupt and stand idle. Natural gas went from $2-3 per thousand cubic feet to $7-8 at present, making its use unprofitable and crimping energy supplies.
Even the organization that represents Bay City's municipal electric utility, Bay City Light & Power, is backing a regulated market. The Michigan Municipal Electric Association (MMEA)spokesman Jim Weeks recently said his members are short of power and are complaining of an unstable wholesale market.
The proposed plant will take seven years to build and will bring thousands of construction workers to the area, pumping much needed dollars into local businesses.
Another benefit is in jobs provided by employers like Dow Corning at its Hemlock Semiconductor plant, a huge user of energy that is in a vigorous expansion mode. The world market for semiconductors, used in every electronic device from calculators to Blackberries to computers, is exploding. Dow Corning is rushing new construction and hiring to meet demand and it needs vast amounts of secure, cheap power.
Consumers Energy, that announced the huge project here in September, has made re-regulation a requirement for a "go" on the new plant.
Atty. Gen. Mike Cox, reportedly a Republican hopeful for governor in 2008, spoke here a few weeks ago and declared his opposition to re-regulation. Mr. Cox indicated that power is about six percent cheaper with deregulation, indicating a savings for buyers of electricity. Cox is promoting his credentials as a populist, looking out for the people, a title not without merit.
But Republican members of the House and Senate are said to be meeting with their counterparts across the aisle "behind the scenes" to craft an agreement.
While the quiet parley is in progress, lawmakers can look out their window and see environmental protesters parading with picket signs to try to stop the project.
Hyper-environmentalism may have to take a back seat to economic considerations, at least for the present, in our view.
The local project is vital in light of local economic considerations as well as Michigan's need to recharge its economy as the auto industry's batteries run down in the face of global competition.
We suggest the environmentalists put down their picket signs and check their checkbooks.
Alternate energy sources will come, but we all have to be patient. It makes no sense to further hamper the state in its economic comeback by stopping vital expansion of power generation.
It is not yet feasible to provide all new energy through renewable sources, as the protesters demand.
The Thumb area wind farms are a great plan but are having their own share of problems getting started and would only provide a small percentage of current needs.
Consumers announced in September that as part of its Balanced Energy Initiative it selected its Karn/Weadock Generating Complex in Hampton Township as the site for construction of an 800-megawatt clean coal power plant. The Initiative has been submitted for approval to the Michigan Public Service Commission.
The "clean coal" plant planned by Consumers Energy at the mouth of the Saginaw River unfortunately is not a "done deal."
First, the state legislature must remove, or amend, provisions of P.A. 141. That act was a John Engler era move seven years ago that supposedly was to provide competition to power companies.
In theory, the idea was that competition through deregulation would lower costs to the consumer.
Well, a couple of problems got in the way of cheaper electrical power.
First, there are few companies in the generating business. Consumers is one, Detroit Edison is another.
"Competitors" have to buy power from the big providers and resell it to consumers. Even the City of Bay City buys most of its power from Consumers, although it does operate a diesel "peaking" plant to round off its purchases during periods of high demand.
So, competition is not really that competitive. The big power generators just have to crank up their engines and allow somebody else to make money off their generating capacity.
Suppose Mr. Cox and the environmental protesters, strange bedfellows by the way, have their way and P.A. 141 stays status quo.
If so, how do we balance that alleged gain with the loss of jobs, or job potential, that may come with continuation of deregulation?
The economic impact study prepared by Development Research Partners lists the following economic benefits for Michigan and the Tri-County area (Bay, Midland and Saginaw counties) during the seven-year construction period of the new power plant:
Total construction jobs of 1,800 at peak;
Statewide direct and indirect impact of approximately $1.2 billion;
Tri-County direct and indirect impact of nearly $500 million.
The report also shows a direct and indirect impact of more than $67 million on a statewide basis in a typical year once the plant is operating.
This includes a Tri-County impact on a direct and indirect annual basis of more than $45 million.
The new plant is expected to add at least 80 new employees to the existing workforce of 370 employees now employed at the Karn-Weadock Generating Complex.
Consumers Energy, the principal subsidiary of CMS Energy (NYSE: CMS), provides natural gas and electricity to nearly 6.5 million of Michigan's 10 million residents in all 68 Lower Peninsula counties.
###
---
---

Dave Rogers




Dave Rogers is a former editorial writer for the Bay City Times and a widely read,
respected journalist/writer in and around Bay City.
(Contact Dave Via Email at carraroe@aol.com)

More from Dave Rogers
---
Send This Story to a Friend!
Letter to the editor
Link to this Story
Printer-Friendly Story View
---
--- Advertisments ---