New Michigan Business Tax Said Geared to Spark Economic Growth
December 2, 2007 Leave a Comment
By: Dave Rogers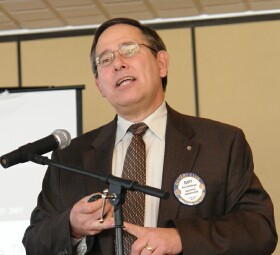 Last Weeks program - November 27
Michigan Business Tax - Gary Riedlinger C.P.A. Yeo & Yeo
(EDITOR'S NOTE: Since Gary Riedlinger's program at the Rotary Club of Bay City last week, the Michigan Legislature scrapped the odious and much-criticized sales tax on services shortly after it took effect and replaced it with a 21.99 percent surcharge on the Michigan Business Tax.)
A tax that will increase business?
Sounds crazy, but as Rotarian Gary Riedlinger, CPA/PFS, of Yeo & Yeo CPAs of Saginaw explained the new Michigan Business Tax (MBT) last week, the idea makes sense.
In fact, if the MBT works as designed, it could become one of the most significant economic development tools the state has in its toolkit.
Mr. Riedlinger described the plan as having the capability to "bring business and fixed assets into Michigan and also an incentive for companies to bring more employees here."
MBT replaces the long maligned Single Business Tax (SBT) that has bugged Michigan businesses since 1976. The new tax takes effect 1 January 2008.
Tax credits are among benefits built into the MBT, said Mr. Riedlinger. The new tax fits the bill that businesses have been pushing for: a plan to reduce taxes and make Michigan more competitive.
A small business credit effectively reduces the tax to 1.8 percent of adjusted business income. This credit adds back the owners and officers wages and will reduce the amount of tax previously paid under the SBT. Mr. Riedlinger called this "a big, big credit."
Other credits include: research and development, brownfield, historic preservation, MEGA payroll, Renaissance zone, entrepreneurial, new motor vehicle, education foundation, and municipal and cultural contribution.
Special credit categories are created for large grocery retailers like Meijer, motorsport complexes and sports facilities.
Personal property tax relief is also built into the act for industrial and commercial enterprises, he said.
The new tax also collects from companies not in Michigan who do business here, he said.
Previously, in order to be taxed, out of state companies had to have a physical presence, an office, in the state for 10-12 days. Under the new act if the out of state firm is in the state more than one day, or has a sales person working here, they will pay the MBT on all income earned in Michigan.
The tax is also applied to firms that have an economic or market presence through active solicitations of sales in Michigan and at least $350,000 of Michigan gross receipts.
The key term "actively solicit" is not yet defined, he said.
The result of this tax will be to allow reductions in taxes to Michigan-based companies and bring in revenue from companies that compete with Michigan businesses, broadening our revenue base, he said.
The MBT contains:
Modified gross receipts tax (GRT)
; Business income tax (BIT);
Financial institutions net capital tax; and
Insurance company premiums tax.
Business activity subject to tax includes:
Interest, dividends and capital gains on investment property for individuals;
Transfer of property (with or without a title);
Rental of property; and
Performance of services.
---
CLUB NEWS
The most recent copy of the Rotarian Magazine noted that the Bill and Melinda Gates Foundation has donated One Million Dollars to Polio Plus. Rotary will raise a matching $1 million toward the almost complete effort to eradicate Polio worldwide.
Chuck and Nancy Cusick have returned from their Polio immunization trip to Nigeria and will present a program about that trip at an upcoming meeting.
The International Night committee reported that the final numbers show a total of $30,747 for the evening.
---
Upcoming Programs
(See the official schedule at
RotaryBayCity.org
)
December 4 Sylvan Learning Center presented by Tom Yoder


December 11 Bay City's own Fall Youth Baseball Team: The RiverDawgs.


December 18 Holiday Program


December 25
NO MEETING
January 1
NO MEETING
---
CLUB ANNOUNCEMENTS
Anyone who would like a new name badge to reflect a classification change should contact Steve Kent.


A "Road Race" is being planned as new fund raiser. The race will be organized with the help of the runner's club. Interested members are invited to join the committee.


Register soon for the District Conference in Mt. Pleasant and consider attending the The International Conference in L.A.


Vocational Days are scheduled for March 4 and March 18. Please sign up to sponsor students by January 8. The club typically hosts about 180 students. If you can take several students that helps. The committee prefers that you do March 4 because Delta College is doing March 18 and generally takes a very large group. See Ralph Knop or Griff Acker. Forms are available on the club web site in the members section.


---



Visit RotaryBayCity.org, web site of the Rotary Club of Bay City, Michigan

For more information, Mr. Riedlinger recommends the following websites: www.yeoandyeo.com, www.nfib.com/page/homeMI.html, and www.michigan.gov/mbt.###

---
---

Dave Rogers




Dave Rogers is a former editorial writer for the Bay City Times and a widely read,
respected journalist/writer in and around Bay City.
(Contact Dave Via Email at carraroe@aol.com)

More from Dave Rogers
---
Send This Story to a Friend!
Letter to the editor
Link to this Story
Printer-Friendly Story View
---
--- Advertisments ---