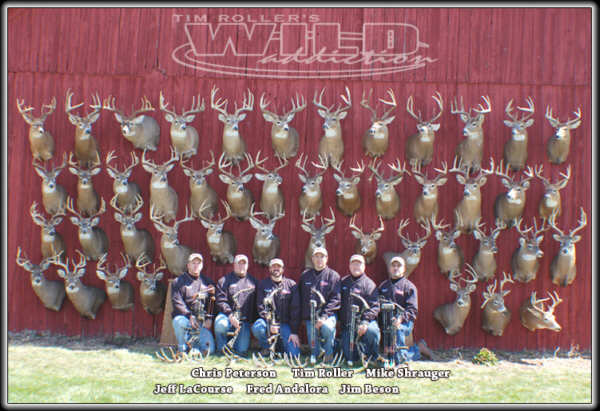 Tim Roller (Above, 4th from the left) with (L/R) Jeff LaCourse, Chris Peterson, Fred Andalora, Roller, Jim Beson and Mike Shrauger
---
WILD ADDICTION TV
Premiers at Big House Bar January 4, 2008
Show Host & Producer Is Bay City Native, Tim Roller
December 30, 2007 Leave a Comment
By: Julie McCallum, Entertainment Editor
Wild Addiction. That pretty much sums things up for veteran outdoorsman, and Bay City born Tim Roller. As a child, Roller's experiences in the outdoors formed what would not only become an "addiction", but a way of life.
The Premier of Tim Roller's Wild Addiction TV will be featured Friday Night - 7:00 - January 4, 2008 at the Big House Bar on Midland Street, Bay City.
Cash Bar! Snacks and hors d'oeuvres will be available beginning at 5:00 P.M.
The Event follows the Big House Grand Opening which was held on December 21, 2007. The Wild Addiction Premier Party will be hosted by Bugwater Media Video Productions.
The Wild Addiction Television Show can be seen weekly on The Sportsman Channel - Charter Channel 217 - At 3:30 a.m on Tuesday, 7:00 p.m. on Friday and 7:30 a.m. on Sunday - Beginning January 1, 2008.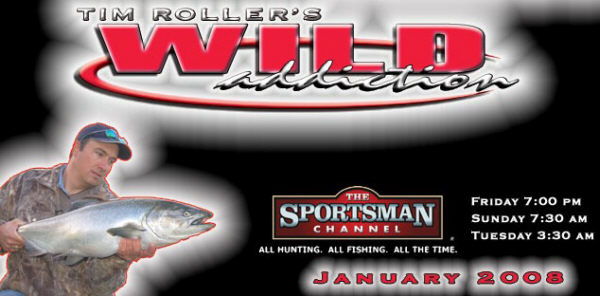 WILD ADDICTION AIRS TUESDAYS AT 3:30 am., FRIDAYS AT 7:00 pm., and SUNDAYS AT 7:30 am., on THE SPORTSMAN CHANNEL.
Roller who is a Bay City Handy graduate said, "My fondest memories growing up were spending summer vacations at a small lake in northern Michigan where my grandparents had a cottage. I still remember not being able to sleep at night in anticipation of the next day's fishing", Roller says. "As I got into my mid to late teens, I still couldn't get enough of it! Hunting...fishing . . . I wanted to do it all. If I didn't know someone that could teach me, I would go out and learn to do it myself."
Being in the woods and on the water was so natural in fact, Tim decided to turn it into his profession. "I remember sitting in college wishing I was on the water or in the woods. I would drive 5 hours 'round trip to fish 2 hours and be back in time for class or work. I remember thinking during those drives that there had to be a better way than this".
A chance meeting on one of those trips would show Tim "a better way" and forever change his life's path. "I was with a really good friend of mine, Steelhead fishing, one day when we ran into a friend of his who was doing some work as a fishing guide," Roller went on. "I had never heard of a guide before. The thought of taking people fishing for a job was the greatest thing I had ever heard of! I was already taking a bunch of my buddies along most of the time so I would have some company, why not get paid to do it", recalls Roller.
The rest, as they say, is history.
Less than two weeks later, Roller dropped out of college mid-semester to take a job at a new Orvis fishing lodge on the Pere Marquette River in northwest Michigan. There he worked in the fly shop and began guiding. A year later he started his own business, Ultimate Outfitters, which today, 15+ years later, is an award winning guide service and one of the most sought after river trips in the Midwest.
As Ultimate Outfitters continued to grow and gain national recognition, another chance encounter would once again change Roller's course. "I sent an email to Mike Avery offering him a fishing trip. Mike had an outdoor television show (Outdoor Magazine) in Michigan and I thought doing a show together would be a win-win thing for both of us", Roller remembers. "Mike sent a camera crew up and we filmed a great spring Steelhead show that day. I had no idea it would go where it did from there."
Soon that one show turned into another, and another, and another. Mike and Tim struck up a friendship and started to film a number of shows together. About that same time, Tim was seeing a need for instructional type DVD's on the migratory fishing in the Great Lakes region. He was also becoming quite comfortable and familiar with the cameras from filming with Avery.

Roller partnered up with good friend O.J. Cunningham to form BugWater Media, LLC and they immediately began production of a DVD series.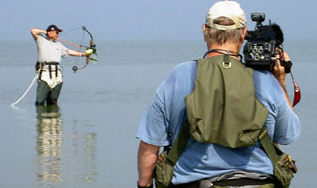 "We had success with our very first DVD", states Roller. "It definitely lit a fire in me to do more. I loved the fact that we could go out and get this incredible footage, edit it together, and offer a tool for people that were struggling to try and figure things out on there own. As a guide for so many years, my passion is to be able to teach others about hunting and fishing, allowing them to go and be successful on their own. The DVD's allowed me to do that on a much bigger scale!"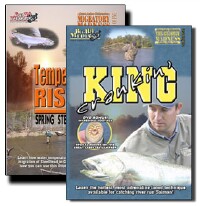 Along the way, Outdoor Magazine had gone to a national platform. "Mike approached me about being a part of his first pro-staff", says Roller. "Needless to say, I was extremely honored and immediately jumped at the chance. At the time, it seemed like another perfect avenue for me to teach and show people all of the great things there was to experience in hunting and fishing."
It was under Mike's tutelage that Tim started to see the "In's and Out's" of television production. "I'm the first to admit, Wild Addiction doesn't even exist without my years spent working with Mike Avery and the Outdoor Magazine show", explains Roller. "Mike is a class act. Not only that, but he's been around in outdoor television just about as long as anyone.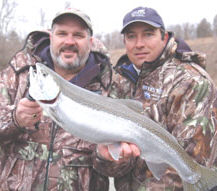 Outdoor Magazine is one of the longest continuous running shows in outdoor television history. The fact that I was able to work with, and learn from, him in that setting was priceless. I'll always consider Mike a close friend and be forever indebted to him."
The experience Tim had gained through the DVD series and Outdoor Magazine now made his ultimate goal of Wild Addiction a reality. "I still love showing people the absolutely unbelievable things we're so fortunate to see while hunting and fishing. To be able to do that on a weekly basis is the fulfillment of a dream."
---
---
---
Send This Story to a Friend!
Letter to the editor
Link to this Story
Printer-Friendly Story View
---
--- Advertisments ---