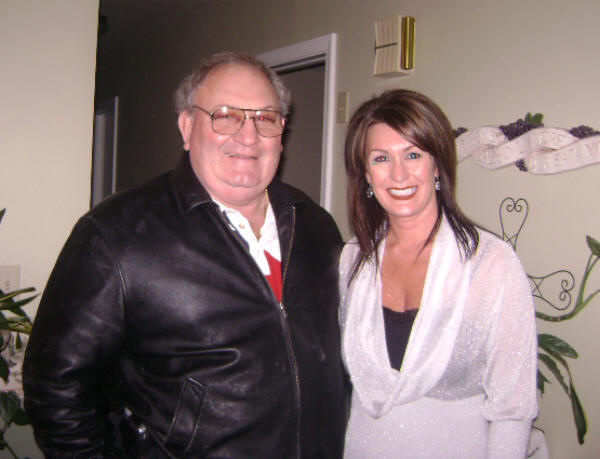 Laurie Kloha and her father, Alan
(MyBayCity Photo by Marlo Leveling)
---
Christmas Wishes Tour Spreads Joy For Third Season
Laurie Kloha And Her Entourage Hand Out Christmas Spirit In Style
December 30, 2007 Leave a Comment
By: MyBayCity Staff
A few years ago when Laurie Kloha, Executive Customer Advocate for Honeywell contemplated what she wanted from her loved ones for Christmas, she decided upon something most would never even think of. She did not want perfume, jewelry or a pair of slippers, but assistance and support in making her dream of giving to those less fortunate come true.
With the help of family and many friends, her dream did indeed become a reality and in 2005, the Christmas Wishes Tour was born.
"I am so very grateful for all that I have, good health, a loving family and a successful career, I wanted to give something back for all that has been given to me in my life. This is my Christmas present", says Laurie.
The third season for the Christmas Wishes Tour began this year at Laurie's home with a champagne toast by a crackling fire featuring Christmas classics by Alvin Marcellin and Sean Hollingsworth, co-founders of the Brodaz N Armz Band.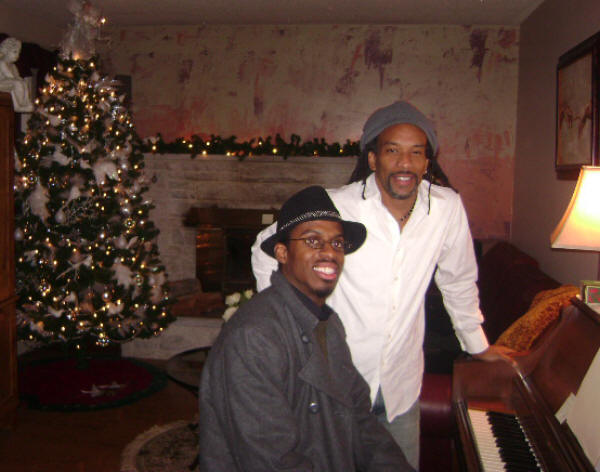 Alvin and Sean co-founders of The Brodaz N Armz band serenade the crowd with Christmas carols
(MyBayCity Photo)
Laurie's team of well wishers then loaded onto two limousines and headed out into the falling snow to offer those less fortunate encouragement with Christmas Caroling, gift giving and a show of sincere passion by each and every person for what they were doing.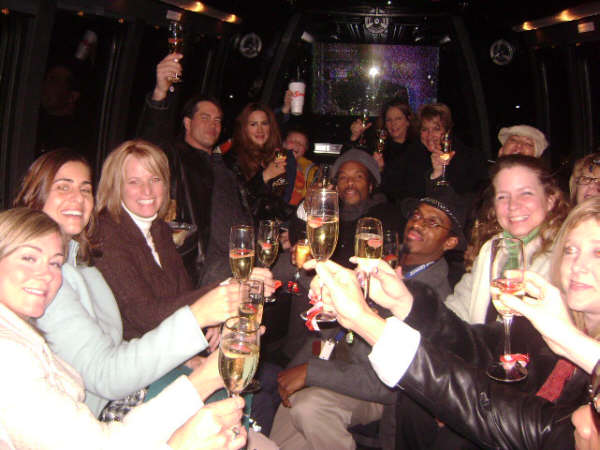 Reflecting on happiness and health, Laurie's bunch feel grateful as they head out to visit those that are less fortunate this season
(MyBayCity Photo)
"We get so much more than we give, it is a life altering experience", said Al Kolha, Laurie's father and President of Midland based Circle K Service.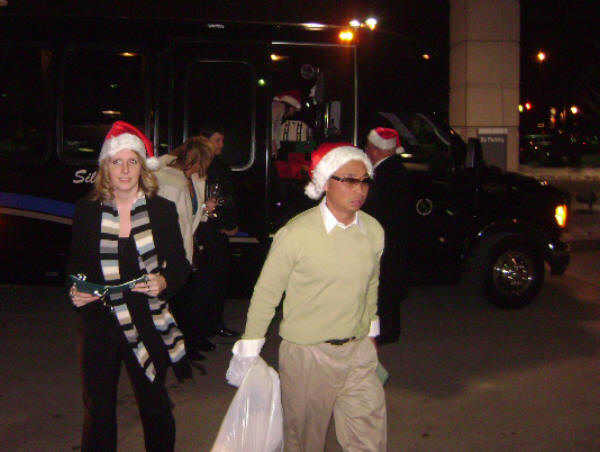 Santas galore entering the Covenant Medical Center Pediatric Unit in Saginaw
(MyBayCity Photo)
The first stop on this years tour was the Covenant Medical Center Pediatric Unit in Saginaw. The vision of smiles and sounds of laughter from very sick children were present throughout the facility. "This, just makes it all worth while", said Laurie.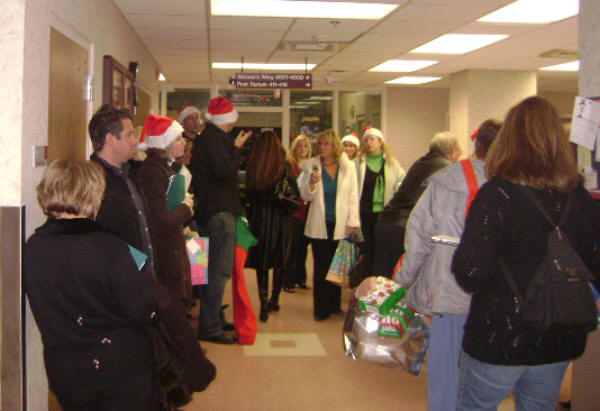 Laurie and her "gang" investigate with staff what children they will be able to visit this year
(MyBayCity Photo)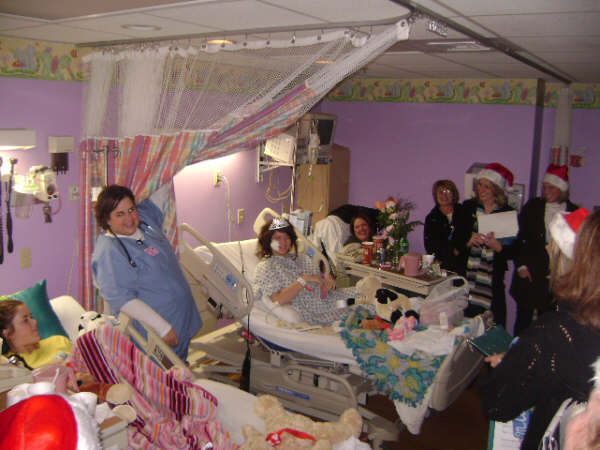 Christmas Caroling brings joy to all this fabulous night
(MyBayCity Photo)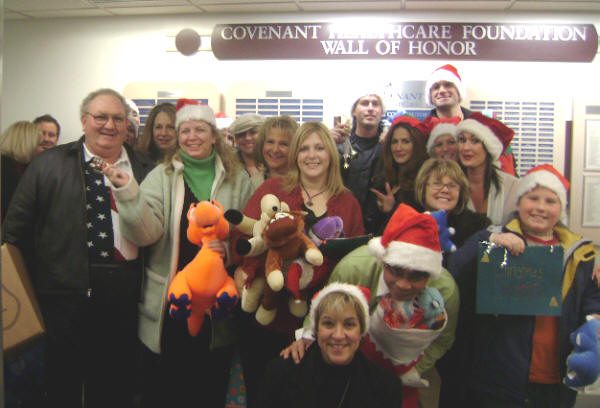 Covenant Healthcare Foundation Wall of Honor
(MyBayCity Photo)
The entourage then touched the hearts of many at Cartwright Hospice Center.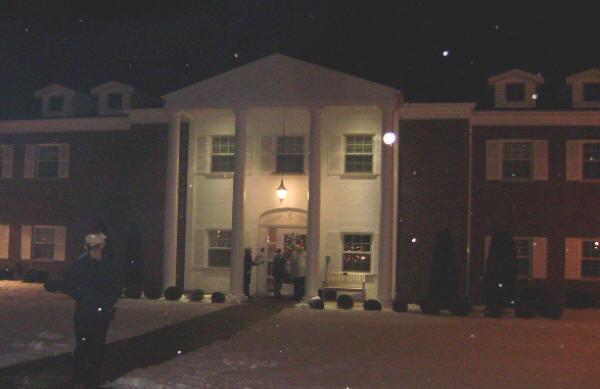 Cartwright Hospice Center on Hospital Rd. in Saginaw
(MyBayCity Photo)
Nurses at Cartwright Hospice take a moment to smile while eating their Christmas cookies given to them by Laurie
(MyBayCity Photo)
The tour ended its annual tour in Bay City at Brian's House and The Carriage House offering seasonal spirit and joy for all who were fortunate enough to witness.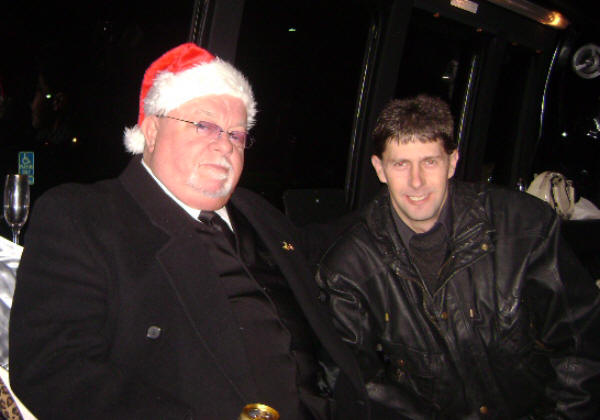 Ray Stack and Steve of Silver Sand Limousine reflect on the special night
(MyBayCity Photo)
Ray Stack, owner of Silver Sand Limousine has had his fleet of vehicles lead the tour for the past three years. "I am so proud to be involved in this wondrous event. You can't help but feel the Christmas spirit on this fabulous night. Laurie is a very special person. She has so many people who are just as passionate about what they are doing for and with her and it surely shows. I look forward to it every year", said Ray.
(EDITORS NOTE: Your MyBayCity reporter would like to share with her readers and Laurie's entourage that she was profoundly touched by the tour and appreciated the fact that her son was invited to sing and give to those in need. It was a very intimate evening and one that she and her son will never forget being a part of.)
---
---
---
Send This Story to a Friend!
Letter to the editor
Link to this Story
Printer-Friendly Story View
---
--- Advertisments ---