Hope for Michigan's Future Rests With Presidential Candidates
Lou Dobbs, Pat Buchanan Outline What Needs to Be Done to Revitalize Nation
December 23, 2007 Leave a Comment
By: Dave Rogers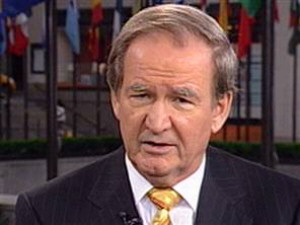 Pat Buchanan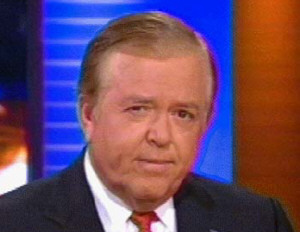 Lou Dobbs
There are so many political books that I seldom buy one.
I'm making an exception with Pat Buchanan's "Day of Reckoning" because I heard him speak on C-Span recently and he made a lot of sense.
Lou Dobbs also seems to be right on with his "War on the Middle Class."
Buchanan's ideas make one think about the Presidential candidates and which ones might, just might, be able to bring back Michigan and rescue the nation from disaster.
Globalization, "free" trade, offshoring, consolidation/mergers of industries by financial manipulators -- these are the factors that have cost the Tri-City area the industries that sustained us: shipbuilding, auto parts manufacturing, crane building, iron and steel foundries and on and on.
Need we mention how illegal immigration has lowered wages and sapped the job market for Americans under the phony excuse "these are jobs Americans don't want." There are no jobs Americans don't want.
A reviewer of Buchanan's book makes a powerful point about manufacturing: "Domestic manufacturing is important! It is the source of real wealth and productivity. It is the strength of a nation, the sinews that can be turned from consumer goods to military production in times of emergency."
I remember hearing veterans of wartime manufacturing in Michigan telling how the bulldozers came in and swept factory floors clean of automotive equipment in Flint and Detroit.
Within weeks, the heroes of America, sleeping on cots and working the clock around, had tanks and jeeps rolling out the door. Could we do that now if necessary? Only if we have the manufacturing facilities as a base, and they are mainly gone.
"The current wave of illegal immigration from the South of the border is unprecedented both in scope and in the unnaturally passive response from our federal government," the observer states. "No other nation in history has voluntarily committed cultural suicide."
Another reviewer says: "Buchanan sees our invasion from Mexico as a bigger threat than anything happening in Afghanistan and Iraq. Between 10 and 20 percent of all Mexicans, Central Americans and Caribbean people already have moved to the United States; about one in 12 here illegally has a criminal record (95 percent of the 1,200 to 1,500 warrants for homicide in L.A. target illegal aliens), and diseases once stamped out in America such as drug-resistant TB, syphilis, and leprosy are surfacing in city after city."
Buchanan notes that European-Americans comprised 89 percent of the U.S. population when John F. Kennedy was president, 1961-1964; now that figure is down to 66 percent and sinking fast.
If we apply the Buchanan-Dobbs tests, there seem to be only four candidates who aren't wedded to the corrupt establishment and seem to have the philosophical "right stuff" to revitalize the nation:
1-Ron Paul, Republican but really a Libertarian;
2-Mike Huckabee, Republican, Baptist preacher, populist;
3-Barack Obama, Democrat, independent, anti-establishment; and
4-Dennis Kucinich, Democrat, liberal, far-out dreamer, probably not electable in the same boat as Ron Paul.
The "maybe" OK wannabes might include John McCain, Duncan Hunter, John Edwards, Joe Biden and Bill Richardson, but we need to hear more whether they will be slaves to the old corporate masters or whether they will put the American people first.
All the others, according to the two gurus, Buchanan and Dobbs, are bound to the establishment that it sinking us, spending our tax dollars wildly on wars and earmarks, shipping jobs overseas, and allowing illegal immigrants to crash our borders at will.
Bay City and much of Michigan is classical middle class, working man's, Joe Six Pack territory: factory workers, small business people, farmers, merchants -- good ordinary folks. Not a lot of big time financiers, wealthy schmoozers, academic eggheads, military bases, corporate centers (except for Dow and Dow Corning and thank God for them).
Citing "all out class warfare," and dissing both the Republicans and Democrats, Dobbs lays out the scenario that we need to be concerned about. Here's what Dobbs says:
"Political, business and academic elites are waging an outright war on working men and women and their families, and there is no chance the American middle class will survive this assault if the dominant forces unleashed over the past five years continue unchecked."
Armies of lobbyists have swamped Washington, controlling the political and economic think tanks and the media, Dobbs says. They are the "arms dealers" in the war on the middle class, "brokering money, influence and information between their clients and our elected officials."
Dobbs points out that in 1968 there were only 63 lobbyists in Washington; today there are 34,000, outnumbering elected legislators, plus staff, by 2-1. Lobbyists spend about $6 million a day to give us "the best government money can buy."
What's the answer: Buchanan says close our 1,000 bases overseas, bring our troops home, stop meddling in other nations' affairs, secure our borders, levy a 20 percent tax on imports and use the proceeds to lift our own manufacturers.
There are some political candidates whose ideas fit that profile. Let's see if they surface in this crucible of American ideas that we call the Presidential primary season.
Even if we get a President who puts American people, not the corporations, first, here in Michigan we have a lot of work to do rebuilding our economy. So get your lunch buckets loaded, warm up the flivver and keep your fingers crossed.###
---
---

Dave Rogers




Dave Rogers is a former editorial writer for the Bay City Times and a widely read,
respected journalist/writer in and around Bay City.
(Contact Dave Via Email at carraroe@aol.com)

More from Dave Rogers
---
Send This Story to a Friend!
Letter to the editor
Link to this Story
Printer-Friendly Story View
---
--- Advertisments ---