Garber Girls Coast To 68-37 Win Over Bridgeport
Zimmerman Leads Scoring With 16 As Every Duke Player Scores
December 23, 2007 Leave a Comment
By: Kevin Leahy
Garber girls utilized another balanced attack to run their record to 6-1 overall and 4-1 in the Tri Valley East.
The Dukes had twelve girls in the scoring column on their way to a 69-37 win over visiting Bridgeport.
The Dukes pressured the Bearcats with an aggressive style of defense that proved too much as they forced their conference foes to shoot just 14 of 75 from the field.
Kelsea Zimmerman and Molly Braun forced many Bearcat turnovers in addition to leading the Dukes in scoring with 14 each.
Sky Mathews had eleven, while Quintoya White chipped in 8 for Bridgeport.
Garber girls ran out to a quick half time lead of 38-17 over an overmatched Bridgeport team. They then kept the same pressure for the second half as they finished with a 68-37 win.
Coach Huiskens was able to use everyone on his bench with every girl scoring. "This was the last game before the holidays. We wanted to come into the break with a positive outcome and that is what we were able to accomplish here," said Coach Huiskens.
Garber is off until Jan. 4 when they travel to Frankenmuth for an always tough league game.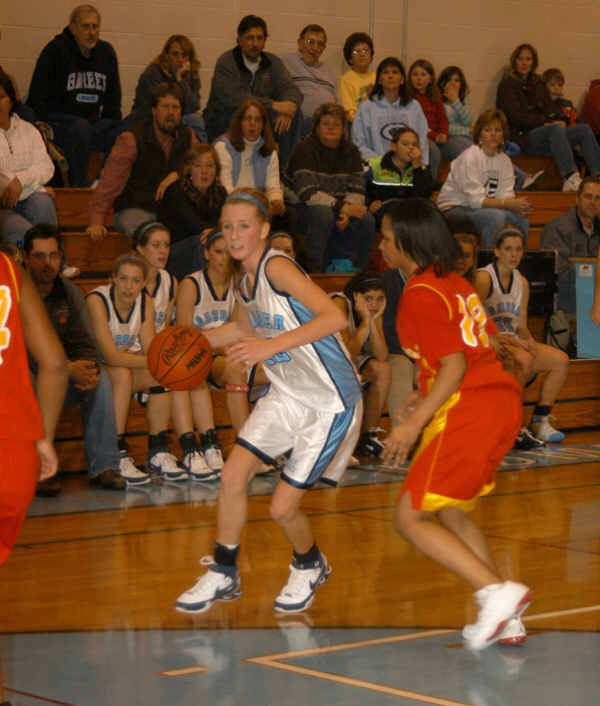 12 Janelle Urban drives to the hoop.
(MyBayCity Photo by John Keuvelaar)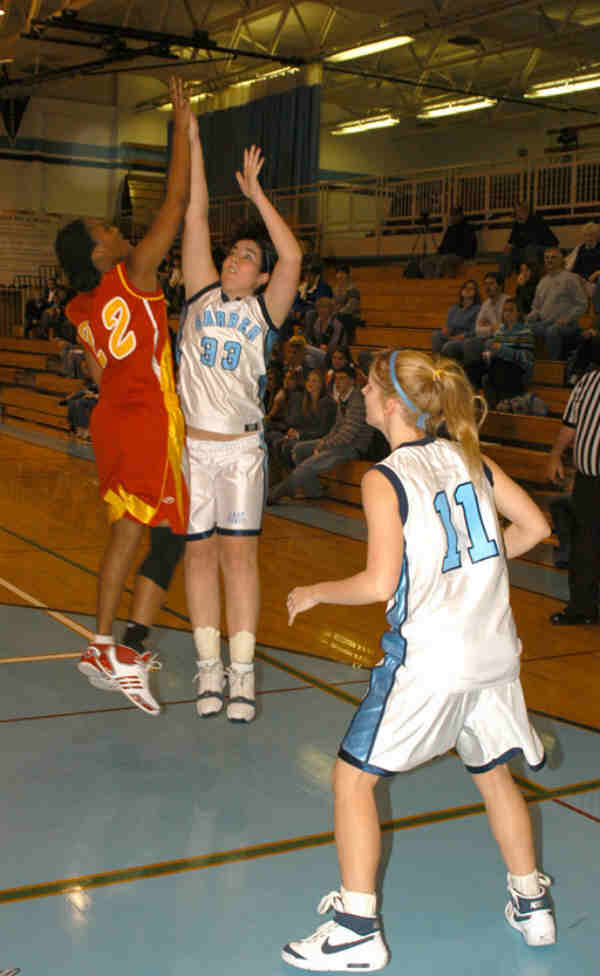 33 Sara Wyman shoots over Bridgeport's 22 Skyy Mathews.
(MyBayCity Photo by John Keuvelaar)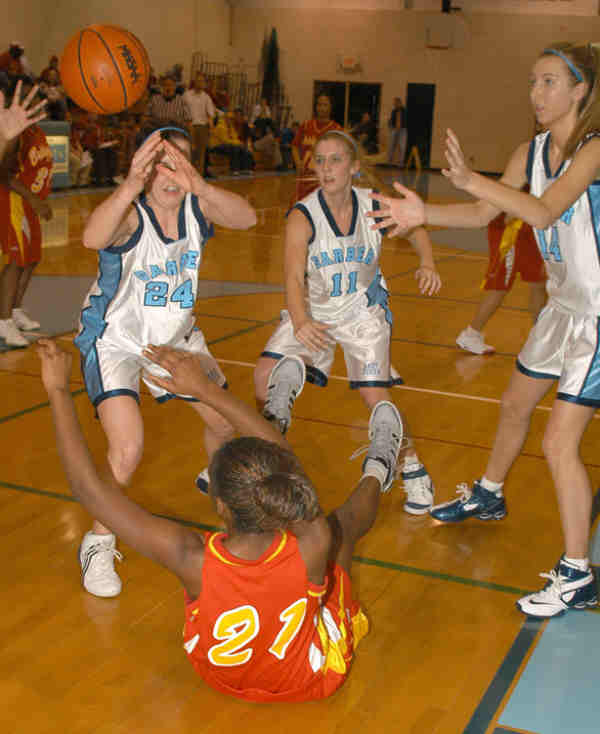 Garber's 24 Carly Weiler, 11 Stephanie Shaffer and 14 Ashton Morse battle for the ball from Bridgeport's 21 Kendra Beeman
(MyBayCity Photo by John Keuvelaar)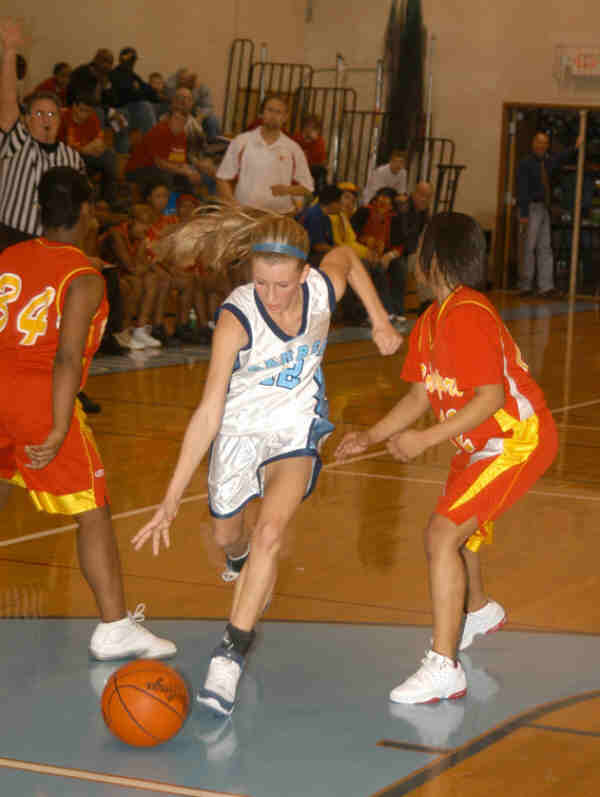 12 Janelle Urban splits the Bridgeport defense as she drives toward the basket
(MyBayCity Photo by John Keuvelaar)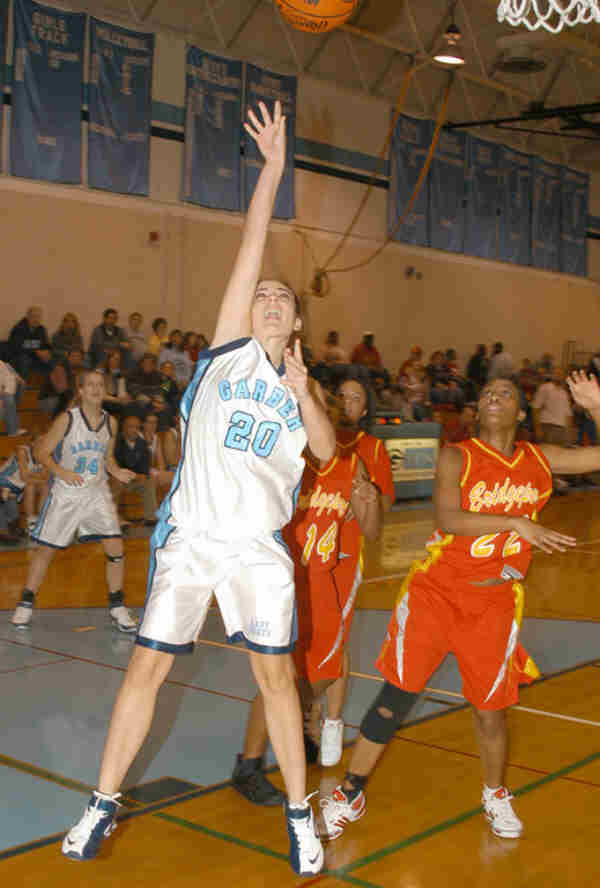 20 Molly Braun puts in two of her 14 points
(MyBayCity Photo by John Keuvelaar)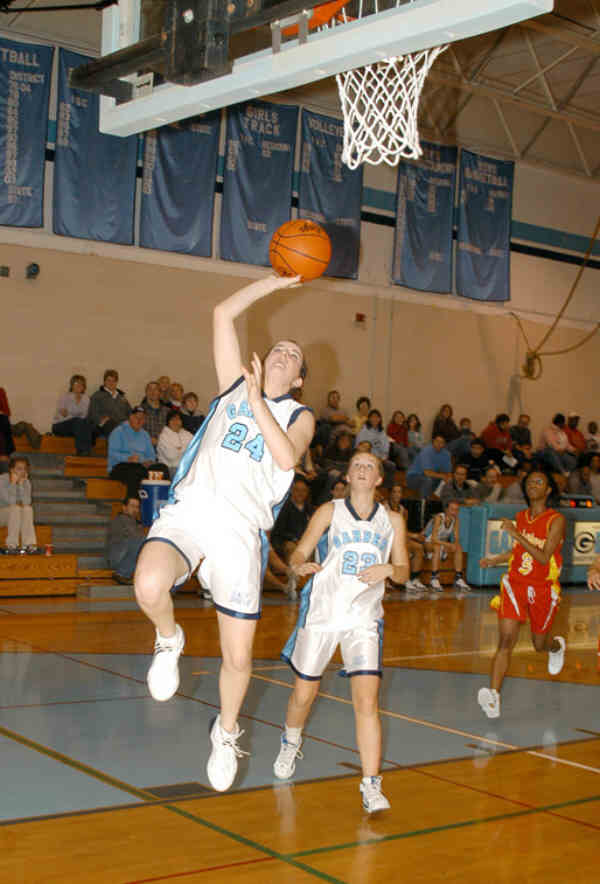 24 Carly Weiler finishes off this play with a nice lay-up
(MyBayCity Photo by John Keuvelaar)
In the nightcap, the Garber Boys did not fair quite as well over a talented Bearcat team.
While the Dukes were able to run their offense and get high quality shots in the paint, the ball didn't seem to drop for them as Bridgeport pulled out to a 45-27 half time lead.
Bridgeport then started the second half by outscoring the Dukes 25-12 as the Bearcats finished off the Dukes for a 88-50 win.
Shane O'Mara led Garber with 13 points with Brett Eichhorn adding 12. The Bearcats were lead by Derrick Davis' 26 points with E.J. Brooks adding 20.
Garber resumes play Jan. 4 at Frankenmuth.
20071221_Garber_DSC_83788401 32 Shane O'Mara splits the Bridgeport defenders on his way to the basket. 20071221_Garber_DSC_83788408 1 Brett Eichhorn drives hard to the hoop 20071221_Garber_DSC_83788418 22 Brad LeVasseur skies over the Bridgeport defenders for this nice 10 footer 20071221_Garber_DSC_83788420 3 Dylan Kenniston blows by his defender on the way to a Duke lay-up 20071221_Garber_DSC_83788424 22 Brad LeVasseur and 24 Roeland Leonora battle with Bridgeport's 24 Ellester Brooks for the rebound 20071221_Garber_DSC_83788427 1 Brett Eichhorn and 12 Jake Hebert show more board dominance as they battle with Bridgeport's 11 Troy Cruz for the ball 20071221_Garber_DSC_83788433 Garber's Dance Team shows off their high flying skills 20071221_Garber_DSC_83788437 Senior Ali Hages makes a beautiful leap to the delight of dance mate Janelle Phillips 20071221_Garber_DSC_83788442 Garber's Pep Band adds to the Friday night enjoyment
---
---

Kevin Leahy




Kevin Leahy has an interest in all sports-related activities at the Local, State and National levels. Looking for the inside story? Leahy's got it . . .

More from Kevin Leahy
---
Send This Story to a Friend!
Letter to the editor
Link to this Story
Printer-Friendly Story View
---
--- Advertisments ---