JOHN J. RAMBO IS BACK!
Rambo IV "Pearl of the Cobra" Opens in Theaters January 25, 2008
December 30, 2007 Leave a Comment
By: Julie McCallum, Entertainment Editor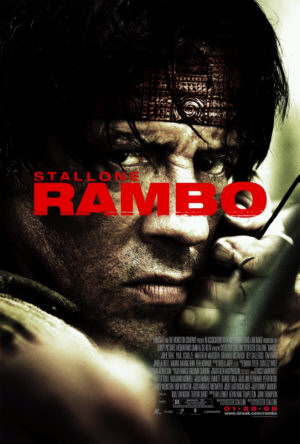 Rambo Returns to Theaters January 25, 2008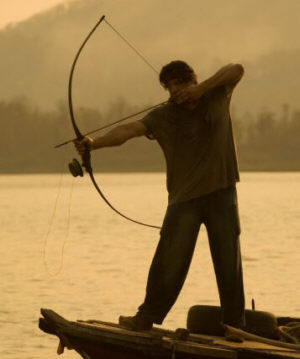 Thats right, the Vietnam War Hero, John J. Rambo is back for one final blood sling.
Lionsgate has set January 25th, 2008, as the release date for John Rambo. 20 years after the last film in the series.
It is the the fourth film in Sylvester Stallone's First Blood franchise.
First Blood (1982)
Rambo - First Blood part II (1985)
Rambo III (1988)
This movie was also considered to be called: John Rambo, Last Blood, Holy War, In the Serpent's Eyes.

This film was written, directed, produced, by Stallone who also stars as John J. Rambo.
Co-stars Julie Benz, Matthew Marsden, Graham McTavish, Rey Gallegos, Jake La Botz, Tim Kang and Paul Schulze.
(The actor who portrayed Colonel Trautman in the previous Rambo films, Richard Crenna, died of cancer in 2003)
Vietnam veteran John Rambo (Sylvester Stallone) travels to Burma, where the Burmese army is ruthlessly abusing the locals.
In Thailand, a group of Christian aid workers recruit John Rambo to guide them up the Salween River to deliver medical supplies to the Karen tribe of neighboring Burma (aka Myanmar).
When the missionaries fail to return, Rambo is persuaded to take a group of mercenaries back into the war-torn border region to find them.
With five young and highly diverse mercenaries at his disposal, Rambo has to travel back up the river and liberate the survivors from the clutches of Major Tint in what may be one of his deadliest missions ever.
What follows is a descent into hell on earth. (This film is noted for its intense and graphic violence.)
Click Here for Preview of Rambo 2008
(Turn your volume Up)
For Another Preview Click Here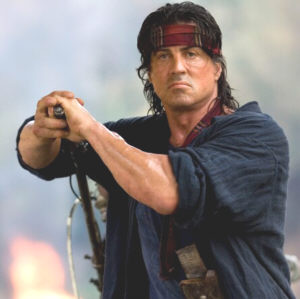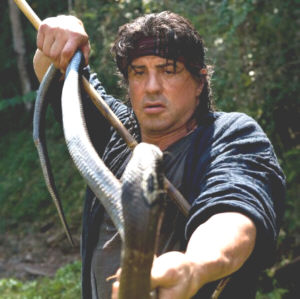 The fictional character of Rambo (John J. Rambo according to First Blood) was born on July 6, 1947 in Bowie, Arizona of Native American and German descent.
After high school, he joined the United States Army on August 6, 1964. Rambo was deployed to South Vietnam in September 1966. He returned to the U.S. in 1967 and began training in the Special Forces at Fort Bragg, North Carolina. In late 1969, Rambo was re-deployed to Vietnam.
In November 1971, Rambo was captured by North Vietnamese forces near the Chinese-Vietnamese border. At the POW camp, Rambo was tortured along with other American POWs. Rambo escaped captivity in May 1972, but was then re-deployed. Rambo was discharged on September 17, 1974. In his return to the U.S., Rambo discovered that many civilians hated returning soldiers from Vietnam. His experiences in Vietnam resulted in an extreme case of Post Traumatic Stress Disorder.
About eight years later, Rambo has difficulty adjusting to civilian life (presumably after losing his job managing motor vehicles) and wanders the country as a drifter. He eventually has a run in with the police in a rural Washington State town (in the novel, the town was located in rural Kentucky), which results in Rambo being the subject of a manhunt which culminates in the destruction of most the town's main street, and Rambo being taken into custody by his former special forces commander, Colonel Trautman.
In the second installment of the series, Rambo is tasked by Col. Trautman to return in Vietnam to search for American POWs remaining in Vietnamese captivity. After another successful mission, Rambo goes to fight the Soviets in Afghanistan and rescue a captured Col. Trautman.
The third film opens as Rambo is stick fighting as a way of raising funds for monks in Thailand. He has taken up residence near the monastery and also helps them renovate their buildings. He has become a peaceful person as he has blocked out his personal memories of the Vietnam War. He no longer wants anything to do with that as his time is over, his war is over. Trautman tries to convince Rambo but fails. After Rambo is notified that Trautman's squad is missing and presumed dead, Rambo leaves his peaceful life and once again embarks in a deadly quest to rescue a comrade. He travels to Afghanistan and reassembles his famous explosive throwing bow and begins a mission to save his only friend.
The story continues January 25, 2008!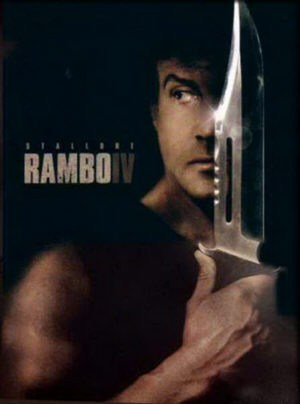 This film is noted for its intense and graphic violence.
---
---
---
Send This Story to a Friend!
Letter to the editor
Link to this Story
Printer-Friendly Story View
---
--- Advertisments ---