Alternative New Year's Resolutions For 2008
It's Time to 'Get Centered' As We Enter Into the New Year
December 29, 2007 Leave a Comment
By: Kevin Leahy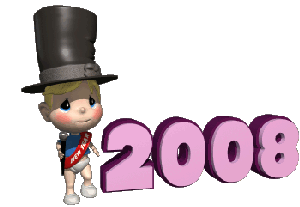 Happy New Year
We all think about them some of us even commit to them for a while, maybe we could resolute to be more diligent in our resolutions in 2008.
If you find yourself reading this, give yourself credit for being interested enough in resolutions to seek input on them or in this case alternative resolution considerations for 2008.
One new buzz word that was heard more frequently in 2007 was
"locavore,"
and you will probably hear enough of it in '08 that it will be tired by '09. Take heed to its meaning though and make it a resolution to become more of a locavore in '08.
Locavore was coined two years ago by a group of four women in San Francisco who proposed that local residents should try to eat only food grown or produced within a 100-mile radius.
Other regional movements have emerged since then, though some groups refer to themselves as "localvores" rather than "locavores."
We have an abundant supply of fresh foods just in the Saginaw Valley let alone MI that are coveted by the throngs of Michiganders that have moved from the state in recent years.
Just ask any of your friends or relatives that moved from here if they miss local grown tomatoes in the summer or local grown produce or apples or Traverse City Cherries.
In 08' commit to one week a month or one day a week and seek out local products to eat.
I know that Koegel Viennas are the best hot-dogs made and they're made right here in Flint just as they were in the 1930's.
That's just one example of the many wonderful food products made right here in mid-MI. Just ask your grocer or meat-man what products are local and give it a try.
In the vein of self-improvement, which so many people gravitate to, seek alternative resolutions in 08,' explore the natural methods of healing your body.
With all the complaints about rising health care costs and many without any health insurance, resolve to take some preventative measures in 08' and improve your health the natural way.
Some examples of natural health solutions include
Reflexology or Zone Therapy
founded by Eunice Ingham, author of "The Story Feet Can Tell," relieves the body by removing crystalline deposits from meridian's (nerve endings) of the feet by the therapists using deep tissue massage.
Pick up a book on it or search the Internet and you will find plenty of information that can be self prescribed or even better, shared with a loved one.
Homeopathy
could be another option to conventional resolution wisdom. Try a homeopathic remedy next time the need arises.
Developed by Dr. Samual Hahnemann in the 1800's, patients are treated with minute amounts of substances similar to those that cause a particular disease to trigger the body's own defenses.
This safe non-toxic remedy is #1 in Europe and Britain in alternative therapy because it's inexpensive, seldom has any side effects, and gets amazing, fast results.
Due to the dreadful side effects of most over the counter "treat the illness not the cause" drugs today, it's time to learn this time honored method of healing, whose preparations are obtained from animal, vegetable, and mineral sources.
Not to be confused with
Naturopathy
that emphasizes the importance of diet, fresh air, exorcise and peace of mind, Naturopathy is also holistic. The naturopath treats the whole person in an effort to find the cause of illness, rather than removing the symptoms.
Maybe you could resolute to try Reiki Massage, a Japanese form of massage which means "Universal Life Energy." Reiki helps the body detoxify then re-balance and heal itself.
Dr. Mikso Usui discovered Reiki in the ancient Sutra manuscripts in 1822. There are many Reiki masseuses throughout the tri-cities.
Another more familiar technique you may resolve to try is
Chiropractic
, Daniel Palmer founded chiropractic in 1885 in Davenport, Iowa.
Treatment involves soft tissue, spinal and body adjustments to free the nervous system of interferences with normal body function.
Again, ask your friends if they know someone who benefits from chiropractic and I'll bet you would be surprised how many do. I know personally through rehabilitation from a car accident that Chiropractic speeds recovery.
There are many chiropractors in the tri-cities with great reputations with many of their clients. Resolve to get an adjustment in '08.
Yoga
is not a healing therapy but more of a science, that is, it is a body of techniques that lead us to consciously connect with ourselves and with life. It is also the actual experience of connection that results from practicing the techniques.
There are many traditional yogic paths that facilitate connection to the highest truth and awaken our own consciousness, including tantra, mantra, laya, kundalini, bhakti, jnana, karma yoga, and so on.
I know many people that swear by its energy reward. Resolve to go to your local library and pick up a yoga tape or open the phone book and look for a local class.
One last therapy I might suggest is
self-massage
.
Paul Bragg, a pioneer of the mid-twentieth century health food movement, often said, "you can be your own best massage therapist, even if you have only one good hand."
Many near miraculous improvements have been achieved by victims of accidents or strokes in bringing life back to afflicted parts of their own bodies by self-message.
Families and friends can learn and exchange massages; babies also love and thrive with daily massages.
One of my earliest memories of massages was in high school when I visited my newlywed older brother's apartment and he had his newborn son on the kitchen counter covered in baby powder and he was literally stretching his son's extremities to and fro much to the baby's delight.
Fast forward twenty some years and all three of his sons were healthy well-adjusted student athletes and his oldest who I witnessed getting the stretchy massage turned out to be the tallest.
I never forgot that as I have applied the same bonding beneficial techniques with my daughters when they were babies.
So while you ponder the customary resolutions for 2008 think about these alternatives that may help you to a more centered, self-reliant, healthier you in 2008.###
---
---

Kevin Leahy




Kevin Leahy has an interest in all sports-related activities at the Local, State and National levels. Looking for the inside story? Leahy's got it . . .

More from Kevin Leahy
---
Send This Story to a Friend!
Letter to the editor
Link to this Story
Printer-Friendly Story View
---
--- Advertisments ---