What "Terroir" will be in your glass on New Years
Michigan Wines Offer Many Options
December 30, 2007 Leave a Comment
By: Kevin Leahy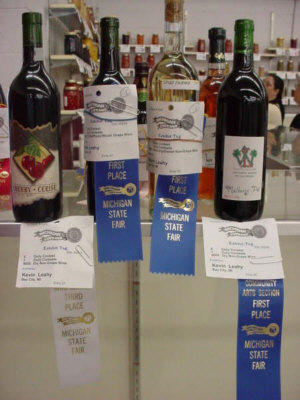 Pick a winner when you reach for a Michigan Wine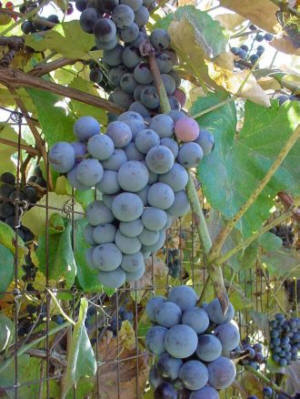 If you ask a hundred people about the meaning of terroir, they'll give you a hundred definitions.
Is it a taste of the soil make up where the grapes were grown or is it a recognizable flavor of where the wine was vinified, or is it the winemakers finesse that molds a homogeneous ordinary wine into a bursting bouquet of lushness?
Or even yet could it be just another fancy wine snob fascination for flexing their egotistical superior palates?
No matter what your take on terroir is, here in MI we should not be concerned because ultimately what you like in your wine glass is what is important.
MI wineries have a varied pallet of choices now that were up to 51 and counting.
One such winery that must be firm believers in terroir is Wyncroft winery in Southwest MI.
They only sell wine by the case and you must order a case to get on their mailing list. On their web site they describe their vineyards with such "Frenchness" that they don't even sound like they are in MI.
An excerpt from their site states; "The soils on this site were matched to the varieties we believed suited them. Clones and rootstocks were then selected specifically for their adaptability to the glacial clay and rocky-mineral deposits of the moraine hills where Avonlea is located.
All of the Avonlea wines have a mineral note that helps balance their typically ripe fruit character. The growing season is almost exactly the same number of days as the great wine regions of France and Germany. The average number of heat units accumulated during the season is also comparable to Europe."
My thought on all that mumbo jumbo is they should go to Europe and open their winery there if they are so consumed with such imitation.
We are Michiganders and we like our Michigan wine style even though the wine world hasn't discovered it yet.
As a footnote in my Food & Wine guide of 2008, out of the thousands of wines described only one from MI was found in the "other U.S. whites and rose'," section, the lone Tabor Hill Barrel Select Chardonnay 2003 with a two star rating which is a good to very good vintage.
In MI we have a bit of history in our wine making but very little in comparison to Burgundy and the likes but that's OK, call us mavericks we take what the soil and seasons gives us and we make pretty good wine, with terroir or not.
Personally, in addition to my one of a kind Glen Grape Zinger I have won first place blue ribbons at the MI state fair with a Spicey Rhubarb wine and a Mulberry wine. I admit as young boy I chewed on rhubarb from the back yard and ate mulberrys from the trees around Carol Park's Duck pond and from what I recall, my wines today taste like summer MI memories, and that's what I call terrior.
Now I will provide you a short list of MI bubblies that you should try toasting with this new year.
The first two are from the earlier mentioned Tabor Hill, Their grand Mark made from Pinot Noir and Chardonnay grapes was voted MI best sparking wine in 2007.
Their Spumanté is a true Italian style Spumanté, made from a blend of several of their grapes, it is very fruity and sweet.
Next suggestion comes steeped in MI wine history and is from St. Julian, Michigan's oldest and largest winery.
Founded in 1921 St. Julian has been making wine in Paw Paw, Michigan since 1936. This family-owned winery, founded by Mariano Meconi in 1921, is nestled in the picturesque fruit-growing region along the southern shore of Lake Michigan.
With a tasting room in Frankenmuth you can get try many of their wines and get case discounts from their outlet there.
What I like about St. Julian is their MI fruit spumante line. In addition to their MI White Champagne, which is their most popular, they offer a Passion Peach Spumante, a MI Raspberry Spumante and a MI Cherry Spumante. All are filled with fruit aromas and packed with MI flavor.
Lastly is from one of my favorite producers, Leelanau Peninsula Cellars, their Sparkling Andante is a sparkling Reisling known as Sekt in Germany and is floral and fruity.
Leelanau Peninsula Cellars also has a tasting room in Frankenmuth where you can try their wines and get case discounts also.
So when shopping for your cork blowing good time this new year skip the Asti and Dom and look for something made closer to home and get a MI bubbly, you won't be disappointed.
As an editors note I would like to mention the contribution of the wine nazi of the Leelanau Peninsula, Bernie Rink.
Mr. Rink is the pioneer of the commercial wine industry in northern MI. It began in 1965, when Rink got hold of Phil Wagner's book, "American Wines and Winemaking" (published today as "Grapes Into Wine"). Having bought 16 rolling acres in the middle of Leelanau County, the state's "little finger," jutting out into northern Lake Michigan. Sitting on the 45th parallel, the peninsula is on a latitudinal par with wine-growing regions in southern France and Northern Italy.
In an effort to turn his five sons into economic assets, Bernie decided to plant a one-acre test plot of several French-American hybrid grape varieties and a few of the less hardy vitis viniferas.
In 1975, construction began on Boskydel Vineyard, the first bonded winecellar in Leelanau Peninsula County. Rink, the boss of Boskydel, owned 56 acres of land, 25 acres planted in grapes.
Working closely with Bernie in those early days was retired Michigan State University chemistry professor Bob Herbst, who established an experimental vineyard of his own in 1971 on the cooler east shore of Lake Michigan. Due to the difference in micro-climate between the two sites, Herbst's hybrids would often ripen a week later.
In the ensuing years, Herbst and Rink played host to numerous would-be winemakers, entrepreneurs, members of the media and the just plain curious. All of the individuals who would one day open their own wineries in the region began by talking to those two trailblazers.
In order to understand the wine nazi moniker which is a play on the Seinfeld Soup Nazi, you have to visit Boskydel Vineyard and have Bernie pour you some of his wines while soaking up the history on the walls of his utilitarian tasting room.
Bernie is OLD school and not into the pomp and snobbery of the wine business, he is in it for the love of tilling the earth, working with your hands and providing a valued wine at a reasonable price. He is a man of few words, which is refreshing in this time of over hyped marketing and constant commercial noise.
When I was there last fall a young preppy couple was trying his wines and attempting to spark up an amateur wine conversation by asking Bernie, "I see you have De Chaunac wine, do you like growing that variety"? Without even looking up Bernie replied, "I wouldn't have planted them if I didn't," and continued filling customer glasses.
That was the longest sentence I heard from Bernie in the forty-five minutes we were there.
I would like to thank Mr. Rink for his contribution to the fledgling MI wine industry thirty plus years ago and for his sensible demeanor.
I salute you, CHEERS and HAPPY NEW YEAR.
---
---

Kevin Leahy




Kevin Leahy has an interest in all sports-related activities at the Local, State and National levels. Looking for the inside story? Leahy's got it . . .

More from Kevin Leahy
---
Send This Story to a Friend!
Letter to the editor
Link to this Story
Printer-Friendly Story View
---
--- Advertisments ---